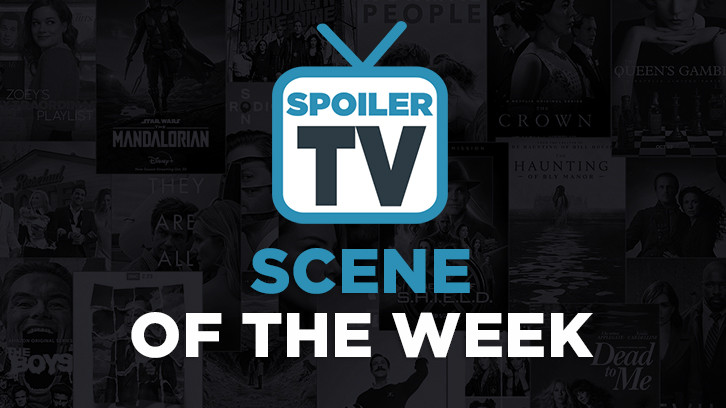 A weekly feature in which we're trying to find the most compelling, best acted, written, directed and just generally great, memorable scenes that we've seen in past seven days on TV.

ALL AMERICAN, "i", October 24, 2018, Actors: Bre-Z and more
The Scene: Coop tells her mom she's gay
Mads: After several sweet scenes with her new girlfriend, Patience, Coop finally decides to come out to her mom. The scene broke my heart as Bre-Z is so good as Coop, and I was just as devastated as she was when her mother kicked her out of her home. I'm thankful she has a second home with Spencer's family but poor Coop, she deserves better parents.

ARROW, "The Longbow Hunters", October 22, 2018, Actors: Juliana Harkavy, Katie Cassidy
The Scene: Laurel apologizes to Dinah
Marko: Katie Cassidy once again handing out acting lessons. Once again she brought her character to the edge of a cliff and released a ray of emotions putting the universe at balance again. The complexity and sincerity Katie brings to her interpretation of E2 Laurel is illuminating and the words were perfectly penned down.

BLACK LIGHTNING, "The Book of Consequences: Chapter Three: Master Lowry", October 23, 2018, Actors: Cress Williams, China Anne McClain, Christine Adams, The Scene: Jefferson apologizes to Jennifer
Naomi: In this emotional scene, Jennifer confronts her parents about sending a stranger to help her learn to control her powers and it turns into an all out confessional about how she feels about being confined to the house and how she thinks the family sees her as a monster. Jefferson sincerely apologizes to Jennifer, taking all of the blame for her situation on his shoulders, telling her it is not the life he imagined for her. Cue the water works!

CHILLING ADVENTURES OF SABRINA, "Chapter Four: Witch Academy", October 26, 2018, Actors: Kiernan Shipka, Tati Gabrielle and more, The Scene: Sabrina and the ghosts put Prudence in her place
Luana: I'm loving this show and it was awesome seeing Sabrina being so badass.

DAREDEVIL, "Karen", October 19, 2018, Actors: Charlie Cox, Deborah Ann Woll, Wilson Bethel, Peter McRobbie and more, The Scene: Poindexter attacks the Clinton Church
Justyna: This was a fantastic season. It's definitely one of my favorites from the Marvel Netflix shows, if not the best one yet. To choose just one scene from the second half of this incredible season seems absolutely impossible. There were a number of spectacular fights and confrontations worth highlighting, from Karen visiting Fisk, Matt learning his family's story, Ray's heartbreaking goodbye video to the final confrontation between Daredevil, Poindexter and Fisk, and many, many more. Finally I decided to choose the ending of "Karen" when the new "Daredevil" attacks the Clinton Church and kills Father Lantom. The entire sequence is intense, breathtaking and in the end - heartbreaking. I spent the hour genuinely worried that we're going to lose Karen, especially considering the title and her life's story being told with such details, but it's Father Lantom that pays the ultimate price when Bullseye goes after Page. I don't think I've realized how much I liked his character until his death. Matthew's fight against Poindexter is always quite something to see. But this time it means even more, to watch these two fight in the church, a place that means so much for Murdock, being destroyed all around him. Even though he's not at his full strength, Matt has to confront the man who never misses and is incredibly close to ending Karen's life a few times. Karen, on the other hand, tries to protect the innocent people gathered at the church, she draws the attention to herself when needed and drives "Daredevil" away from them. Page is also horrified to see Father Lantom die, he saves her life and then dies in her arms, with his last words whispered: "Matthew, please forgive us." This death hits everyone deeply and later turns out to be a turning point for a lot of events, including the final choice of Agent Nadeem. But the scene itself is shot so well, the stunt team is excellent and the actors absolutely fantastic, especially Charlie Cox and Deborah Ann Woll, two of the wonders of the series. The last image of the episode, Karen holding Matt in her arms and crying, remains one of the most memorable pictures in the season, especially being a powerful reference to the original comics. So glad to see Karen survive the impossible odds and help Matt find his way in the next episodes. Heartbroken to see the Father Lantom's fate and the full impact of this attack. Overall, marvelous job by the entire cast & crew on the series. I miss the show already.

DOCTOR WHO, "Rosa", October 21, 2018, Actors: Jodie Whittaker, Vinette Robinson and more, The Scenes: Rosa Parks refuses to give up her seat on the bus & The ending scene
Justyna: Such a simple act, choosing a seat on the bus, can mean so much more than the words could express. A courageous choice made by Rosa Parks started a protest that changed the world. Last week Doctor Who took an unexpected journey to Montgomery, Alabama in the year 1955. The reality hit the characters deeply but it's the ending that made the biggest impression on them all. While making sure that the history stays intact, to protect the future, the Doctor and her friends become part of the story and are forced to stay in the bus and do nothing when Rosa is being arrested. Staying quiet instead of standing up against injustice and cruelty is not something that comes easy for the Doctor. The look on her face as she watches the events unravel says it perfectly. Graham and Yasmin understand their role in the history, as hard as it is to witness, and Ryan builds a personal connection to Mrs. Parks and finds an inspiration in her actions. There's so much meaning behind this scene, the importance of this story can't be underestimated, especially not today. Wonderful work by the entire main cast and the brilliant Vinette Robinson in her memorable performance. Also, kudos to the crew for telling the story, for the beautiful music set in the background and making this episode one to remember.
Zandarl: Rosa Parks refuses to give up her seat on the bus. With the Doctor and her companions looking on and having to stay in their seats to preserve the timeline. A pivotal moment highlighting segregation at that time and a move towards change.
DJRiter: The close up on Jodie Whittaker's expressive face as Rosa was being taken off the bus was extremely powerful.
Milo: Rosa Parks refusing to give up her seat on the bus. It was a powerful moment that really stands as one of the show's finest hours, and a testament to the brilliance of Malorie Blackman's writing coupled with Vinette Robinson's incredible performance. The whole episode was really well made, reminding us that real humans are often ten times scarier than whatever aliens Doctor Who decides to bring to the table each week.
Claire: The ending scene where the Doctor points out the asteroid named for Rosa Parks and explains that after Mrs. Park's courageous stand, life was very hard for her and her family; lost jobs, poverty, being ostracized. But 41 years later she was honored by President Clinton with the Presidential Medal Of Freedom, the highest honor for a civilian.

HOW TO GET AWAY WITH MURDER, "It Was the Worst Day of My Life", October 25, 2018, Actors: Viola Davis and more, The Scene: Annalise's closing
Marko: The silence was simply petrifying. It was a smart writing move to let the jury experience just one minute of Nate Sr. 400K minutes. It was just petrifying and shocking to the core. The screen fading into Nate Sr. scared face was terrifying.

LEGACIES, "This Is the Part Where You Run", October 25, 2018, Actors: Aria Shahghasemi and more
The Scene: End montage
Marko: End montage, the reveal that Landon isn't human. It's always tough to make a pilot episode thrilling and deliver that final punch that will make you tune in again. The revelation of Landon's supernatural origin mixed with Hope's voiceover felt perfectly delivered and left me drooling for more.

MAYANS MC, "Rata/Ch'o", October 23, 2018, Actors: J. D. Pardo, Richard Cabral
The Scene: Coco and EZ talk about fate
Beth: Amazing acting by Richard. Coco's words about things being how they were meant to be cut deep for me, and I had tears running down my face without even realizing they started.

MODERN FAMILY, "Good Grief", October 24, 2018, Actors: Ty Burrell, Eric Stonestreet, The Scene: Phil and Cam talk about DeDe
JW: Cam and Phil, realizing they won't get back in time with the ice cream that was supposed to comfort Mitch and Claire, decide to eat it themselves and bond over their own memories of DeDe.
Claire: Such a wonderfully heartwarming moment between Phil and Cam discussing DeDe. They are two of the best characters on the show. They make the show still watchable for me since I've found all of the younger actors to be abysmal and Claire will never tone it down...

NEW AMSTERDAM, "Cavitation", October 23, 2018, Actors: Ryan Eggold, Tyler Labine and more, The Scenes: Iggy talks to a patient's aunt about PTSD & Max reads the newspaper article & Max consoles Javier at the end
Jennise: Iggy talks to a patient's aunt about PTSD. It's a short simple scene, but it said a lot. There are neighborhoods in this country that seem like war zones. Contrary to what the media wants us to believe they're not all African American or Hispanic, but they are, I believe, all poverty stricken. In all of those neighborhoods there are parents trying desperately to get their kids out alive. I have to admit that I am among those who never really considered those desperate parents and guardians when hearing about the shooting of an innocent kid by the police. I love it when good storytelling makes me think, consider an important issue in a different way. Nicely done.
Luana: Max reads the newspaper article. I'm in love with this show and especially with Max Goodwin, this episode was absolutely heartbreaking and those words just drove the message home perfectly.
DJRiter: Incredible moment between Max and Javier at the end of the episode as Max consoles the teen after his brother dies. Wonderfully understated work from Ryan Eggold and Johnathan Nieves, in the type of beautifully written and acted scenes that continue to make this show one of the standout new dramas of the season.

RIVERDALE, "Chapter Thirty-Eight: As Above, So Below", October 24, 2018, Actors: Shannon Purser and more, The Scene: Ethel spreads the gospel of Griffins and Gargoyles to Riverdale high
Mads: After FP burns the rulebook for G&G, we assume that was the only one given Jughead's reaction but turns out, Ethel managed to make copies and disperse them to the whole school. It's a chilling scene where we see her worshipping the Gargoyle king, knowing full well many teens have the ability to check out the game now and continue the sinister agenda.

SUPERGIRL, "Fallout", October 21, 2018, Actors: Melissa Benoist, Katie McGrath, Andrea Brooks, The Scene: Kara tries to slip away from Lena and Eve
DJRiter: Often Supergirl star Melissa Benoist has been praised for her portrayal of the dramatic and action sides of her character Kara/Supergirl. However, in this episode it was her exceptional comedic skills and timing that were on full display. While the entire sequence of Kara trying to slip away from Lena and Miss Teschmacher when Mercy and her goons attacked LCorp is a masterpiece, those very first moments gave of a glimpse of the brilliance to come. Her take on Kara pretending to be afraid, looking for a place to hide, to the exasperation on her face and shoving Lena's earplugs into her pocket were outstanding. Her faux fear and attempts to slip away and being thwarted by Lena and Miss Teschmacher were Benoist doing some of her most Kara Danvers-like work. I had flashbacks of the wonderful Christopher Reeve and his meek Clark Kent at his geekiest. It was a delight watching her as Kara's attempts to slip away and become Supergirl to save the day were foiled at every turn.

SUPERSTORE, "Costume Competition", October 25, 2018, Actors: Mark McKinney and more, The Scene: Glenn calls his wife
Mads: Glenn calls his wife and tells her to get ready to run as the shopping carts follow his car home. The shopping cart gag is one of my favorite jokes that the show has ever done. Glenn being stalked by the carts because he doesn't realize he has the device in his pocket gave us so many hilarious moments this episode and I loved how it paid homage to slasher films! But the best moment is when the carts are still following his car at the end and he panics and calls his wife to leave town.

THE BIG BANG THEORY, "The Imitation Perturbation", October 25, 2018, Actors: Simon Helberg and more, The Scene: Howard dresses as Sheldon for Halloween
Diana: It was funny to see two Sheldons in the same episode. I think I'm gonna miss this show, especially moments like those.

THE CONNERS, "Tangled Up in Blue", October 23, 2018, Actors: Sara Gilbert, Emma Kenney
The Scene: Darlene and Harris bond in the car
JW: Darlene and Harris bonding in the car ride home after leaving David/Blue's house.

THE GOOD PLACE, "The Ballad of Donkey Doug", October 25, 2018, Actors: William Jackson Harper, Kirby Howell-Baptiste, The Scene: Chidi's many attempts to break up with Simone
JW: Chidi's multiple attempts at breaking up with Simone in Janet's virtual reality machine.

THE PURGE, "Giving Time Is Here", October 23, 2018, Actors: Lee Tergesen and more
The Scene: The reveal about Joe
Claire: The scene where it is revealed that Joe who we have been led to believe is a good guy is actually not. All of the people that he has spent purge night 'saving' are in the back of his truck, bound and gagged. It was quite a shock. What will happen next?

THE RESIDENT, "The Germ", October 22, 2018, Actors: Matt Czuchry, Daniella Alonso and more
The Scene: "The Germ" sequence
Michele: "The Germ" sequence where Conrad's team created an elaborate police hunt game for a dying patient. The creativity and dedication each character showed while trying to create a special moment for a little boy made me a bit emotional.

THIS IS US, "Toby", October 23, 2018, Actors: Chris Sullivan, Milo Ventimiglia and more, The Scenes: Toby breaks down & Jack asks Miguel to take care of his family
Saloni: Flashback of Jack asking Miguel to take care of his family if anything ever happened to him. This was just a great, well-rounded moment in retrospect of everything that happens in the life of the Pearsons.
Luana: Kate gives Toby the good news and he breaks down. It was heartbreaking watching all that time of holding it together for Kate explode and seeing Toby completely fall apart. Chris Sullivan did an amazing job.

WILL & GRACE, "Who's Sorry Now?", October 25, 2018, Actors: Eric McCormack, Debra Messing, The Scene: Grace reads Will's letter and apologizes
Beth: This moment was 30 years in the making for Will and Grace's friendship. For so long, we saw the side of Grace being the one 'wronged' by Will when he came out. When it reality, at the moment he needed her most she abandoned him and didn't speak to him for a year. She had never apologized or realized the impact of what coming out did to Will. In this moment, Grace finally saw that she had wronged him and never even realized it because she only thought of what it did to her. I am so glad the show finally addressed this and Will got an apology that was owed. Also picked by Diana
Klutzy girl: Grace and Will talk about the thirty year old letter she never read before. It was absolutely heartbreaking to hear the contents of said letter, as was Will's face when they were talking about it - it's clearly still raw for him. And I'm so glad Grace finally apologized and they got everything out in the open, and Will was finally told something he needed to hear at the time.