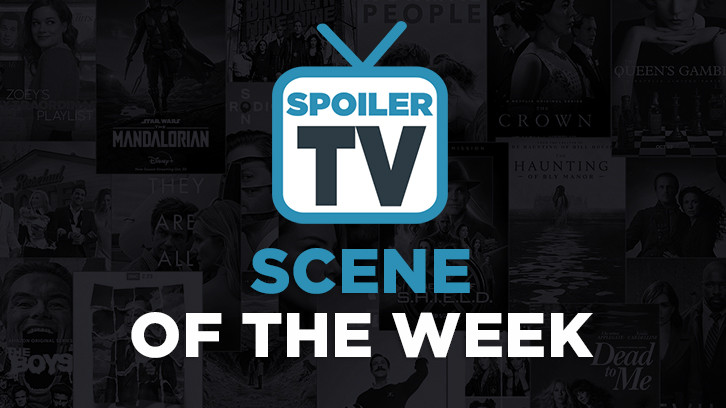 A weekly feature in which we're trying to find the most compelling, best acted, written, directed and just generally great, memorable scenes that we've seen in past seven days on TV.

AMERICAN HORROR STORY, "Return to Murder House", October 17, 2018, Actors: Jessica Lange, Evan Peters, Emma Roberts and more, The Scenes: Constance returns & Constance tells Michael's story to Madison and Behold & Tate and Violet are reunited
Giulia: Constance Langdon explaining Michael's story to Madison and Behold. The entire sequence is just amazing. The way Jessica Lange tells the story is both riveting and heartbreaking. The way Sarah Paulson shot the scene is outstanding (the shot with the roses in the garden, in particular, was incredible to watch). Lange's performance is just a testament to how important her contribution to the show has been. You could see Constance's suffering, mainly because she realizes she could not prevent Michael from being as evil as he was (is), but also the pure and utter love she feels for him.
Klutzy girl: Constance returns. I've been waiting for this for a long time, and was not disappointed at all. The way she appeared out of nowhere and told Madison and Behold that she's Constance Langdon and "this is my fucking house" was amazing in every single way.
Claire: Can I nominate the entire show? Because this episode felt like a beautiful gift to all of the loyal AHS fans! But since I'm a hopeless romantic, I'll pick the scene where Tate Langdon and Violet Harmon are finally able to be together, blissfully in eternity. Behold casts a spell on Violet to make her 'see' the real Tate; that he is a good person; albeit dead and a former murderer. I love when Violet looks at Tate, lovingly forgiving him, and he cries...be still my heart.

ARROW, "Inmate 4587", October 15, 2018, Actors: Stephen Amell, Emily Bett Rickards, Kirk Acevedo and more, The Scenes: Felicity visits Oliver in prison & The parallel fight
Justyna: Such a fantastic season premiere, one of my favorites this fall and probably one of the best in the show's history. So many great scenes to mention, starting from the parallel fight and the end reveal, but since I can only select one, let me highlight the moment when Felicity visits Oliver in prison. It's hard to believe how much these two have been through and still, I think it might be one of their best moments together. Before Felicity arrives, Oliver is convinced that his wife (and possibly his son) have been brutally murdered by Diaz. His feelings when he sees her alive and well can't be put into words but are perfectly displayed by Stephen Amell. Felicity tells her husband about Diaz's attack and the way she tried to fight him to protect William but couldn't. Her story definitely makes one think about a mother protecting her child. Wonderful work by Emily Bett Rickards as well. What's especially important about this scene is the fact it's a defining moment, a turning point for both characters, the moment when they decide to fight back, no longer hiding, waiting or keeping their heads down. As hard as it is, as dangerous, it's who they are and these last events are a reminder of their old life and the future they're hoping to build. Beautifully written, very emotional scene, one of the most memorable parts of the great premiere. Kudos to cast & crew for their work!
Mads: Felicity fights Diaz while Oliver is involved in a prison brawl. I was surprised by the fight choreography and coordination of these scenes. Plus it was nice to see Felicity get her hands dirty and I thought she held her own the best she could against Diaz. I liked how the scene was interspersed with Oliver's fight, which the poor guy had to do while buck naked in the shower!

BLACK LIGHTNING, "The Book of Consequences: Chapter Two: Black Jesus Blues", October 16, 2018, Actors: Cress Williams, Nafessa Williams, Christine Adams and more, The Scenes: Lynn gives Issa his options & Black Lightning and Thunder help citizens escape an attack
Jennise: Lynn gives Issa his options. Here's why it was so important for Lynn to play dirty and make sure she was put in charge of the kids in the pods and, by extension, any kid changed by Green Light. Lynn delivers the news that the drug is killing him with a compassion we know Percy Odell wouldn't have even considered. Odell probably would have just put him in a pod in hopes that the military can use him as an interrogator. Lynn gives Issa the option of going into a pod or going home and hoping for a cure. One of the problems with being a teen is that sometimes your mistakes affect you for a lifetime.
Naomi: Black Lightning and Thunder, the father/daughter duo helping citizens escape a crazed Green Light baby attack and then Anissa decides to take a bow afterwards. It was nice to see the dynamic of age play out in the way Anissa and Jeff handle being heroes in the moment. It was a nice realistic touch.

DAREDEVIL, "Blindsided", October 19, 2018, Actors: Charlie Cox and more, The Scene: The one shot prison escape
Justyna: What a fantastic season of this brilliant show it turned out to be. So glad to have Daredevil back and I'm already starting to miss it. When it comes to the first part of the season, there's a number of scenes worth highlighting, however since I only get one I have to mention the sequence when Matt is forced to fight his way out of prison. First thing, the entire breathtaking 11-minute sequence is a single shot (one camera rolling without any cuts). Daredevil has been applauded for its fight choreography since the series premiere in 2015 but it seems that nothing has been more challenging than this breakout. Charlie Cox, showrunner Erik Oleson, director Alex Garcia Lopez and the incredible stunt team all did a wonderful job here and its result plays flawlessly on our screens during the season's fourth episode. Matt Murdock enters the prison to learn more about Fisk's actions and ends up getting attacked by both convicts and the guards, still under Kingpin's control. The Devil of Hell's Kitchen does not wear any disguise in this fight. He's not prepared for this situation and has to use all of his strength to fight for his life. Matt is still healing from his many wounds, so even though he's able to stop his attackers for most part he's also left severely beaten, falling time and time again. But it wouldn't be Matt Murdock if he stayed down for too long. Eventually, he learns the information he needed and with the help of the Albanians he's be able to finally get out, straight to the taxi still waiting for him outside of the prison where he can finally take a breath. At least for a moment. The sequence is intense, well directed, acted and very memorable indeed. Perfectly fitting for the SOTW article. Kudos to entire cast & crew for their fantastic work on this scene and the season overall.

MANIFEST, "Unclaimed Baggage", October 15, 2018, Actors: Josh Dallas, Luna Blaise, Daniel Sunjata and more, The Scene: Ben goes to pick up Olive from a local store
Aimee T: The scene where Ben goes to pick up Olive from a local store and upon arrival receives a couple of shocks. The first is that Olive has been detained for shoplifting, and the second is that Danny, Grace's ex, is already there. This is Ben (and the audience's) in-person introduction to Danny and the circumstances set the stage for future drama. First, the store clerk mistakes Danny for Olive's father, so Ben is taken aback by that. Second, upon seeing her actual father, Olive remarks "Dad, what are you doing?", which is an odd greeting to be sure. Clearly not a feel-good moment for Ben, however, Danny is polite enough and introduces himself before leaving shortly. While the scene itself is quick, Ben's emotions are palpable and Josh Dallas effectively conveys a mix of bewilderment and distress. Now as one of the show's protagonists, the audience is obviously encouraged to sympathize with Ben. However, Danny himself (even as a rival) is not introduced negatively, so he doesn't seem to be positioned as a villain. While this is just an initial assessment, coupled with the fact that Daniel Sunjata (a better known TV actor) was cast, it might suggest that Danny will play a more nuanced or significant role beyond ex-boyfriend that the audience is meant to despise.

MAYANS MC, "Cucaracha/K'uruch", October 16, 2018, Actors: Carla Baratta, Edward James Olmos
The Scene: Adelita confronts Felipe
Beth: The show has slowly revealed pieces of Adelita's story and this scene finally showed some of what motivates her to be who she is. She has spent so much time believing that Felipe is the reason her family was slaughtered but it turned out that he wasn't. It was almost devastating to see her learn how wrong she had been even though it was a relief to know Felipe had nothing to do with it. It is also interesting to speculate what she will do moving forward in her dynamic with Angel.

MURPHY BROWN, "Three Shirts to the Wind", October 18, 2018, Actors: Candice Bergen, David Costabile, The Scene: Murphy eviscerates the ex-Trump aide Ed Shannon
Claire: The scene where Murphy eviscerates the ex-Trump aide Ed Shannon (Steve Bannon-like). She refuses to compromise her integrity by having him on her show, but they meet up at Phil's and what ensues is a beautiful dressing-down of many of the Trump administration's bigotry, misogyny, hatred and outright lies. When Murphy says: "you're an old, white guy afraid of losing his place at the table; a dinosaur..." I stood up and cheered and hoped that someone would say these actual words out loud one day... Runner up: the return of Jim Dial!

NEW AMSTERDAM, "Boundaries", October 16, 2018, Actors: Freema Agyeman, Zuri Giddings and more, The Scene: Helen explains death to a young patient named Tianna
Mads: The scene where Tianna and her parents discover her cancer has returned is a heartbreaking one. Especially when we're told it is aggressive and she is likely going to die from it. She asks Helen what it feels like to die and Helen's speech, telling her "she's in the same room, just on the other side" absolutely had me reaching for the tissues. Freema demonstrates what a gifted actress she truly is.
DJRiter: I agree about the scene where Helen is finally able to explain to the little girl what it feels like to die. This was a beautifully written, acted and directed scene. Kudos to Freema Agyeman.

SEAL TEAM, "The Worst of Conditions", October 17, 2018, Actors: David Boreanaz, Kerri Medders, Ammon Ford, The Scenes: Jason comes back home & Jason helps the kids choose a dress for their mother to be buried in
Beth: Jason comes home to Emma and Mikey instead of going on the mission after Alana's death. When Jason got that call it was time to go, I was just thinking that he cannot leave those kids and he didn't. He turned to his best friend to go in his place and came home and sat with his kids who needed him so much more in that moment. Having Alana die was a bold choice by the show because they could have had her move away with the kids, but they chose to go a different route and it adds so much more to the story of Jason.
Jennise: Jason helps the kids pick out a dress for their mother to be buried in. There were so many standout scenes in this week's episode. But this one stood out to me because Jason spent so much of the episode hiding, focusing on being strong. This was the first moment he was able to truly connect with his kids and remember Alana with a smile.

SHAMELESS, "Face It, You're Gorgeous", October 14, 2018, Actors: Cameron Monaghan, Noel Fisher, The Scene: Mickey is revealed to be Ian's cellmate
Abi: We barely got any warning that this was going to be Cameron Monaghan's last episode but the storyline was very much leading to him either actually going to jail or running away so it did seem like a good time to wrap things up and one of the best ways to have done that would have been to bring Mickey back, and they did! Gallavich (Ian/Mickey) have always been one of the strongest and most celebrated couples on the show and it's only fitting that they finally got a somewhat happy ending and will spend the foreseeable future together. When Ian was blocking the door to the cell and someone entered I hoped that it was Mickey but didn't dare believe it was him until he was standing there. I'm not ashamed to admit I cried throughout the entire scene either as it's totally a true testament to how much they love each other that Mickey would get himself sent to jail so that they could be together. A fitting final scene for a fan favourite character.

SINGLE PARENTS, "Beyoncé Circa Lemonade", October 17, 2018, Actors: Brad Garrett, Leighton Meester, The Scene: Douglas comforts Angie
Dahne: Douglas prides himself on being tough, but he finally admits to Angie that he has his mushy moments too. He then takes it a step further by telling her that who their kids become is ultimately up to their kids. They can only do their best.

SUPERGIRL, "American Alien", October 14, 2018, Actors: Melissa Benoist, Chyler Leigh
The Scene: Kara and Alex discuss their day
DJRiter: If I have to pick one of the several deserving scenes in the Supergirl season premiere, for me it would the Danvers sisters couch scene where Kara and Alex are sitting, eating and discussing their day. No one does these scenes like Melissa Benoist and Chyler Leigh can, just perfection and the perfect example of why these sisters and their relationship are the heart and foundation of the show. The was a lovely scene and I hope the first of many such scenes between the Danvers Sisters to come this season.

THE CONNERS, "Keep on Truckin", October 16, 2018, Actors: John Goodman, Laurie Metcalf, Sara Gilbert, The Scene: The opening scene
Claire: The opening scene where it is revealed that 'Granny Rose' has died. As a long-time fan of Roseanne (the show, not the actress), this was a very emotional episode for me. I really didn't believe that they were going to kill off Roseanne Conner but in reality it was the only choice and the best one. I was thankful to have been given a chance to mourn a character who meant so much to me as a teenager and then as an adult and fellow mother. I think The Conners has a lot of promise, well written, acted and directed. Ironically, it did feel as if a weight had been lifted off of the entire production.

THE FLASH, "Blocked", October 16, 2018, Actors: Candice Patton, Grant Gustin and more
The Scene: Iris tells the team about her investigation
Naomi: Iris reveals that her investigation has led her to believe that the person who killed Gridlock is the same person who attacked Team Flash. She invites the team to listen to the sound of insects hissing in the background as a victim is being killed and reminds them it is the same thing they heard during their fight. It was so fulfilling to see Iris getting back to her comic book roots of investigating! Let's hope this is just the beginning.

THE GIFTED, "outMatched", October 16, 2018, Actors: Amy Acker, Stephen Moyer and more
The Scene: Caitlin exploits Graph's addiction to force him to help
Laura B: Caitlin uses drugs to get what she wants from Graph. I have to say these Caitlin scenes really push the controversial envelop on morality by abusing Graph and giving him Kick! It's not so much of surprise given Amy Acker's repertoire of past characters, but definitely a surprise for Caitlin who has been one of the most morally consciously concerned characters in the series thus far and because this is a PG 14 network show that usually wouldn't show something like this to the point Caitlin takes it.

THE GOLDBERGS, "Hersheypark", October 17, 2018, Actors: Sam Lerner, Hayley Orrantia
The Scene: Geoff refuses to fold Erica's sweaters
Beth: This scene was hilarious because Geoff has always catered to everything Erica wants and thanks to him trying not to be a yes man any more, he finally told Erica no and she loved it. It was a small, but sweet and funny moment for a character that I have really come to love.

THE GOOD DOCTOR, "Tough Titmouse", October 15, 2018, Actors: Freddie Highmore, Richard Schiff
The Scene: Shaun realizes Dr Glassman is talking to Maddie (picked by Abi)

THE GOOD PLACE, "Jeremy Bearimy", October 18, 2018, Actors: Kristen Bell, William Jackson Harper, Ted Danson and more, The Scene: The Soul Squad is born
Justyna: The amazing thing about this show is that every time I think I know in which direction it's heading, the story takes a complete turn and the series essentially reboots itself. And somehow it always feels fresh and exciting and makes me really interested to see what will happen next. This episode was another example of such significant change after the humans learn the truth about the Good Place and their entire history so far. The news that they're already doomed hits them all hard. Chidi has a complete breakdown (comedy gold material), Tahani and Jason try to spend her fortune on good causes and Eleanor has a chance to do a small thing which changes her perspective entirely. In the end Eleanor proves what the viewers might have already guessed by now, she truly has changed. Inspired by the events of her day she proposes to the rest of the group that they should all try to do good, help other people try to get into the Good Place even if the six of them are already doomed. Everyone agrees and the Soul Squad is born. Not only it's a great creative idea for the show, it's an inspiring thought for anyone watching. Without expecting any award, in fact knowing the opposite awaits you, wouldn't it still be worth to help as many as you can? Kudos to the entire cast & crew for their wonderful work on the show.

THE HAUNTING OF HILL HOUSE, "Two Storms" & "Silence Lay Steadily", October 12, 2018, Actors: Victoria Pedretti, Michiel Huisman, Elizabeth Reaser and more, The Scenes: Nell explains some of the metaphysics of the house & Everyone reveals their memories of Nell
Laura B: Nell explains some of the metaphysics of the house and philosophy of the Red Room. There were so many scene I could have picked in this season finale and it honestly was a toss up between this scene, Olivia's scene with the twins and Abigail, or Hugh saying goodbye to Steven, but I decided on this scene not just because it begins to explain the metaphysics behind the story, but that the metaphysics enhance this story given that for so long they were being scared to death by themselves and that Haunting of Hill House wasn't just pop-up-and-scare-you story, but it also was a dysfunctional family drama with endearing characters who are fleshed out enough to be memorable. The House's mythology/metaphysics and how it is Nell that explains it to her siblings, gives the story both a haunting, but also perhaps even an enchanting quality at times, reminiscent of fantasy works like The House of Many ways, given the argument that maybe it's the outside world that will eat you up, and perhaps the house does just want to preserve and protect its inhabitants in timeless wondrous box of happiness? On the other hand however, I don't think we understood the Hill's story to its fullest given some of things that Poppy says & does and the way Olivia gets possessed. I hope very much that there is second season and that it remains in the same universe of the first season and doesn't go a straight up anthology route. I think there is a lot more story that could be told here with characters both old and new from various time periods. I would love to see it! Also picked by DarkUFO
Mads: The long tracking shot where everyone reveals their memories of Nell. I picked this scene because it is a technical marvel. This episode contained several long tracking shots that all required elaborate staging and rehearsals so I felt it's important to commend the cast and crew for pulling this off. But the initial scene at the funeral where everyone shared a memory of Nell was particularly poignant, especially without any cuts.

THE WALKING DEAD, "The Bridge", October 14, 2018, Actors: Ross Marquand and more
The Scene: Aaron loses his arm (picked by DarkUFO)

THIS IS US, "Vietnam", October 16, 2018, Actors: Milo Ventimiglia and more, The Scene: Jack learns how to "breathe"
Gina: So hard to choose just one scene. We finally get to see and understand who Jack is because of what happened in Vietnam. I think one of the most profound scenes is Jack learning to "breathe". Set in Vietnam, Jack's friend has just lost his foot in an explosion and is about to go home. Robinson holds Jack's face in his hands and you can see him saying "Breathe" without sound — and the next image is of Jack holding a young Randall's face in his hands telling Randall to breathe. It was profound if you watched the show.