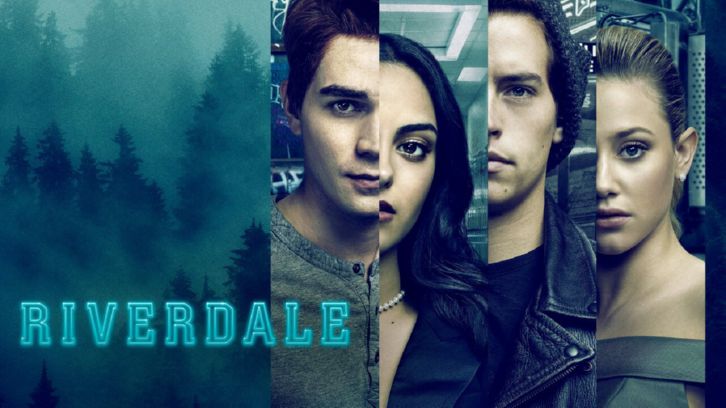 I'm going to come out and say that Riverdale season two was a struggle for me to get through. Episodes stockpiled on the DVR and felt almost like a chore to get through. Any time the show gained momentum it felt as if the plots came to a screeching halt and as the show set out to expand the world of Riverdale beyond the core four, it started to feel more claustrophobic in what it set out to be. I convinced a co-worker to give the show a try this summer and she did. Her response on season two was "It was so long, it was like 55 episodes" to which I politely corrected her that it was only 22. She still felt it was too long and that there was just too much that didn't work, but that didn't stop her from being curious about season 3 and asking when it returned. She much like me, just couldn't quit this show, because when it's on, it's a fairly twisted soap that can hit some of the right notes. I was excited when I learned we got a chance to check out the season 3 premiere, but after two screenings of said premiere, it's hard to say whether or not I'm excited for season 3 of Riverdale, or if I'm just watching to see if it'll ever tie-in to Netflix's Sabrina series.

Please remember that I'm attempting to keep these previews as insightful as possible, but as spoiler free as possible as well, which leaves me with not a lot to work with.


There are some highlights to the Season 3 premiere entitled
Labor Day
, but trust me, they are far and few between. I'm usually a fan of slow burn, character driven episodes, but this wasn;t that. THis was an exposition heavy episode that filled in a few gaps post finale and then suddenly hurtles us into a brand new mystery.
*In my Jughead Jones narration voice*
I hate to report that most of Labor Day was a labor to get through. Slowly paced and dreadfully dull in some parts, it feels at times that the show didn't learn much from the elongated season two.
There's little Kevin or Josie in sight, Cheryl does her best "Speedy" again in the episode but is mostly sauntering in the background with Toni but the ending is most certainly WTF. Those who are looking for a conclusion to the cliffhanger with Archie being arrested at the close of season 3, have no worry, there will be a verdict in the trial by the episode. The Hot Dad's of Riverdale club mission is set forth at the end of the hour as well and that swift sound of glee you hear is my excitement at the prospect of giving the adults of Riverdale more to do. I really hope the show finds a way to bring back Molly Ringwald in a recurring status this year because I really need a Hot Mom's of Riverdale club as well.
Labor Day
feels as if it really is taking three days to get through, almost like the longest three day weekend of your life. There's a pool party that should be an end of summer hurrah but it doesn't feel like fun at all, despite a big red couch sitting poolside. There's a glum note that hangs over the scene, that not even brief glimpses of my faves Josie and Kevin can salvage. I was no fan of the Jughead-Serpents stuff last season, but apparently it's not going anywhere anytime soon. Judging by plots in the season opener, there's still conflict to be had for Riverdale's
Jets and Sharks
gangs and it involves a fur legged friend this time around. Expect Betty to be involved because a "Serpent Queen, is a Warrior Queen."(Insert eye rolling emoji here) This is Riverdale, so expect there to be secrets revealed, overbearing parents and tons of sarcasm and witty retorts, but it still feels as if the high days of season one are behind them.
The best parts of
Labor Day
are within the last 5 minutes. It's so intriguing, so what the heck, so left field that it makes sitting through 36 minutes of exposition worth it. Coupled with a pretty wicked and intense score, the sheer tension and creepiness of the premiere's final moments seems to hint at a very unsettling season ahead. I can't say much about the reveals given in the episode, but I can tell you that, questions will be raised. There are maps and fires and symbols and some things that have to not be what they appear, right? So sure,
Labor Day
might be a chore to get through, but unlike real life Labor Day Weekend, you'll be glad to see this weekend come to an end.
Quotes:
"There's something else you should know about Betty"
"Our Summer Fling, was going to be just that, a three month expiration date"
"He's Real"
"This was your Punishment"
Riverdale, Chapter Thirty-Six: Labor Day airs Wednesday, 10/10 on the CW. Will you be checking it out? Sound off below!