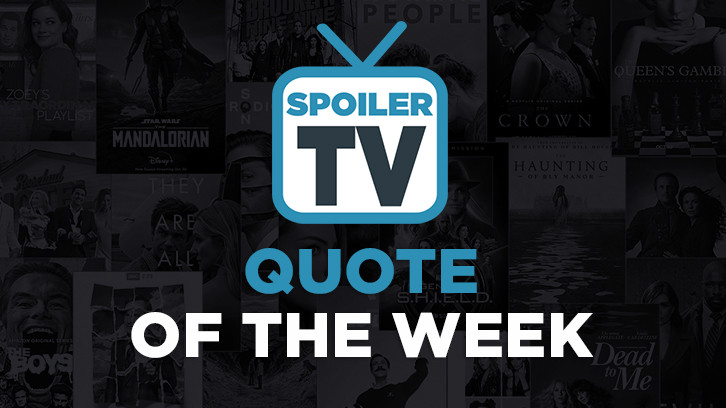 A weekly feature highlighting the best quotes on TV as picked by the Spoiler TV team. We'd love to hear your picks too so please sound off in the comments below.



1. Alexis [noting what she thinks is a vase, but is actually an urn]: "Oh. Who's been redecorating?" Fallon: "That's Cristal." Alexis: "Well, it's not Waterford." (popcultureguy)
1. Nora: "You never come back."
2. Barry: "We have a daughter together. We make a person."
3. Cisco: "Damn, Gina!" (Naomi Anna)
1. Eleanor: "I'm really good at telemarketing. I can usually guess how long to microwave food without looking at the box. I'd say those are my two main skills."
2. Jason: "We should all meet up in Jacksonville; my house is right on the water. It didn't use to be, but the whole city is a swamp and it's sinking into the ocean."
3. Janet: "Also, that bathroom key you lost nine months ago slid under the register. And, the woman you think is your aunt is actually your mom." (Mads)
1. Isaiah: "I'm not afraid of prison, I've been here before. In this life I will serve my penance. When I die I will return; I will be like you, Michaela. I will be pure." Michaela: "Trust me, I am far from pure." Isaiah: "Because you haven't unburdened yourself. 'For there is nothing hidden that will not be disclosed. Nothing concealed that will not be illuminated.' What have you concealed, Michaela? Even from yourself?" (Aimee T)
A Million Little Things -
1. Eddie: "Look at you, doing the walk of shame!" Gary: "Walk of shame? No. I just had morning sex. This is a victory lap." (DarkUFO)
1. Cheryl: "I'm in the mood for some hell-raising."
2. Archie: "Guys, no matter what happens in court, this… is the best last day of summer a guy could ask for."
3. Veronica: "You don't have a daughter anymore." (Mads)
1. Amy: "Sometimes they're just lying there inside out." Shopper: "Oh my God! Are they dead?" Amy: "Well, they're inside out, so I hope so. But if that makes you uncomfortable, you could always return this one for a safer car seat." (Ellys Cartin)
2. Amy: "Jerusha's friends are the creepiest. Don't you remember the shrimp boil? There was all that mouth kissing."
3. Amy: "If somebody's dying and then you kill them, is that murder?" Jonah: "That's exactly what that it is." (Mads)
1. Maggie: "I don't want to do this... but people need to understand at hilltop, the punishment fits the crime!"
2. Daryl: "That small group we had back in the beginning, could do anything."
3. Rick: "We're not together because things have changed." Daryl: "Thing is you changed them, Rick." (DarkUFO)