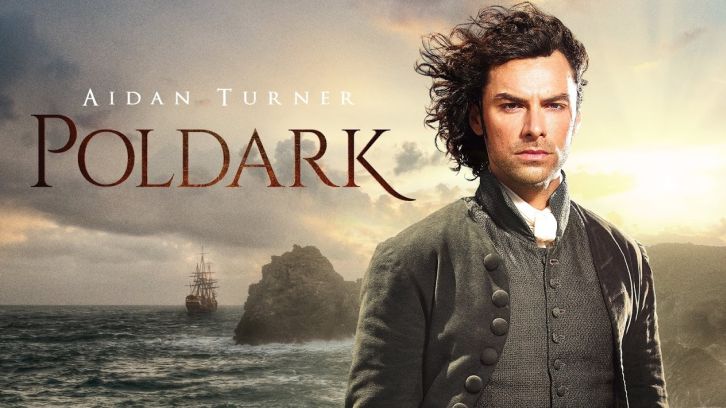 Every time someone on Poldark frantically gallops across the gorgeous landscape, an angel gets its wings. A good many angels took flight in these episodes, as politics cast a shadow over the usual bustling and yearning and dying. Ross and Demelza continue to work on shifting their friendship into a stronger marriage, and a new villain slithers into town. It's all perfectly glorious.

"Can you bear it?"
That's right! George loses the election. Hugh Armitage's condition worsens, and his uncle dismisses Dwight's services when he won't offer hope of a cure. A barbaric doctor is brought in to torture Hugh with antiquated medicinal practices. When the "new" doctor brings up something that sounded like drilling into Hugh's poor brain, his uncle summons Dwight back. He also calls for Ross and Demelza to visit Hugh. Demelza sits with Hugh, doing the only thing she can and being there to hold his hand as he dies. Harboring no ill will towards Hugh, Ross wishes him to live and doesn't hold either him or Demelza in any contempt. Even after reading a heartfelt, intimate note Hugh wrote Demelza. Hugh's uncle asks Ross to run for Parliament against George, since Hugh won't be well enough to do so. Ross makes the decision with Demelza to run. He has no expectation of winning. Little does he know that back when Hugh was still the candidate, Caroline and Demelza hosted a little tea party with Hugh's uncle and Sir Francis Basset. A wonderful scene where both women demurely sip their tea and make cutting observations about the state of politics in Cornwall. Basset agreed with them that George had failed in his duties. And he had previously said multiple times that he wished Ross had run. He flips, voting for Ross, which puts him over the edge. I knew Basset smoldered too much to vote for George twice.
"By dent of my own ingenuity."
It's satisfying at first to see George get taken down a big notch. But nothing motivates George more than being snubbed by the aristocracy. Yes, that's why George thinks he lost the election. Even though he's categorically the worst and loves to execute a starving villager, it's his new money that's distasteful. Jack Farthing is so amazing that he makes playing this cunning primadonna look effortless. George turns his attention to getting back to Parliament.
And he finds a new ally: Monk Adderly. There's literally a poisonous snake in that character's last name. Adderly bears all the trademarks of being a scoundrel and not the good kind. He's "new money" too and knows the workings of politics in and out. Adderly makes eyes at Elizabeth and offers George help purchasing a borough. Not the kind the Weasley family live in. Back in the day, a man with enough money could purchase himself the equivalent of a legislative district. How delightfully messed up is that?! Don't drink special eggnog every time George smirks at the idea of getting more power in this episode. You'll pass out. Adderly, though, makes George look smaller than usual. There's something about his oozing finesse that suggests he's very very comfortable with being very bad. And not in the good way.
Speaking of good people, Sam Carne challenges George's loutish gamekeeper Tom to a wrestling match as part of his latest attempt to reach Emma. However, Emma tells Sam that she hasn't a notion of repenting and will probably be leaving town soon as a maid. He handles it very respectfully. This man has really grown up from his soulless "fire and brimstone" days last season. Call me, Sam! Or send an owl. Drake meanwhile is resisting Demelza's attempts to match him with the babysitter. This love has taken its tool, but it's not about to burn out. Morwenna has her own battles to fight, with Whitworth and his mother trying to get her to relinquish her toddler to a governess. She is not having it. And her duplicitous sister Rowella reveals to Whitworth that she lied about being pregnant with his child last season. He looks utterly stunned to learn that a woman can be capable of such strategic falsehood! That doesn't stop him from rushing to her when she beckons. He is such a toad. But among the very few things Whitworth does well is listening to gossip. He brings a fat golden egg to George. Apparently Ross's banker may have gambled away a good portion of Ross and several other influential people's money.
"Strangers who know every inch of each other's skin."
Ross goes to Parliament for several months, while Demelza and Sam and Zacky keep the farm and mine running. In London, Ross meets up with Geoffrey Charles who is definitely 17 at the very youngest. Where has time gone? He returns home when Demelza writes of an issue with the mine. As every Poldark viewers knows by now, when the lode starts to run out, the hard times are coming. Ross, however, bounds out of the coach with a spring in his step and a plan. He gets the wind knocked out of his sails a bit when everyone acts a bit distant. It might feel to him like he left just yesterday, but it's been much longer for all of them. He returns just around the time George and Elizabeth throw a big party to kiss up to power players too. That doesn't concern him, but the awkward space between him and Demelza does. They really need to sit down and talk. First, though, he convinces Sam and Zacky of his plan. They will tunnel through to a nearby mine that is probably/hopefully not tapped out. He'll be home for three months to help. And Ross gets off to a good start. He has a brawl with his boys on the beach, crashes George's party to have a quiet chat with Elizabeth in the garden, a conversation that is noted by Adderly, and returns to Demelza to fess up about his feelings. He thought perhaps she was mourning Hugh. She lets him know she did, but that was in the past. Hugh touched her heart, but he could not touch what she has with Ross. She wonders that they are become strangers that they know each other's hearts so little. But those hearts are full of love for each other, and they both want to reconcile. This show certainly taps into the rich veins of emotion that can be found in marriages.
Another marriage entering new territory is Dwight and Caroline's. Their daughter is born, and they name her Sarah Caroline. Dwight could not be more in love. He even has to run down to the ocean to go for a swim, because he cannot contain his joy. Everyone is thrilled for them. And then Dwight holds his baby girl and looks into her face and sees something that is not as it should be. When Caroline's labor pains started, she commented "I think I must be in hell." Verity replied with frank humor that she wasn't yet but she very soon would be. Caroline's own reactions to Baby Sarah have been very composed, but there's clear pride in her eyes when she holds her daughter. When Ross and Demelza lost Julia, it very nearly destroyed them. What will this mean for Caroline and Dwight? Will he keep the truth from her? I feel personally victimized by this pain. Can we just go back to George buying Parliament seats or Ross swinging a sledgehammer?
There are few shows that fit so many elements into just a couple of episodes, but Poldark is one of those. It does very well too. Another set of wonderful performances, but Eleanor Tomlinson crushed it in that scene where she grieved with Ross. Don't get me started about Luke Norris either. When he held Sarah that second time, it was just too much for my tear ducts. I find myself rooting for all the marriages on this show, except Awful Ossie and Morwenna's. Hang in there, Drake! This season is just getting started, and there will be many more galloping horses.