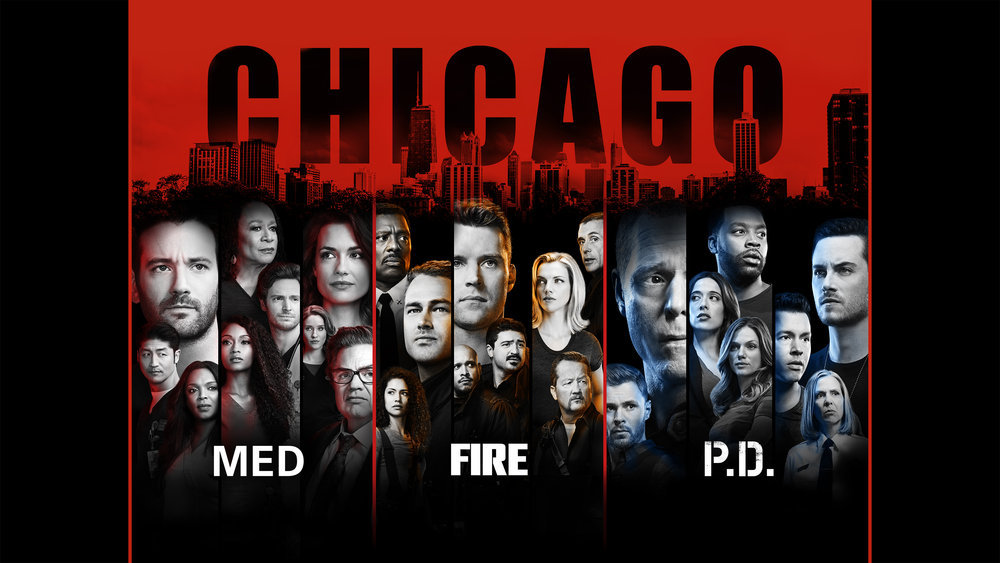 The more things change, the more they stay the same, or at least they're supposed to, according to the adage. Yet, the season premieres of Chicago Med, Chicago Fire, and Chicago P.D. showed that things are a-Changin' in the Windy City.

Breakups and Make Ups:
DAWSEY | All good things must come to an end, and Dawsey is no exception. We knew things were over when it was announced Monica Raymund would not be returning as a series regular, but it was still a shock, made all the more harrowing by the lack of closure for the couple. Impulsively accepting a job in Puerto Rico following an argument with Casey was a very Dawson thing to do, but nobody really expected her to stay there permanently. Before the news broke about Raymund, I'd assume either Dawson would have returned on her own after some time or Casey would have gone there to bring her back, like he was going to in the season premiere. So for their relationship to have just ended like that, without any sense of closure, would have been very dissatisfying for the fans. In fact, I was convinced the only way the show could dig itself out of this hole was to kill Dawson off screen, so I was beyond surprised and ecstatic when I read Monica Raymund's name during the opening credits. However, my excitement was short-lived when I learned the episode only featured two scenes between the pair, one of which was over FaceTime. I understand the time constraints – I believe I read somewhere that Raymund was only on set for a day – but I felt like their inevitable goodbye fell flat. While they ended things on good terms, both accepting their paths were taking them in different directions, it just felt forced. Two months ago, the couple was arguing about how to become parents, whether through adoption or pregnancy, which served as the catalyst for Dawson going to Puerto Rico in the first place. Yet, there was no mention of this argument or reconciliation during the premiere; the whole ordeal was swept under the rug and pretended it didn't exist.
As for the actual goodbye itself, it also seemed off. I was expecting this very emotional and tearful thing, but it was more like two acquaintances parting ways. I mean, Casey arrives home to find Dawson packing her things. Was she even going to say tell him or say goodbye in person if he hadn't come home then? Then, she makes a halfhearted plea for Casey to come with her, barely fighting for them. Yes, they both know that Casey can't come with her – he's a Chicago firefighter – but it still would have been nice to see some emotion and anguish behind her words. And then we have Casey, who doesn't put up a fight or try to talk Dawson into saying. He's not angry or sad or anything really; he's just accepted his new reality. Even the parts that were supposed to be tear-jerking – Casey telling Dawson she was "meant to do this," and her saying she'll never know anyone as good as him – don't seem to have any lasting effect. For me, it was like the actors were simply going through the motions, rather than delivering heartbreaking performances. To be fair, Spencer and Raymund shouldn't be taking the bulk of the blame. From what I've read, it seems like this is mostly the writers' fault. Apparently, Raymund gave The Powers That Be ample notice of her impending departure, but they just didn't believe her. So when they realized that they wrote themselves into a corner, they had to find the best way to salvage the mess they made. So given the circumstances, was an amicable breakup the best way to placate fans and give us some much needed closure? In short, yes. Would it have been preferable if we didn't find ourselves in this mess? Absolutely. Can we live with the finished product and move on? I guess.
MANSTEAD
| On a happier note, it seems that Manstead will be tying the knot, as Natalie officially accepted Will's marriage proposal. Of course, there's still a long way to go before the bride and groom walk down the aisle, and I'm assuming the couple will face some sort of obstacle every episode as their wedding date approaches à la
The Big Bang Theory
. This episode saw the pair differ on the scale of the wedding. Will, being the impulsive romantic he is, wanted the whole shebang: the flowers, the church with stained glass windows, a crowd of their closest friends and family as he and Natalie tearily said their vows, yet Natalie would have been perfectly content just signing the marriage license at City Hall. So, of course, the guy who spontaneously proposes to his girlfriend, who, at the time, he was fighting with, takes Natalie's lack of enthusiasm as her not wanting to get married. It's such a classic move for Will to jump to conclusions and throw a hissy fit without even considering the other person's side. Natalie's reasoning for wanting something smaller makes sense: She's already done the big church thing. If Will had just sat down and calmly talked to her, they probably could have sorted things out sooner. I know the fandom is pretty split on Manstead, so I imagine people have very different reactions to their engagement. It is worth pointing out that Manstead is the only flagship pairing left in the Chicagoverse, so I'm assuming the writers wouldn't sink the ship just yet, but I could be wrong and they decide to go all scorched fire on all the characters. I guess time will only tell.
"Bye Bye Bye":
DAWSON | Well, that's a wrap on Gabriella Dawson. I can't really put into words what her departure means for the series. It can be argued that Casey and Severide and Firehouse 51 are the backbone of the series, but Dawson was the heart. She always did what she thought was best and cared with a ferocity that was unmatched. It was also extremely satisfying to see a POC represented as a strong, empowered and multifaceted character, rather than a one-note depiction of an inaccurate stereotype. Diversity in television is still lacking, and it's such a shame to say goodbye to a character as dynamic as Dawson. Now that I've got the eulogizing portion out of the way, we can look toward what the future holds for Firehouse 51. Obviously, Dawson's absence will affect Casey, who is in a sort of limbo when it comes to his marriage, but her departure will also affect Brett. Brett essentially blames herself for Dawson going to Puerto Rico, so I can't imagine the guilt Brett will feel when she learns Dawson is going to stay there permanently. Also, I'd assume Brett will be extremely hurt that Dawson didn't say goodbye in person, unless their farewell happened off screen. It's going to be hard to watch a Dawson-less Chicago Fire, but I do have hope. Chicago P.D. went through a similar situation when Sophia Bush left the series, and with Firehouse 51 constantly circling through new firefighters, viewers have become used to some change. I guess we'll have to wait and see if the series rises to the occasion or faults under pressure.

REESE | Now if someone had asked me before the premiere which character I thought would leave Chicago Med, I definitely wouldn't have guessed Reese. Besides the obvious choice of Connor, I don't think I actually expected any of the characters to leave, but here we are.
I really have no idea what was the reasoning behind Reese's departure – Was their animosity on set? Did Rachel DiPillo want to leave to pursue other interests? Did the writers run out of compelling storylines for the character? – but if I had to guess I'd assume it was along the lines of Sophia Bush's and Monica Raymund's exit. For three seasons, Reese and Dr. Charles have a complicated relationship to say the least, but after everything they've been through – from Dr. Charles being shot and testifying for leniency for the shooter, to Reese's fear of treating patients, and her learning her father is a sociopath – I guess this was the straw that broke the camel's back. Realizing your teacher was going to let your father, albeit your serial killer of father, die is a pretty hard thing to come back from. And Dr. Charles wasn't just Reese's teacher, he was the father Reese always wanted, according to Noah, which makes the betrayal even harder to bare. How do you move forward when the man who consider a father figure was going to let your actual father die? You don't. Like Reese said, she could deal with the looks and whispers about her being the daughter of a murderer, but she can no longer trust Dr. Charles. And without trust, there can be no loyalty, and without loyalty there can be no personal growth. So Reese packed up her belongings, with plans to continue her residency at Baylor, and said goodbye to the emergency department at Chicago Med.

OLINSKY | Viewers didn't really have a chance to say goodbye to Alvin Olinsky, but the season 6 premiere did offer some closure. "New Normal" picked up in the aftermath of where last season ended, with the series opening with a bloody and bruised Voight, who eventually had to be roused by a surprised Platt. For Voight, this is sort of new territory. He's alone for the first time in his life – his wife, son, and best friend are dead, and Lindsay isn't coming home anytime soon – and there's nothing he can do to divert his grief and guilt. He already got revenge for his best friend when he killed the guy who ordered the hit on Olinsky; so what is there really left to do but feel the weight of it all. The rest of the Intelligence team and Platt struggled with Olinsky's death this episode, but their sadness was more of an echo, overshadowed by Voight's suspension and the drama between Antonio and Ruzek. However, Olinsky's absence really sunk in when Voight, now reinstated, told the team that although they've had a few very long days. He understands their emotions, but now, more than ever they need to be a team. And, sadly, that team won't include Olinsky. The episode then comes full circle, as Platt tells Voight, as he's getting ready for the funeral, that Meredith doesn't want him there. I mean you can't really blame Meredith for not wanting Voight there; he is indirectly responsible for her husband's death, and paying for the service and full exoneration doesn't bring Olinsky back to life. Instead of spiraling in a typical Voight way, the sergeant watches in the distance, as the CPD lays Olinsky to rest, joining them in a final salute to their fallen friend.

On the Job:
CONNOR/AVA | So it seems Connor isn't going anywhere, thanks to Ava, although I'm not sure how he'll feel when he learns the lengths Ava went to to keep him in Chicago. Connor may have had both feet out the door when he accepted the job at the Mayo Clinic during the season 3 finale, but nobody really wanted to see him go. Not the fans, not the hospital, and secretly not Connor himself. He was practically begging Ava to give him a reason to stay with that whole we "could've had something," yet the Ice Queen stayed undemonstrative. However, fate the writers had other plans, because after the pair lose a patient on the way to surgery, they realize there should be a hybrid suite, or an operating room of sorts, in the ED, which would allow patients to get the medical care they needed faster. So is this the Hail Mary pass fans were waiting for? Well yes, and no. Despite Goodwin's backing, the board shoots down the proposal due to the millions of dollars they would have to spend. Yet, Ava makes an eleventh hour plea with Cornelius Rhodes, Connor's father, to fund part of the program, thus keeping Connor at Med – Goodwin wanted him to run the program. While she was successful, it's unclear just how far Ava went to keep Connor in Chicago. We know she had dinner with Cornelius, but did it progress further than that. I don't think so, as the show has already teased this carrot at us before, but whatever happened, or didn't, will still come back to bit Ava in the face, especially when she and Connor are finally in a good place and/or about to get together.

EMILY FOSTER | With Dawson's departure, there, of course, would be an empty position on Ambulance 61, which likely meant the series would be introducing a new paramedic. Enter Emily Foster, played by newly minted series regular Annie Ilonzeh, who is new to the Chicago Fire Department. Not much is known about this character except that she arrives late, can't remember the fire chief's name and probably has past medical training based on her using a scalpel in the field to perform a procedure and the cryptic message from a doctor about how "the mighty have fallen." At this point, I'm not super impressed by the character, and it seems Brett has similar feelings, at least at first. To be honest, it didn't even really matter who the new paramedic would be; whether it was Emily or someone else, I still would have given that character the cold shoulder for the simple act of taking Dawson's place. Yes, I'm aware that Monica Raymund left the series on her own accord, but Dawson has been such an integral part of the series since the beginning, so any new character that is brought in to try – and fail – to fill her shoes will automatically be disliked. I also really hope the series isn't going to try to pair off Casey and Emily down the line like many viewers believed Chicago P.D. would do with Halstead and Upton after Lindsay left. Personally, it's just too soon for the showrunners to be thinking about a new romantic interest for Casey. They should really take a page from Grey's Anatomy and wait several seasons before even thinking about it, unless it involves a Dawsey reunion, then they can do whatever they like.

INTELLIGENCE SHAKEUP | Voight's brief suspension allowed for some new team dynamics within Intelligence as Antonio was temporarily appointed the head honcho. With Voight suspended and Olinsky dead, Antonio has the most experience on the job, yet Ruzek, who has literally been an officer for the shortest amount of time, felt it was appropriate to disobey a direct order from Antonio and go behind his back. Regardless of Ruzek's belief that Antonio should have backed up Voight, his "brother," regarding the shooting of the guy who ordered Olinsky's murder, that doesn't give him the right to be a complete dick. Antonio said Voight couldn't be involved with the case while he was suspended, and what did Ruzek do? He went to Voight for help, and then lied about getting the name of a supplier from an informant. Things only get more contentious from there, from Ruzek pulling a Voight and putting his hands on a suspect, who had asked for a lawyer; to him essentially strong-arming a confession from the already lawyered up suspect; and getting into a fistfight with Antonio after a successful drug raid. In that moment, Atwater is all of us: What the hell is wrong with you? But what really is going on with Ruzek in this episode? He takes his loyalty and allegiance to Voight so far, that no one in Intelligence can rationalize his behavior. From my point of view, I think Ruzek is overcompensating because of his betrayal last season. For the those who need a refresher, Ruzek spied on Voight for Woods after being caught with his hand in the proverbial cookie jar. Ever since Voight found out about Ruzek's betrayal, Ruzek has been trying to find a way to make things right (i.e. the extreme actions he takes this episode). Does that justify his actions this episode, though? Not really.

As for Antonio, on rare occasion has he gotten to take point on cases, but he finds himself stuck between a rock and a hard place. First, he's got the added responsibility of babysitting Ruzek, and then he has to contend with the pressure from Brennan of actually getting results. Voight does a lot of things off book, some more illegal than others, but those in the Ivory Tower can be persuaded to look the other way due to his successes in closing cases. Antonio has been and will always be a guy who plays by the rules, which leads to the interesting question of do police officers, or people in general, need to bend the rules to get results? If Ruzek hadn't solicited Voight's help, would more fictitious people have died from the poisoned drugs? Like viewers, this is something Antonio finds himself wrestling with, but mostly he's hurt that Voight got involved in the first place. Antonio feels that Voight's interference is a direct reflection of the detective's ability to do his job, believing Voight got involved because the sergeant didn't think Antonio could do it on his own. However, as Voight explains, Antonio will never be able to cross certain lines, and that's OK with Voight. Voight doesn't need Antonio to be anyone but himself, saying "the best thing you can be is you. The best thing I can be is me." I thought that was a really sweet scene between the pair, where, for one of the first times, they sort of put all their cards on the table and just accepted the other for who they are. Also, that hug at the end after Voight was reinstated was just everything.

Battle of the Badges:
BODEN V. GORSCH | Going into season 7, we knew Boden and Grissom were going to be battling it out, for about a half season, before Boden eventually won. However, I was expecting to see more of Gary Cole, the actor who masterfully plays Grissom. Instead, it seems Firehouse 51 will mainly be dealing with Grissom's lackey Jerry Gorsch, played by recurring guest star Stephen Boyer, who has made himself right at home. Quite literally. And all his sanctimonious criticism is complete and utter crap. Gorsch barely spent any time as an actual firefighter before trading in his turncoat for a white shirt, whereas Severide has firefighting running through his veins. Like who does Gorsch think he is? Well, apparently Gorsch thinks he can go toe to toe with Firehouse 51 and figuratively come out of this alive. Sure, Boden digging up that smoking gun on Grissom backfired in the fire chief's face, but did anyone really think the fight would be over that quickly? Having watched six seasons of Chicago Fire, viewers know that whoever tries to close or tear apart or replace a firefighter ultimately fails. It's essentially the same storyline played out over and over again, just with different characters cast as the antagonist. So it seems in an attempt to up the ante, the series is having the mayor of Chicago side with Grissom. From what I can remember, the primary sources of conflict worked for or with the CFD, so having the mayor side with Grissom is something new, at least. I'm also wondering if this arc will intersect with Chicago P.D.'s at all, with that series exploring the mayoral race.

GOODWIN V. GARRETT | After being introduced in the season 3 finale, it seems Gwen Garrett, played by recurring guest star Heather Headley, has cemented her role within` the hospital's hierarchy. As chief operations officer, Garrett's role is going to be prioritizing the bottom line over patient care, such as making sure the hospital doesn't spend millions on a hybrid suite in the ED. Oh, wait, they actually did that. And because Garrett assumed Goodwin had something to do with the Board changing their mind – but let's be real: If Goodwin had the means to do it, she would have – Garrett decided to take her anger out on Dr. Stohl by not renewing his contract. Now Stohl isn't exactly the warmest or friendliest doctor, and he is sometimes more concerned about publicity and cost-saving measures, but his heart is in the right place. He's an interesting character because he does push back against some of the more idealistic doctors *cough* Will *cough*, but at the end of the day, he's a member of the team. So I assume Chicago Med will be introducing a new ED chief, one who will most likely be under Garrett's thumb, which will make it that much harder for our gang of doctors and nurses to their jobs when they're under that sort of scrutiny. Or I could be completely wrong, and Goodwin or Will or someone else will find a way for Stohl to stay at Med. Either way, it's clear a storm is on the horizon, and the ED staff will be forced to choose sides.

VOIGHT V. BRENNAN | It seems The Powers That Be won't be giving Voight a break when it comes to a higher up breathing down his and Intelligence's necks. This episode introduced Deputy Superintendent Katherine Brennan, played by recurring guest star Anne Heche, who seems a little more willing to play ball with Voight than Woods. For Woods, it was all about getting revenge – we all remember how well that turned out for him – but Brennan seems to be playing the long game. When we first meet her, she appears to be the standard Ivory Tower police officer who will try to take Voight down and, ultimately, fail; it's a story we've seen play our many times. However, things start to become murky when Brennan denies that Internal Affairs has a copy of the footage from the shooting. Obviously, Brennan is trying to use him for something, but the question still remains what. Voight believes Brennan is just trying to get him fired, but we learn her motives are more surreptitious than that. In exchange for reinstalling Voight, Brennan wants him to help her get her boss elected as mayor as well as closing, or not closing, certain cases depending on the situation. That's certainly a Nazi-Soviet non-aggression pact if I've ever seen one. What I really hope is that Voight and Brennan's burgeoning relationship is more in the vein of Voight's uneasy friendship with Alderman Ray Price, who appeared sporadically throughout season five. I really liked that relationship because it was more tit for tat than cat and mouse. It'll be much more interesting to see Voight and Brennan eye each other in the arena before going in for the kill.

Some stray thoughts:
- I really feel like the screen time devoted to the mysterious firefighter playing chess against Otis on
Chicago Fire
could have been better utilized by focusing on Dawsey. There were literally only two scenes between Jesse Spencer and Monica Raymond, one of which was over FaceTime.
- Neither Ethan nor April have the right to tell Emily how she should handle her pregnancy. I can't decide which is worse: Ethan telling Emily she needs to have an abortion because of her sobriety or April essentially forcing her pro-life beliefs on Emily, simply because she's a practicing Catholic.
- Is anyone else confused how there can be a three series crossover episode tonight when both
Chicago Med
and
Chicago Fire
jumped forward two to three months, but the season premiere for
Chicago P.D.
picks up the day after the season 5 finale, or did no one else pay attention and/or care about this lapse in continuity?
So hit the comments below to let me know your thoughts. Are there any OPTs left on One Chicago that you still ship? Which character exit hurt the most? Which "Battle of the Badge" are you looking forward to most?
---