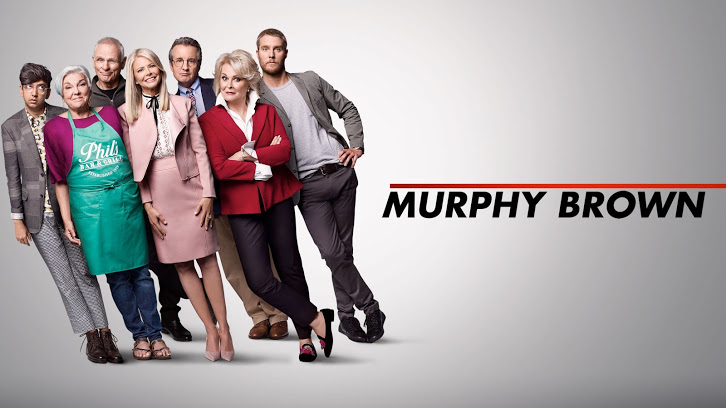 Murphy Brown
returned to television with "Fake News" – the sort of title we would expect of a show known for cutting edge – and just plain cutting – political commentary. As someone who vividly remembers the original and enjoyed it, I was eagerly awaiting the premiere. The show stands up well even though I'll admit to having drifted away from the show before the first run ended. Is the acting brilliant? No. But the dialogue still sparkles and zings where it should, and truly, in this era of 'fake news' this show is just what the doctor ordered to keep us questioning what shows up on our televisions, computers, and Twitter feed.
"Fake News" was written by creator Diane English, with story editing credits going to Skander Halim and Gina Ippolito. The episode was directed by Pamela Fryman. Halim's other credits include
Bunk'd
,
Raising Expectations
, and
UCB Comedy Originals
, while Ippolito's also include
Bunk'd
where she partnered with Halim, as well as
Regular Show
. Fryman's long list of credits includes the new
One Day at a Time
,
How I Met Your Mother
,
Two and a Half Men
,
Just Shoot Me
, and
Frasier
.
Almost the entire surviving cast are back. If you were really missing Charles Kimbrough (Jim Dial), he'll be back in a guest star role at some point, but the 81 year old actor is mostly retired. Joining the cast are Tyne Daly as Phyllis, taking over the gang's favorite bar from her brother, Phil (played by Pat Corley who passed away in 2006). Jake McDorman joins the cast as Murphy's (Candice Bergen) now adult son, Avery. I have to wonder if they tried to get Haley Joel Osment who played him in the final season. Finally, also joining the cast of regulars in the newsroom is Nik Dodani as Pat Patel, the director of social media.
I'm sure that Murphy would criticize me for burying the lead, but I really adored their surprise guest of Hillary Clinton as Murphy's first secretarial candidate Hilary – one "l"! – Clendon. Again, was it a brilliant acting performance? No. But I adored them playing with her "Secretarial" experience – and her experience with emails! The entire scene was priceless.
When the episode opens, we see Murhpy waking up horrified to the 2016 election results – and if you weren't quick, you missed that it was Avery Brown reporting. Jump ahead and we find out that Murphy is retired, Corky (Faith Ford) has just been fired, and Frank (Joe Regalbuto) is now teaching. All of them want to get back on the air, but for slightly different reasons. It's hilarious, of course, that Corky loses her job because of the weather girl – let's remember where she started out! Frank misses the fame, and Murphy is tired of watching the world disintegrate around her without doing anything about it. The characters are very much as we remember them – right down to Corky wearing Ivanka Trump shoes because she got them for $1 on sale – she's still not exactly interested in changing the world.
Avery arrives home, and I liked the chemistry and banter between Bergen and McDorman. Naturally, they end up on competing shows. McDorman on the "Wolf" network – Fox, anyone? – and Murphy on CNC (aka CNN). They have a clearly established competitive relationship without compromising that familial bond. Murphy tries to warn Avery that she thinks he's making a career mistake, but like his mother, he's determined to make a difference and work to change people's thinking.
Murphy, Frank, and Corky continue to get the old gang together and insist on having Miles (Grant Shaud) produce. We find him "in recovery" from a stressful stint producing
The View
– which is hysterical. I loved him comparing it to
Game of Thrones
! In the end, of course, they are successful at getting him back to produce. Luckily, Miles has kept up with the times and knows what goes in to making a successful talk show – including social media push.
I've seen some criticisms of the Pat Patel character, which I thought they addressed well themselves by having him point out that he's a bit of a stereotype. I've also heard people object to his awe over a flip phone. If you are of a certain age, you are like me and know people who really do still have them. Or people who don't want a "smart phone" or access to social media. You also know people who have no idea what a cassette tape is – or ever experience life without the Internet. People tend to overlook just how quickly technology has changed in the last decade – so I thought that his reaction was, of course, a humorous exaggeration, but not completely unrealistic. I'll be happy to see where they take this character.
Naturally, Murphy was going to be a natural at Twitter – at least in so far as going viral. And her first tweet is a doozy: "I once went on a date with Donald Trump. He made me split the check." Just as Murphy tried to help Avery with career advice, he tries to advise her not to send this tweet – she has no idea what she's dealing with – but that's not our Murphy… And of course, there's a nice dig at Roseanne – and the people who have been fired from their jobs over an ill-advised tweet.
On the first day of their re-boot, we get lots of meta-comments that could easily be a conversation between Diane English and Candice Bergen, not the FYI team. What if no one watches? What if it tarnishes our legacy? So far the ratings haven't been great for
Murphy Brown
– though Murphy's show thoroughly trounces Avery's.
The show is meant to center on hot button issues like climate change. Their first guest is from the EPA (Faith Sandberg), though we quickly learn she was really just put in charge from the Trump Tower gift shop – she's woefully unqualified to talk about climate change, debunking global warming while standing in the Antarctic. It's hilarious when Corky starts having a hot flash – and ends up using her meteorologist past to debunk the "expert" – who then hilarious disappears when the ice she's standing on melts!
Of course, the show ends up going off the rails when the Twitter-wall shows that Trump has tweeted a response to Murphy – and Murphy takes the gloves off. It's funny, but Murphy is ultimately annoyed with herself for simply resorting to name calling and not sticking with the high road of just the facts. Naturally, it turns out that Avery and Murphy have watched – and liked – each other's shows. We also have a nice shout out to Eldon being absent because he died running with the bulls in Spain. It's a nice way of acknowledging Robert Pastorelli's tragic death – running from his own person demons.
I'm happy with what I saw in this first episode – It's the
Murphy Brown
that I largely remember. Why then, weren't the ratings stronger? I think there are a lot of factors, but I think the biggest one is that views are now very polarized. I chose not to watch
Roseanne
– though I'm planning on tuning in for
The Connors
. I think people are very much politicked-out. However, I would urge people to tune in – there's still lots here to laugh about that comes from sources other than politics, like the television industry and the age gap. What did you think of the episode? Did you watch the first run of the series? Let me know your thoughts in the comments below!