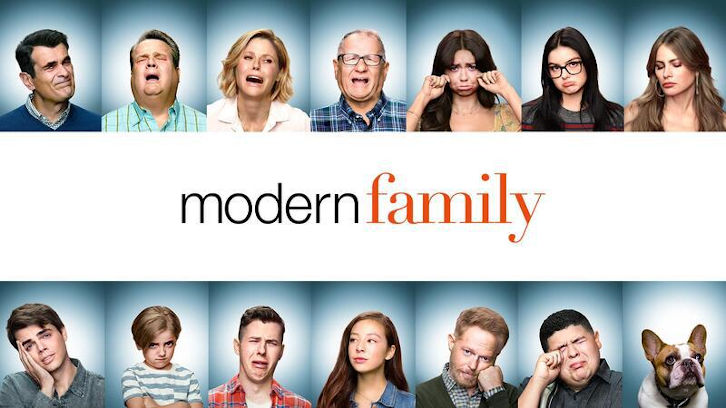 This week on Modern Family, we get our first episode of the season that finds the family not together for an event and instead focuses on a few different pairings - who are all experiencing "first days" of some sort.

First up, is Phil's first day...as a community college Intro to Real Estate teacher. Phil has been busy training Luke for his rugby tryouts. While dropping Luke off, he saw the sign for the class and decided to drop in. Finding a dull instructor more interested in graphs and numbers, Phil worried he may be turning off those young minds from real estate. "Real Estate is all about people, emotional connections, and magnets with your face on them!" The instructor turned off his glass with glee, running out to get to his car before he has to pay the all day parking rate. And with that, Phil was shaping minds at the hallowed halls of Sequoia Community College, established 2016.

Unfortunately for Phil, Luke was not as excited as he was about the fact that his father was taking a job at the community college. Phil only wanted to take the job if Luke is okay with it. Despite his best effort to show Luke how much he wants it, Luke was clearly uninterested in his father's excitement and shoot him down. This would lead Phil to decide that he would resign.


While Mitch wasn't having his first day in court room, he did have his first time being on a big trial that involved heavy media coverage, including CNN. Unfortunately, this lead to the news broadcasting an awful court room artist's rendering of Mitch that made him look like "an elf that just walked into his own surprise party." So, of course, it was up to Cam to give Mitch tips of how to present himself in the court room to get his "best side" and best looks - leading to some very awkward questioning from Mitch of his witness. However, Cam would soon find out that the artist was also depicting him in the audience in an unflattering way as well. As it would turn out, the sketch artist is a former tenant of Mitch and Cam's upstairs unit they had offended him by mocking the fact that he had devoured their entire welcome basket that they usually reuse half of. "He even ate the horse radish mustard. What did he put it on? We purposely don't give them crackers!"

Meanwhile, it was Claire and Jay's first day with their new partners, having agreed to merge their family business last season. The younger, more fun culture (paternity leave, ping pong tables and Zorbing) of their partners immediately and quite predictably clashes with Jay's view of back breaking, soul crushing hard work. "You get this back when I see people pull up in the morning crying in their cars!"

Claire's first day would end up going downhill fast when, just as she feared, Jay had crushed the spirit of all the youngsters at the office. Claire wanted to get everyone to see they weren't just a bunch of killjoys. She brought out "Party Claire" - rolling through the office in the "Vorb" ball that does not go as well as she hoped - instead knocking over anything and everything in her path of destruction. Little did Claire know, the younger partners actually were glad Jay had laid down the law. They had become "too soft" and the lack of distractions was proving to be a good thing in their eyes.

Alex, Gloria, and Joe were each each having their own first days as well. Gloria was lamenting over Joe's first day of 1st grade - where there was a lot of change coming at Joe fast. No cubbies, hot lunch instead of packed lunch, and curbside drop off instead of being walked in. Back at home, Gloria was worried about Joe's first day when Alex barged in with her own worries. A new year in college has Alex having a bit of a mid-college-life crisis as she wondered what will come for her after college.


Back in the court room, Cam goes into detective mode. As a boy, Cam was sometimes considered a real-life Encyclopedia Brown - but they called him Thesaurus Jones. And in order to dig up some dirt on the court room sketch artis, Cam went into Thesaurus Jones mode and found out that our villain does have something to hide. He had been illegitimately using the executive level of his gym by using the card of a retired judge. Cam and Mitch used this new information as blackmail, through disguised dialogue during Mitch's closing statements, encouraging the artist (and the jury) to "DRAW a MORE ACCURATE conclusion." The artist quickly gave in to drawing a much thinner version of Mitch.


Phil, meanwhile, headed back to class and to break the heart wrenching news to his class that today would also be his last day teaching. Even though he heard it all, Luke still was lacking any emotion about his father's new passion. Even as they walked to the car, passing all the college activities right up Phil's alley - amateur inventors, magic shows, etc. As Phil stopped pretending to be okay with Luke's decision, exclaiming that he is MEANT to be here, Luke revealed his true reasoning behind not wanting his father on campus with him. Luke has never had the chance to have a campus to himself - having to always share the spotlight with Alex or Manny. Phil backed down and headed home while Luke received the news that he had made the rugby team. Realizing that Phil was the reason he made the team due to being a "great teacher," Luke changed his mind and told his dad that the campus should be big enough for the both of them. Phil can't get back to the parking lot fast enough - already jumping into a game of Ultimate Frisbee.

The story concluded at Jay and Gloria's house, where Alex ended up putting Gloria on edge due to her own freak outs about first days. Worried that Joe was going to come home having a bad day, she prepared a speech and his favorite ice cream sundae. But it was Claire who showed up first, having her own terrible first day having made a huge scene at work - Including getting gum in her hair, falling and skinning her knee, and everyone seeing her panties. As Claire unloaded on Gloria, Joe waltzed in in a chipper mode, having had a great first day because he's cool. Turns out, packing your lunch is not cool at all (poor Conner B brought stinky egg salad and had to eat with the nurse). In order to cheer up Claire, Gloria gave Claire the ice cream and delivered the same written speech...which amazingly somehow still ended up applying to Claire (boys can be mean, remember how hard it was for you to learn to swim). Gloria's speech seemed to do the trick for Claire to show her that tomorrow is another day, though Claire might end up passing on Gloria's offer to visit her at lunch and kiss her through the fence.

Jay took over on Alex-duty. He got to the bottom of what's wrong with Alex - she's been on the science track her whole life but was now having second thoughts and was interested in pursuing singing. Performing a few lines of Somewhere over the Rainbow, Jay told her to stick to science. Not because she was bad, but because she should play the odds. Jay compared it to legendary daredevil Danger O'Shea, who first started his own business and established it first. And when he couldn't kick the daredevil dream, he did that and was great. That was until he tried to jump over a motor cycle in school bus. But since he had a safety net of his business, he jumped right back into that and was more successful than ever. Jay encouraged Alex to continue on her career path for now. Alex agreed, especially since she could make $1 Million in her first year after college. "Wow, what do they pay men?"

Random Thoughts:
-Overall, the Cam & Mitch plot was probably the highlight of what will be a pretty forgettable episode.
-How is Joe already in 1st grade? Time flies.
-The bar that the lawyers go to and hang up their 1st big case court room sketches is called The Side Bar. That's great.
-The Phil as a professor story could be an interesting one. I just hope it plays out better than the Phil owns a magic shop story...
-The Alex plot seemed a little forced (again, how is she already close to graduating college?), but Gloria thinking Alex is contemplating a gender change when she tells her she is considering "becoming a Fellow" was a decent laugh. "Alex is going to make for a very nervous man."
-No Haley at all this week.
-Jay's email address is Jayscomputermail@aol.com.
-"Location, Location, Location."
"You memorized it!"
-"Relax, it could just be an Amber Alert."