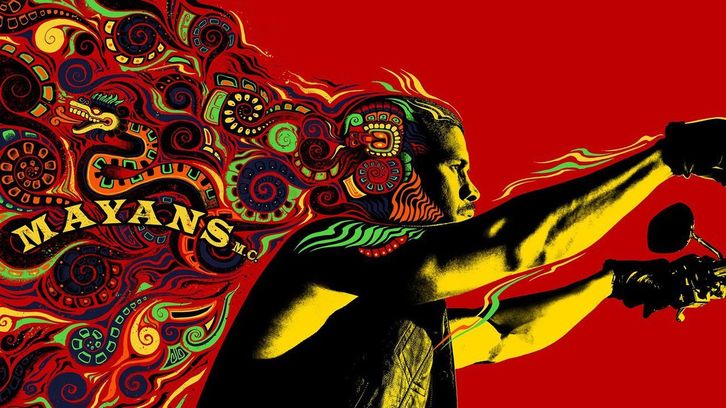 Before I start the review, FX RENEWED MAYANS MC LAST WEEK!!! That is right, the club will ride again in 2019, and I am stoked! Now on to the matter at hand, as Mayans moves along, we are seeing seeds planted and divisions growing that even the characters aren't aware of. This episode officially marked the halfway point of this freshman season, and it fired on all cylinders. Let's Discuss!

Reveal thyself Cole

some
of Alice from the previous episode and Cole, the man that he became somewhat acquainted with when he was throat punched by him. We learn that Cole is the big ex-military shot caller EZ suspected and wants to know more about Angel and his game, so he let himself in and placed Alice's head on Angel's Lazy Boy. Angel is reluctant given what he woke up to and wants to know who exactly Cole is and what he does. They size each other up and Cole informs him that he and his
'company'
simply help move things for a price and is curious if Angel has something to deal. The six keys of heroin are still heavy on Angel's mind and so he lets the man know that he and not his club have something they may be interested in. Cole puts together that Angel uses tunnels to move back and forth and that piques his interest in what Angels Reyes can offer. At this point it is appropriate to point out that Cole seems to serve one interest, himself, so is it wise to be so forthcoming? Probably not, but Angel hasn't been too careful with the details so long as he can find a buyer and help
Los Olividados
and specifically Adelita. Cole offers something Angel can't refuse and shares with Coco and Gilly who are clearly growing weary of the path that Angel is leading them down with each passing move.
Los Olividados
may hold the key. Either way, Cole seems just as scary and dangerous as Galindo, so Angel better be careful. I feel that I say this a lot lately!
Felipe Cortina
EZ/Emily & Angel/Adelita
The Reyes boys sure do seem to be drawn to complex women. This episode peeled some layers back on how two very different women are driving the motivations of Angel and EZ. I had to devote a whole section to this, because there was a lot to unpack. Let's start with EZ and his continued pull towards Emily.
Los Olvidados.
This dynamic of the two star-crossed lovers could be the thing that brings several sides to a breaking point and I don't see either side having an epic rekindling of romance moving forward. For Angel, he may be clear headed when it comes to what EZ should do, but not so much when it comes to his feelings for Adelita.
rabbits
. When the dirty head cop refuses to let Adelita go because she has a bounty on her head, Angel scoffs but is forced out leaving her inside the house where she is threatened with rape. Adelita is also no wilting flower either and her child rabbits assassinate the lot of the people holding them and they are all freed. Angel apologizes to Adelita for the mess and heat, and instead of a slap I suspect he was anticipating, he instead gets a hot kiss and warning not to do that again. Putting aside all of the ramifications of what happened, it was kind of sweet and hilarious seeing Angel dumbfounded by the smooch that was just planted on him and if you looked closely, you could see his eyes spin back into his head. Once brought down to Earth, EZ sees that his brother's interest in
Los Olvidados
extends past their cause. Angel is obviously invested in Adelita, but is she just using that? I can't say, and Angel dials it back by episode's end by insisting it is all business. Adelita is such a wild card, she could have let Angel die and find another inside man, but she didn't. Could there be something to her feelings for Angel as well? I think maybe, but her cause will most likely take precedent. Either way, this budding romantic entanglement seems to have less obstacles than EZ and Emily, but it raises the question... How complicated was their mother, to have both so taken with these two layered and independent women? I hope we get more on that as the show progresses.
Some Odds and Ends:
* Chucky really caused some problems to team rouge (that is what I am calling Angel's crew). I mean Adelita and Leticia look nothing alike, yet he led the rest of the club to think that is who Coco was arguing with.
* I personally take exception to head police scumbag implying that Angel wouldn't come back for EZ because he totally would. Yes, Angel killed Dennis last week in a questionable move, but I doubt he would ever leave EZ behind to die. Plus, during their scuffle at the end of the episode, they both stop short of pounding each other and their unspoken bond of brotherhood is palpable.
* EZ said something to Adelita about slitting his throat and that is when I noticed that the tattoo on her neck is covering a pretty gnarly scar. Was that her initiation into
Los Olvidados?
It is possible after the reveal that her real name is Luisa and Angel said her whole family was slaughtered in front of her. Also, her conversation with the ArchBishop in disguise was very personal.
* The product placement of
Miller Lite
is becoming really obvious now. I mean I love that their sponsorship helps the show, but does Alice's severed head really need a can next to her?
* The running animal theme is interesting. We've had a dog, scorpion, bat, owl and opossum. In SOA it was just a crow, but the Mayans have several symbols so far.
* The end scenes with Emily and Miguel and EZ and one of the women from the brothel..... thoughts?
* Gilly found out that the mystery tunnel lead to outside the Club's go-to brothel spot. Hmmmmm how will that play into events moving forward.
The show just keeps improving. What did you think? What will Cole bring to Angel's side business? Does Bishop actually know or am I grasping at straws? EZ and Emily and Angel and Adelita, what are your thoughts? Let me know!