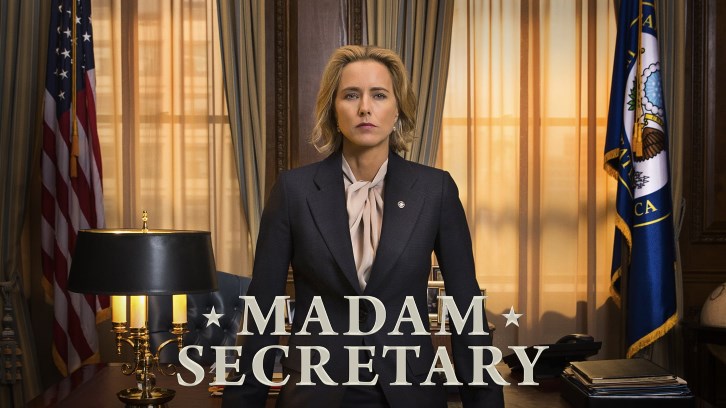 I'm really happy to be adding
Madam Secretary
to the slate of shows that I review for the site. Get ready for me to fangirl all over this show – its political relevance and the way it handles the balance between the personal stories and the political ones are the reasons that I've loved the show from the first episode. Both of those elements are strong in the season opener "E Pluribus Unum" written by the team of showrunner Barbara Hall and David Grae and directed by Eric Stoltz. It goes without saying (I hope) that all views expressed in this review are my own.
This episode begins with a bomb going off in the Oval office and then jumps back to a week earlier – as it loves to do – keeping us in suspense as to how we got there and whether anyone in the office was hurt or killed. We know President Dalton (Keith Carradine), Russell (Zeljko Ivanek), and Stevie (Wallis Currie-Wood) are in the room, and Elizabeth (Tea Leoni) is mysteriously late.
As usual, the show doesn't shy away from dealing with several issues that are all over the news lately. Once again, they find a way to make the personal issues blend in with the political as well. One of the things that I've liked about this show is that they've always managed to give Henry (Tim Daly) a strong and relevant role to play even while Tea Leoni is the star. In this instance, the political issue is the current Hindu violence against Muslims in India and the on-going tensions between Pakistan and India.
When the action picks up "one week earlier" we find the McCords, Jacksons, and Daltons vacationing in Martha's Vineyard – but that doesn't mean there isn't a daily briefing, and we begin to see Dalton and Russell shifting power to Elizabeth – or at least starting her on the campaign trail. When there is a violent incident in India, Elizabeth suggests that she issue a severe rebuke to India and Dalton backs her up.
The problem is that the next day at the office, Jay (Sebastian Arcelus) informs her that their back channel diplomacy to scale back nuclear armament has seen some progress with India. Elizabeth makes the hard choice to prioritize the nuclear issue over the persecution of minorities. And this is what causes real discord between the McCords.
Henry doesn't support her decision. He insists that a muted response to ethnic terrorism is just encouraging it. This might have just been another way for the viewers to get a reasoned debate between the religion/philosophy professor and the politician, but now there is more at stake because Elizabeth is running for President. Henry goes on television as part of a conference being held while the Indian and Pakistani officials are in Washington to sign an agreement. Henry goes on record as not supporting India's actions and condemning them in no uncertain terms as terrorists against minorities. Henry also stresses that America has only gotten closest to its democratic ideals when the country has been most inclusive – and of course, this is the other theme that runs throughout the episode.
Elizabeth struggles with Daisy's (Patina Miller) suggestion that Henry apologizes, but ultimately suggests that he could. Henry responds that the mere suggestion carries a "whiff of academic censorship." And I loved them bringing that issue up because that is also an issue simmering with little attention in the world right now. This doesn't even consider "politically correct" speech but the very suppression of freedom of speech. In the end, Elizabeth tells Henry that she doesn't want him to be someone he's not, and he admits that he doesn't want her to run for President. It will be interesting to see how this plays out over the coming season.
I always like how the show moves through a political crisis and really appreciate the great guest stars that they secure. I was especially happy to see Sakina Jaffrey as Indian Foreign Minister Chondita Samant. We get several great walk and talks between Elizabeth and Samant. When the initial deal falls through due to Henry's television appearance, the team thinks out of the box and Jay heads to Mexico to convince the Pakistani Military Head, General Osmani (Piter Marek) to come to Washington. Elizabeth invites Samant for dinner – and ambushes her with Osmani. I loved the blocking in this scene which had Samant and Osmani at either end of the long kitchen island – a nice metaphor for the chasm between the two countries. And then the deal is back on and we are back to the bombing.
Two character notes before I comment on the heart of this episode. I found Stevie to be even more annoying than usual in this episode. I loved Linda Lavin's guest spot as June O'Callaghan, and I really liked how they teased out her character. She seems like she has a problem with Stevie – and why wouldn't she? She's not wrong when she tells Stevie that she's gotten where she has because of who she knows and is related to. We have seen very little evidence of her being especially competent at her job. In this episode alone, she's late to work because of traffic – and June has clearly been hard at work for some time – and she has an utter fail with trying to put Russell on tea – has she met him? I loved June catching Stevie out on the doctor's appointment. In the end, she is supportive by telling her to hold out for the best offer – who wouldn't want to employ the potentially next President's daughter?
I utterly hated Stevie's ignorant, privileged, and condescending tirade to June about "women of her generation." The problem is not that June doesn't understand the current generation or the system. She does very well as demonstrated by her intuition and advice. All Stevie does is prove her own ignorance and insult one of the people whose dedication and hard work has opened the door for Stevie.
The other character who always deserves special mention is Russell Jackson. Ivanek is particularly good in this episode. We get that great comedic scene with him over the tea, but we also get the emotional scene of him having to tell June's husband that she's died. He nails both equally well. I'm thrilled that he's accepted Elizabeth, and we also get that terrific scene of them having lunch together. He tells her that if she can't get her entire family on the same page, she won't win an election.
Finally, we get to the bombing itself. At first they suspect Hindu nationalists or Muslim extremists, but in the end, the RPG was set off by White Nationalists. The danger to America from this internal threat can't be minimized. Were the final few scenes of this episode a bit preachy? Yes, they were. Did they need to be? Yes, they did. I loved that the show was brave enough to go there, and it continues to feel like it is really following in the footsteps of
The West Wing
.
Elizabeth has been asked to give a speech after the India/Pakistan deal is signed – another indication of the torch being passed. She turns to three former Secretary of States – and we are blessed with guest appearances by Hillary Clinton, Colin Powell, and the return of Madeleine Albright. And I adored that they had a Republican join the two Democrats – and they all had the same message. While they were naturally all paid for their roles and given scripts, you can also bet that they didn't say anything they didn't want to. All three did a very credible job. Clinton's appearance was actually much more natural and less stiff than her appearance on
Murphy Brown
.
All three supported the same sentiment. America's strength lies in its core democratic values that are laid out in the Constitution. Albright related that three of her Grandparents were murdered in Nazi concentration camps and the discussion turned to the threat of Nationalism. This point was particularly timely as there is currently a meme going around with a Jewish child being given a number in Nazi Germany and a Mexican child being given a number in the US. Now. Powell made the point that Nationalism is contagious and serves to split people apart. Clinton added that the attack on what makes America great is an attack against America's diversity and reminded us of the title of the episode: E Pluribus Unum. Out of many, one. It means ALL Americans, not just one "race" or one man.
Elizabeth's speech takes up these themes and expands on them. It's brilliantly set in the ruins of the Oval office – a nice reflection of her speech. She begins by stating that hate is worse than any nuclear threat. This is a nice acknowledgment by her that Henry may have been right all along. I think that she's going to find common ground in using him as her conscience. Her speech goes on the underscore the previous discussion and point out that Nationalism is the existential threat of our times. She states – accurately – that Nationalism is a perversion of Patriotism. Patriotism is about inclusion – we the People, means ALL the people.
I loved that she also continued to draw on the Constitution as she states that freedom from tyranny requires a commitment to the enshrined ideas of freedom of the press, the right to vote, and freedom of religion. Again, this is such a timely message – I just today saw an video by the former cast of
The West Wing
advocating for no draconian changes to the voting procedure in the US and pointing out that one party alone was responsible for making it more difficult – if not impossible – for young people and marginalized people to vote.
Elizabeth finishes the speech by pointing out the dangers of isolationism – that's how the last two World Wars happened. She admonishes her audience not to lose sight of common decency – there needs to be a halt to the hateful rhetoric we seem to see everywhere. She also encourages the audience to "reject the scourge of Nationalism." The show ends with a rather cheesy shot of the American flag – but it's hard to quibble with such a brave and needed stance on the current affairs of the US.
I thought this was a great start to the season. I'm looking forward to more bold examinations of the state of current affairs. Please more reasoned discussion of the issues and the depiction of a White House that clearly works and upholds American values – not one in ruins that seems irreparably broken. But really, less Stevie too. There's little doubt that this incident will mean a season long arc of angst for her… What did you think of the episode? Let me know your thoughts in the comments below.