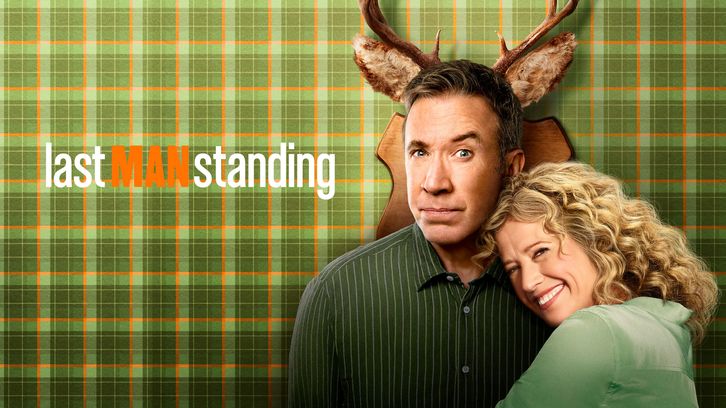 Last Man Standing is getting a bit more comfortable in its new skin. This episode again featured an awkward "current events" tie-in scene, but there were more heartfelt moments to balance things out.

The undisputed MVP of this episode is Nancy Travis. Her enthusiasm lights up every interaction Vanessa has, and her comic timing hits the bulls-eye every time. Vanessa finds a bag of "baby announcement" T-shirts under Mandy and Kyle's bed. She couldn't be more thrilled. Of course, they aren't actually pregnant. Kyle confides his concerns to Vanessa.
"I'm starting to be concerned it might have a little to do with my vasectomy."
Christoph Sanders drops that line with such earnest sincerity and innocence that it is hilarious. Vanessa quickly realizes he's talking about an appendectomy he had. (Surgeries that rhyme, am I right?!) This part of the story shifts when Mandy reveals to Vanessa that she doesn't really want to have a baby at the moment. There's nothing wrong with that. What's wrong is she hasn't told Kyle. There are two things wrong with this whole scenario. First, it's a cliché. Second, for yet another episode, Mandy is stuck with mediocre material. I don't understand why they are writing Mandy to be this way. Yes, it's a new actress, but Molly McCook is capable of more and better than what they are giving her. The story also ends, for now, with Kyle thinking that he is responsible for them not having a child. It's supposed to be funny, but it feels wrong.
"My coworkers are my family."
Outdoor Man is staring a different problem in the face. Another outdoor store, Ted's Tackle Box, was bought up by a corporation. Many of its employees are being laid off. Everyone is worried that Outdoor Man might be next, and Ed isn't particularly reassuring. Mike learns that Ed is considering selling. He sets out to change his friend's mind. All of this builds to a vlog post Mike does about how hard it is for people to see their jobs being taken overseas. I get where that was coming from, but that wasn't what was happening here. The fate that Outdoor Man's employees wanted to avoid was something different entirely. When smaller businesses are absorbed into bigger ones, original employees often get laid off, so the big business can start over with new employees who get lower wages. So, to me, that wasn't connected to manufacturing jobs being sent to other countries. Ultimately, however, it's a VHS that Mike plays on "the last VHS player in America" that changes Ed's mind. It has their first commercial on it.
"We were idiots. What's the point?
" Ed asks.
Mike reminds Ed what really makes Outdoor Man special. The relationships have built it up. Friendship wins, and Ed decides to look over Mike's plans to get Outdoor Man up to speed.
For now, the show is still relying on Tim Allen and Nancy Travis, but there's bits here and there that bode well for stronger stories and more for the rest of the cast to do.
Also, that "some wacky billionaire hunting you for sport" has to be a
Wrecked
reference. right?