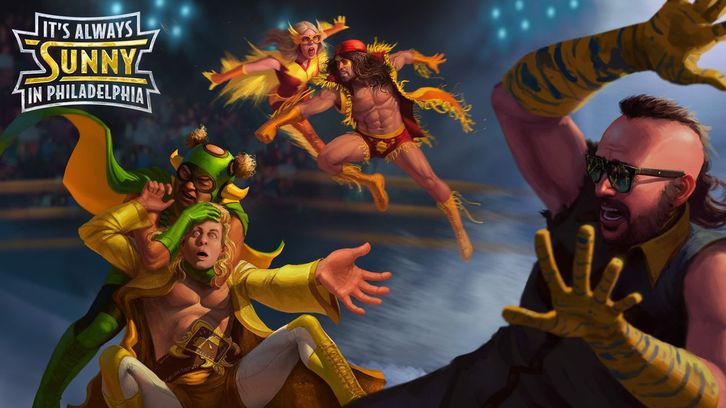 Time's up, time's up, time's up, time's up for the gang this episode, and it's about time, frankly, after all the stunts they've pulled on people over the last 13 seasons. Now they're being called out on it. Sort of.


The gang is attending a sexual harassment seminar because someone on the internet put them on a bars who harass women list, and the boys take it as seriously as you'd expect. Dee's there to enjoy watching them suffer through this, although she will have much to answer for herself as she finds out later. They end up taking over the whole seminar, basically, asking stupid, irrelevant, and sexist questions to the woman hosting the thing. But of course, when her male co-host shows up they sit up a bit higher and pay more attention. For a little while, anyway.


The gang ends up splitting up to do some learning activities. The first activity for Charlie, Dee, and Mac is role playing. They have to witness a situation and figure out what is wrong in these situations. They don't. Then it's Dee's and Mac's turn to do their own role play, and they turn it into an acting class of sorts. But that's not what's great about this scene. The only thing you need to know about it is that Mac does a Donald Trump and grabs Dee by her crotch and lifts her up into the air. This may be my favorite visual of the season so far. Dee thinks it was awesome, but changes her tune when she discovers she could actually sue him for sexual assault. This wheels in Dee's brain start turning in the very wrong direction with this knowledge.

Newly
woke
Dee joins Dennis in his activity. First thing she does is complain about the boys calling her a bird all the time and asks if that's sexual harassment, but it's not. It's just plain old bullying, and who cares about that? But off of that, Dennis gets the chance to show off how much he knows about the history of sexual harassment. Of course he would, he's Dennis. He needs to know the rules so that he can figure out how to get around them.
So feminist activist Dee goes on to exploit Time's Up some more. She pretends someone grabbed her butt so that she can get to the front of the food line. This makes the boys worried because they think all women will be like Dee and fake sexual harassment. But trust me guys, Dee is her own special kind of person. There's no other bird like her.
The last part of the episode is where it actually gets pretty real. The next activity is an example that is the complete story of Charlie's stalking The Waitress. They bring up how disturbing that is and how inappropriately Charlie behaved with her, even though he thinks it was romantic. But then he comes back with his own story of sexual harassment/rape with Dee. Yes, they finally acknowledge Dee's and Charlie's hookup a while back. While it apparently started off mutual, at some point Charlie wanted to stop but Dee wouldn't let him. So, yeah, Dee raped Charlie. Then Frank flashes everyone. This is too much for the poor hosts to bear, So Dennis kicks them out and takes over on the teaching. Although it's not so much teaching as it is sociopath Dennis calling out everyone on their bad behavior and revealing he set this entire seminar up so he could teach them a lesson about their behavior. He just wants them to stop being sexually aggressive perverts so people will actually want to come to the bar. With that said, nobody is moved by his words, and nothing changes.
This was another solid episode for me. They are really hitting it out of the ballpark this season. What I like about this show going on for 13 seasons now is seeing how it has adapted to the gradually changing culture to what it is now, and seeing how Sunny deals with a world that is vastly different from 13 years ago. Part of the show has always touched on social commentary, but it's never had to be this conscious before. The comedy has always blurred the line between what is deemed societally acceptable and what's not and now that line has become much more rigid in society, so they have to be more careful. But the great thing about this show's writers and of course McElhenney, Day, and Howerton are that they are so adept and so intuitive about making storylines that are funny, smart, on point, and sensitive and still maintain the true outrageous nature of the show and its characters. I think in these first few episodes of the show they have done a really great job of doing this balancing act of being socially conscious and very, very hilarious at the same time. It's not always easy to do that. Kudos, gang.