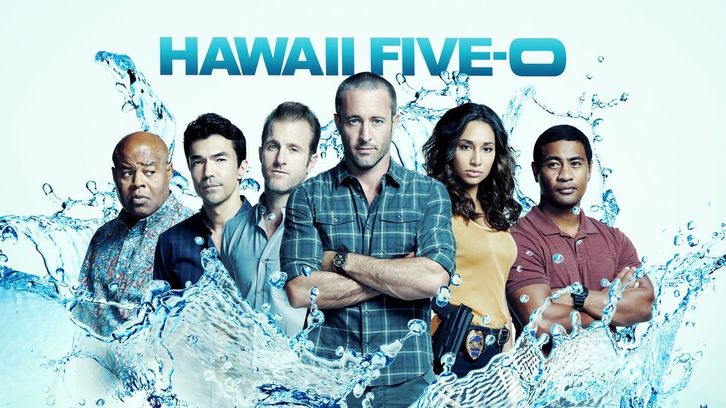 The press release for this episode said McGarrett would be threatened with a secret from his past. That threat doesn't happen until the final seconds. The team captured Greer, and Steve is handing her off to the CIA. (That whole thing feels way too easy, which can only mean it is.) She says they did something bad/followed orders back in the day, but they've never had to worry about retaliation when they were on the same side. Greer very pointedly tells McGarrett this cat will be let out of the bag now. People "looking for answers" will know who to look for to get them. We'll have to wait until they come around to find out more.


Case of the week began when a man was kidnapped off a plane. In flight. His abductor blew off the cabin door and parachuted away with him. I always thought that scenario would result in cabin depressurization or something else terrible. The plane was apparently close enough to landing that no one got hurt. McGarrett sent Junior, Tani, and Danno into the jungle to find them. Jack Teague, the man taken, appeared to be an ordinary dad working in the tech industry. He even coached his daughter's soccer team on weekends. Coaches don't have secrets. Of course they do! After Danno and the kids find the kidnapper with a slight case of snapped neck, the team quickly learns that Teague was CIA. More answers come from Greer's mentor Agent Miller. He's apparently been put on leave after the whole "underling is actually in deep with a foreign power" incident. Somehow though Miller still has all this access to personnel and resources.
Teague is actually a double agent, and Miller brought him to Hawaii to protect his family. I'm inserting a large question mark at the end of that last part. It turns out that Greer is leading a Chinese special ops team through the jungle, pursuing Teague. Danno and the others find Teague about the same time that she does. The ensuing firefight sends Teague running for the hills with an injury, but Danno books Greer right back to interrogation. Her and Steve's icy alpha thing could make this conflict between them intriguing at some point. For now, she is not much of a threat. I think we'll see that change later in the season.
The most thrilling moment of the episode was definitely when they cut off the kidnappers at the end. It was a given that McGarrett wasn't going to let them get into the consulate, but it was still awesome to watch them smash into the other vehicle at high-speed. Not so great for Grover's wife's minivan. You win some you lose some. It will probably be a few episodes before we check back in on the "Big Bad" plot, which doesn't quite have my attention yet.
Speaking over bigger picture mysteries, Tani went to someone for help with the gun she found. Her former police academy teacher Captain Keo listened to her request, but it was hard for him to put their difficulties in the rear view mirror. Especially with her asking him to check the gun off the books. Tani cheated in his class and hit him. Later, though, Keo came to see Tani. He found out that her father died right around the time she had those problems. Impressed that she didn't use that as an excuse, he's willing to help now. It's debatable about whether Tani is doing the right thing keeping this secret. However, viewers have known McGarrett for eight seasons and counting. Tani has only been with Five-0 a short time. I do feel that McGarrett is mature enough to move past it when he finds out, but there is still going to be some tension.
The
McDanno Moment of the Week
comes courtesy of Eddie and McGarrett's own "dumb, dumb, dumb, dumb" decision in the premiere. Eddie digs up the money, and Junior is basically fishing quite a bit of it out of the ocean. Danno is gathering up loose bills from all over the yard. McGarrett shows his face, and Danno gives him a piece of his mind. Several pieces. In fact, McGarrett doesn't really get a word in edgewise until he's been thoroughly schooled and scolded by Danno. The latter declares the money-burying to be the stupidest thing McGarrett has ever done. Eddie is not to be blamed at all, Danno says.
"What I think happened is this man behind me is so boring that this dog got so bored the only thing he could do was dig in the backyard?" Danno buries McGarrett in dog parenting advice, as Junior consoles Eddie, agreeing it's no fun when Mommy and Daddy fight. But it's very fun to watch.
Now it's time to speculate what "bad thing" McGarrett did. Drop your theories in the comments.