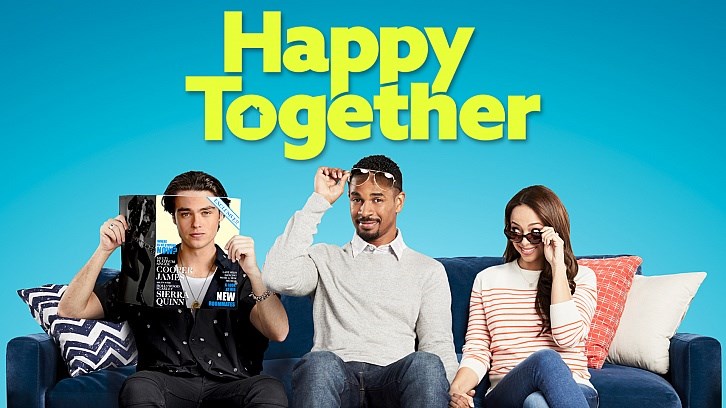 WARNING: THIS REVIEW CONTAINS SPOILERS.

Last week we met Claire and Jake, a stable couple in a routine who end up taking in a listless popstar in need of a much needed change of pace.

On tonight's episode of Happy Together, Claire and Jake (or Clake as they're affectionately coined by Claire's parents, but more on that later) try to follow Cooper's strict minimalist lifestyle.


RECAP
Cooper has moved around his entire life due to his glamorous, jet-setting journey as a famous singer. Due to his home-hopping, he has adapted to a life of simple pleasures, well as simple as one can get when you're filthy rich and extremely recognizable. He doesn't carry around many trinkets or adornments from his previous houses. It's easy to see Cooper as a likable and sweet guy when all he brings along with him is a framed photo of his family and his guitar.
Jake and Claire are both surprised by Cooper's modest living and vow to try and follow suit which means enacting a method he calls "scrubbing." Basically, it's time they tackle the Everest of boxes filled with old junk sitting in the room Cooper is currently staying in.
Amongst the junk is a creepy old doll that could give Annabelle a run for her money, a tacky set of basketball dipping trays complete with years-old guacamole, and an old "form-fitting" basketball jersey.
Once the couple disposes of these items though, they find themselves falling into the scary "Clake" trap. A place where they wear matching clothes and finish each other's sentences just like Claire's own parents who come by the house to demonstrate how in tune they are with one another. They realize that getting rid of all those things leeched them of their individuality and now they've merged into one identical person.
At least that's their initial appraisal. Cooper feels terrible about this and rushes back to Goodwill to retrieve their items (in a really cringeworthy scene that involves gushing shop clerks), and returns Rebethany to her rightful owner, along with all the other junk.
Turns out, it wasn't the stuff that made Claire and Jake lose sight of themselves, but their lack of focusing on activities that made them happy. Claire misses concerts, Jake misses playing basketball with the guys, pretty simple stuff. They agree to make an effort to continue doing those things and maintain their own lives and interests and end the episode by burning everything in the fire pit out back.
MY THOUGHTS
I enjoyed this episode. Something about this show just makes me feel like I'm wrapped up in a warm blanket. It's nothing all that original but it's comforting and there's some good jokes mixed into even a bland storyline.
The only part of the show not working for me is Claire's parents. I don't necessarily dislike them but I'm finding it difficult to see their purpose apart from adding extra characters into the show. I couldn't see the reasoning for even adding them into this episode as I much prefer watching Amber, Damon, and Felix play off one another and Cooper wasn't in this episode that much despite being one of the main characters and focal points of the show.
Maybe they'll start to grow on me as I watch more episodes but right now they stick out like a sore thumb as one piece that doesn't flow for me. I also felt the scene with Cooper in the thrift store was kind of awkward, maybe it was just the overacting from the store clerks but I felt a little secondhand embarrassment from watching it.
I loved the Rebethany gag, kind of wish she didn't meet her downfall at the end! Or did she? *Cue evil laughter.*
FAVORITE LINES
Claire
: It can't be worse than the time he saw us high-five over a coupon.
Jake
: Wait, Claire you lied to me
and
you saw Incubus this many times?
Jake
: What in the Bride of Chucky is this?
Cooper
: If I had known the lyrics to "Shake Your Booty, Yeah, Yeah" would cause so much pain I never would have written them.
Jake
: All the games were on Sunday mornings and that's when Claire and I go to the farmer's markets and buy a bunch of produce that we throw out on Thursdays.
A NEW EPISODE OF HAPPY TOGETHER AIRS MONDAY, OCT. 15 @ 8:30 PM ET/PT ON CBS.