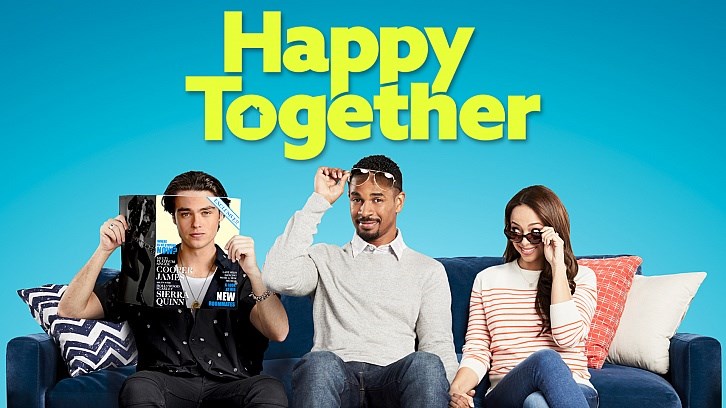 WARNING: THE FOLLOWING REVIEW CONTAINS SPOILERS, READ AT YOUR OWN RISK.

The 2018 Fall TV season is officially underway and two more new CBS sitcoms hit the airwaves tonight. Happy Together being the latter of the two.

A new sitcom is almost a rarity on a network stuffed with reboots and revivals, and while maybe not wholly original in the sense that we've certainly seen this premise before, I found it a lively debut and a breath of fresh air as far as CBS sitcoms go.


New Girl
's Damon Wayan's Jr.) is in a happy, if not somewhat routine, marriage to bar & restaurant designer, Claire (Amber Stevens West, of
Greek
fame). They're settling in to enjoy another stay-at-home Saturday night when news breaks that superstar Cooper James (Felix Mallard) is on the outs with girlfriend, Sierra (Peyton List).
Jake doesn't think this will affect him, after all he's merely Cooper's accountant, not his agent.
Yet no sooner does Jake dance into the kitchen to eat some garlic bread (so he and his wife share the same breath when they try to make out - cute or ick?), does Cooper come knocking at his door in desperate need of a hideaway from the rabid paparazzi.
Claire and Jake are willing to give Cooper a place to crash, they even think it might be a great way to rejuvenate and shoot some adrenaline back into their lives. They quickly discover that keeping up with a wild, party boy popstar is not as easy as it looks. Especially the morning after when Claire wakes up with her lingerie on. Over her clothes. And Jake nearly passes out face first in his cereal! Hangovers are no joke guys.
I appreciated the scene all the same and found several of the one-liners pretty humorous. There visit is ill-timed as Claire discovers that she was photographed with Cooper the night before and now the tabloids are running with a story that he's sleeping with an older woman.
Our central couple decides that they can't keep up with the crazy lifestyle of fame and concoct a plan to get Cooper back with his ex-girlfriend, Sierra (Peyton List).
Cooper though, is clearly miserable with Sierra as evidenced by more photos of the duo together where he can't even seem to crack a smile.
So it's Jake and Claire to the rescue again where they convince Cooper to move in with them on a more permanent basis. He can have all the toaster strudels his little heart could ever want and take a break from his extraordinary life for something a little more average.
Everyone needs to slow down once in a while and I'm sure with Cooper living under their roof, Claire and Jake will also be in for a change of pace.
Regardless, I'm not going to object to more musical moments from Amber Stevens West, she's got a great voice and the scene is really cute and a perfect ending to the pilot episode.
I look forward to seeing this show find its footing over the season because I think it's capable of becoming a worthy candidate for renewal. The TV market is a ruthless one but
Happy Together
has a lot of heart and sincerity in addition to pretty funny jokes so I'm hoping it gets to stick around for a little while.
FAVORITE LINES
Claire
: We have scented candles and this kid is becoming a candle.
Claire
: Aren't you going fly fishing with Jaden Smith?
Jake
: Picked that bad boy up from Costco. It's a private store but I can get you on the list.
Jake
: Oh come on! At this rate I'm only gonna get nine hours of sleep!
Bonnie
: I was making smoothies this morning and realized I didn't have enough vodka.
Bonnie
: Jake, everyone knows that you can't be an alcoholic once you're retired.
Jake
: Every time we have the smallest argument you get so dramatic.
Sierra
: You saying that makes me want to kill myself.
Sierra
: It was so nice to meet you Jake. Bye Clug.
Claire
: Clug?! That's not even a name!
Jake
: Whatever you guys have, I want to be apart of it.
A NEW EPISODE OF HAPPY TOGETHER PREMIERES MONDAY, OCT 8 @ 8:30 PM ET/PT ON CBS.