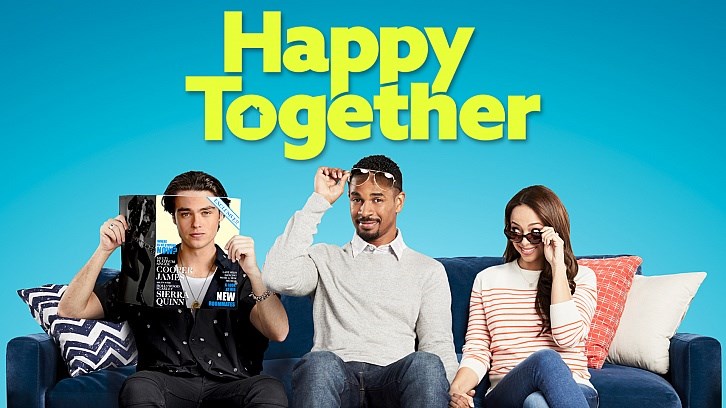 Happy Together - Pilot - Advance Preview

Series Premiere
Episode 1.01 - Pilot

Premieres Monday, October 1, 2018 on the CBS Television Network

On CBS Network
- Mondays at 8:30-9:00 PM, ET/PT



HAPPY TOGETHER
The official synopsis of this episode is:

"Pilot" – Damon Wayans Jr., Amber Stevens West and Felix Mallard star in a new comedy about a 30-something, happily married couple who begin to reconnect with their younger, cooler selves when a young pop star drawn to their super-ordinary suburban life unexpectedly moves in with them, on the series premiere of HAPPY TOGETHER, Monday, Oct. 1 (8:30-9:00 PM, ET/PT) on the CBS Television Network. Stephnie Weir, Victor Williams, and Chris Parnell also star.

Jake, an accountant, and his dream wife, Claire, a restaurant and bar designer, are very comfortably settled into their marriage, enjoying evenings together on the couch watching TV and scheduling time to change their outgoing voicemail message. Their tame routine gets a makeover when Jake's client, exuberant music superstar Cooper James, arrives on their doorstep looking for refuge from the paparazzi following a high-profile break-up with his girlfriend. Jake and Claire quickly discover there's no way they can keep up with their world-famous houseguest's effortlessly cool, fast-paced lifestyle. Cooper, however, enjoys Jake and Claire's more relaxed way of life, discovering that a touch of the ordinary can be extraordinary for all three of them.

Starring Damon Wayans, Jr. (Jake), Amber Stevens West (Claire), Felix Mallard (Cooper James), Stephnie Weir (Bonnie), Victor Williams (Gerald), and Chris Parnell (Wayne)

So I should mention up front, even though I write for SpoilerTV, I'm not a huge fan of giving away spoilers for episodes that haven't aired yet. So, that being said, here is my preview and what I can't say in words, hopefully the pictures tell you all you need to know.

My preview of Series Premier of Happy Together...

I think this show is cute. I like the dynamics between the married couple of Jake and Claire. I love their quirkiness. Cooper James is cute and so out of touch with Jake and Claire's "ordinary lives", that their dynamics are fun to watch also. But I really like Jake and Claire the most. And her parents are definitely interesting to watch. There are some really funny moments. But I especially love the voice messages they create. That so made me laugh.

The show isn't perfect, but it does have some cute and funny moments. I think you should give it a try for at least the first 3 episodes just in case.

I hope these pictures tell you a lot more than I can say.




Let me know what you think of this episode. And don't forget to watch. I know I'll be watching Monday night.