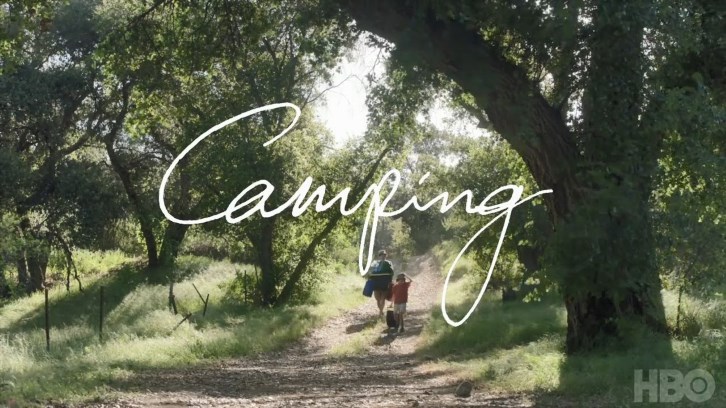 Based of the British comedy of the same name, Camping follows a group of friends during a weekend trip organized by Kathryn (Jennifer Garner) to celebrate the 45th birthday of her husband Walt (David Tennant). This new HBO comedy from Jenni Konner and Lena Dunham premiered last night and offered a pilot mildly captivating.

The first striking thing about Camping is that it give us a chance to see Jennifer Garner in a role that is not immediately likable. She is not a bad-ass like she was in Alias or a loving goofball like in 13 going on 30. In Camping she plays a control freak who wants her husband's birthday to go exactly according to plan. She has a schedule and she wants people to stick to it. But Kathryn is not just a planner, she also suffers from chronic pain and does not forget to remind everyone about it. Now, that does not mean Kathryn complains all the time and comes off as annoying, but her pelvic floor issues do come up quite a bit. In some ways, she comes off very Dunham-like and is not without similarities with the show's co-creator.
Surrounding Kathryn is a plethora of characters that range from quietly odd to completely extravagant. There's her sister, Carleen (
Ione Skye
), who seem to be every bit the opposite of Kathryn, Nina-Joy (
Janicza Bravo
), with whom our protagonist seem to have become estranged, and Miguel (
Arturo Del Puerto
) who shows up with his new girlfriend Jandice (
Juliette Lewis
), who is everything Kathryn seems to hate. In the middle of this there's Walt, the obedient husband who wants to be intimate with his wife but has to deal with her obsessive taste for organization.
In this pilot, we get a quick sense of who the characters are and the fact that no one really wants to follow Kathryn's strict schedule is established. She turns out to be a control freak with no control over the situation as her friends get a taste of Jandice's spontaneity. The episode is not lacking comedy but also tends to be a bit dull at times, presenting characters that it is hard to have sympathy for. Even when it is reveal that Kathryn has had a hysterectomy and that it is the source of her chronic pain, it does not overlook the fact that she mostly comes across as a buzzkill. Nevertheless, it will be interesting to see how the show manages to build on her character in future episodes.
At first,
Camping
seems to be built on a thin concept. How the idea of a weekend gateway can hold viewers's interests over the course of 8 episodes (more if the show is renewed) is a question that remains up in the air. Based on this pilot's promise though, it would be worth your time to come back for more and see if Kathryn will loosen up a little or keep referring to her binder. Maybe it will take us a minute to start liking her, but that does not mean she or the show isn't worth it.