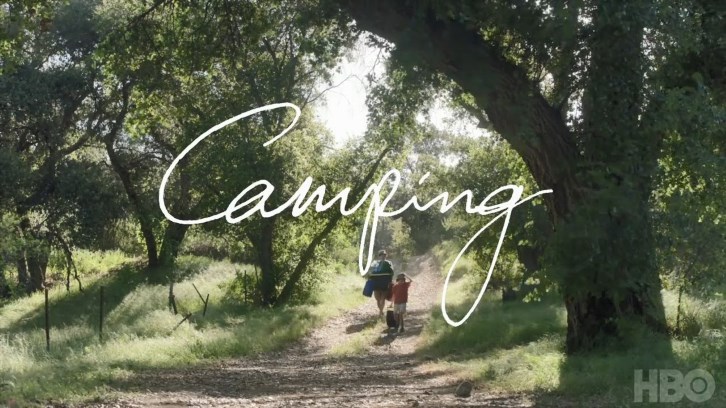 Adapted from a British series by duo Lena Dunham and Jenni Konner, Camping isn't a series that's overly consumed with plot or even punch lines. It's a satirical, sometimes cringe-inducing, dramedy about a group of friends who head into the woods for a trip that any casual observer could tell is destined for disaster. Spearheaded by tightly-wound Kathryn (Jennifer Garner) to celebrate her husband Walt's (David Tennant) 45th birthday, the trip brings together a fraying group of old friends who harbor secrets, insecurities, and long-festering animosities.

The first episode is, naturally, mostly setup. We discover first-hand just how much Kathryn can be to handle for all of those around her, particularly Walt. The first item on her to-do list is rounding up all of her friends' mattresses for herself; one thin cushion alone would wreak havoc on her pelvic floor. If the pilot episode feels a bit too slow for your taste, push through. Camping is a meticulous, if sometimes tideous, character piece. Garner's Kathryn is grating, sure, but the more we learn about her friends and her past, the more we understand her personal pain. You may never grow to like her, but within the first four episodes I found her endearing and often quite hilarious. Garner is in her element here, making even the most hateful character oddly fun to watch - especially as she begins to totally unravel.
Dunham and Konner notoriously do 'unlikable' very well. Their last collaboration,
Girls
, racked up multiple Emmy awards and ran for six seasons on HBO despite constant online flack for how unpleasant and oblivious their central characters could be. But the duo isn't concerned with likability; rather, they focus on authenticity. Kathryn and her friends can be frustrating, but they're also almost always relatable or recognizable as someone within your own inner circle.
Camping
is a true-to-life take on how we tend to our various relationships, what we really know about our friends, and how much life can change each and every one of us over the years.
The entire ensemble cast is worthy of acclaim, though Garner and Juliette Lewis (as the free-spirited new girlfriend of Walt's recently-separated best friend) are frequent scene-stealers. From the moment that Lewis' Jandice shows up, the friction between her and Kathryn is enough to spark a fire. Also along for the weekend is Kathryn's sister Carleen (Ione Skye), whose young stepdaughter Kathryn initially insists must be sent home because it's an adults-only trip, even though Kathryn and Walt's son Orvis is present for the strictly-scheduled "fun", and Kathryn's former best friend Nina-Joy (Janicza Bravo), along with their spouses or significant others.
Audiences who enjoyed
Girls
will almost certainly find something to like here. Some of these characters, in fact, feel like they could be grown-up versions of Hannah or Jessa or Shosh. But don't be mistaken:
Camping
is very different from Dunham and Konner's last project. Shot on location in the woods, the entire first season takes place over just a few days – rather than a series of portraits of life in New York City, this is an almost claustrophobic study of eight friends forced together for a short period of times which, for them, could feel like a decade.
Bottom line:
Jennifer Garner, Juliette Lewis, and their wildly-talented ensemble cast are endlessly watchable in this slow-burning character study about friendship, frustration, and the anxieties of adulthood. If you can get past the slow-moving nature of the narrative and give the series some time to hit its stride, you'll be able to settle in and enjoy the trip.
Camping premieres tonight on HBO. For more of my work, feel free to follow me on Twitter and make sure to check out SpoilerTV's official Instagram page here.