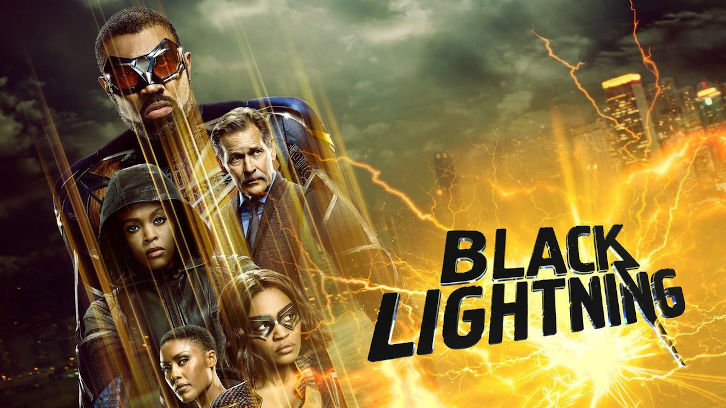 Chapter One: Rise of the Green Light Babies

Last week saw the return of this often controversial and series. Not only has it had one of the grittiest storylines of all The CW shows but it delivers shock after shock and not only the ones from Black Lightning himself. Accompanied by a soundtrack that sets the mood perfectly, Salim Akil and his team certainly have given us a thought-provoking show and series 2 at first glance hopes to deliver more of the same.

Cress Williams as the lead Jefferson Pierce / Black Lightning with the support of his now revealed superfamily
China Anne McClain as Jennifer Pierce and Nafessa Williams as Anissa Pierce /Thunder
In last season his estranged ex-wife returned to the fold, Lynn Pierce played by Christine Adams.
With ex-operative Gabby played by James Remar who provides support as well as the tech he needs as Black Lightning and nemesis Tobias Whale played by Marvin 'Krondon' Jones III, it certainly is a well-rounded cast.

Last week was the season 2 premiere of Black lightning and Jefferson had to answer to the school board regarding the attack on Garfield high.
Jennifer's powers continued to evolve, and the results are frightening for her and those around her.
Greenlight is still affecting the children of Garfield and while the police seem to adopt a shoot first ask questions later policy, the effects of the green light have some surprising consequences.

While the town needs money to help the children of green light Anissa goes on her own vigilante Robin Hood Spree.

Gabby gets a visit from the current spotter, Jefferson vice principal at Garfield Kara Fowdy. She promises to deliver the briefcase but not before she takes out Syonide, Tobias right hand and assassin, with some impressive Killer Heels.

Lynn has troubles of her own having to answer some very difficult questions she is then put in charge of looking after the children in the pods.

The big reveal in this episode was Jefferson clearly hasn't had his friend Detective Henderson fooled but where does it leave the two friends.

As the episode closes Jefferson offers to resignation as Principal to prevent Garfield High closing.
Tobias who doesn't take to kindly to Kara killing his sidekick spears her when she comes for the briefcase.

Chapter Two: Black Jesus Blue

In this episode, there is a break out from one of the pods and Jefferson deals with problems at home and at work.

Jefferson's certainly has the blues when his replacement as Principal is found and he may have some convincing to do of his faculty and students that this is a good thing.


Khalil feels trapped with Tobias whose tough form of teaching leaves a lot to be desired and later in the episode goes to visit Jennifer who isn't buying his story, after all, he did nearly kill her father.
Jennifer is still stuck at home due to her powers being out of control something that seems to be forgotten this episode.
Meanwhile, a couple of the pod children escape, one dies but the other flees leaving it down to Jefferson and Thunder to clear up after her but when Thunder takes a bow Black Lightning and her father are far from impressed.
One thing I do like about Black lightning is the family element and the sister chat is so fun and real, who knew superpowers could help get rid of cramps.! Jennifer tells her sister to get out there more and Anissa follows her advice it's the first time we have seen her dating since early on in season one. When she runs into an old flame later in the episode we might get some answers into what happened with Grace.
Lynn is helping the green light boy, Issa, who seemed to have risen from the dead, but a family dinner becomes interesting when she invites him over. Seems Issa's power is to make people tell the truth and this could spell trouble. Unfortunately, Lynn discovers his powers being man made could kill him.
Tobias is cleaning up loose ends as he seems to be executing a plan. No friend or ally seems safe and he proves he is just as cold and ruthless as always.
Black Lightning and Thunder are at odds he seems to think her showboating will get her killed. Jefferson goes without her to subdue the escaped pod girl which annoys Anissa and I can see further tensions down the line.
Lynn places the escapee back in the pod they need to cure them before they can be released, the government seems very interested in abilities and I am sure Lynn will have a fight on her hands.
As Jefferson addresses the school you can tell he is heartbroken about giving up his position as Principal but even though he was there during the attacks as Black Lightning he wasn't as the principal and was unavailable after. A new Principal has been chosen and Jefferson will become a teacher at the school. I see clashes ahead in a community where tensions are already at a high.
This episode ties up a few events from the last episode, but I still am left wondering where they are going to go this season. The big conspiracy has been revealed but now it seems all secrets are out the only one being shifty is Tobias.
Jefferson seems deflated and we seem to be seeing less of the hero side just him stopping out of control kids. The only interesting character for me this episode is Anissa.
I feel the series needs a shock to its system otherwise it will fail to pull in the audience.