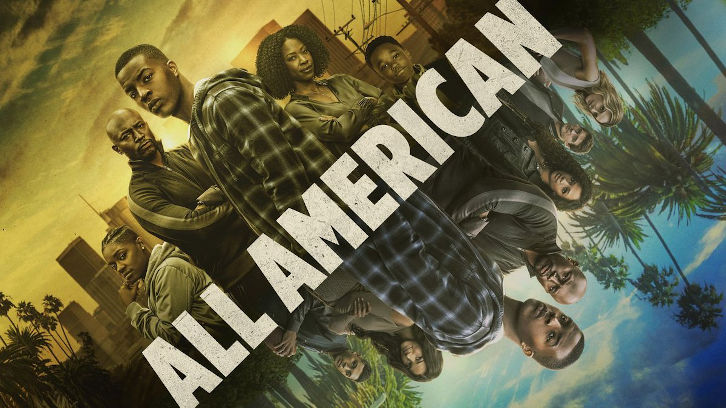 In the premiere episode of All American we saw Spencer James struggling to acclimate into his new Beverly Hills school and football team after being recruited by the football coach there, Billy Baker. Spencer left everything he knew in Crenshaw - including his mom and brother, to uproot and live with the Bakers during the week in order to remain eligible for the BH football team.

We also met Billy's kids, Olivia and Jordan who both have their own personal feelings about Spencer living with them. Sparks were flying between Spencer and Leila (Beverly's "resident sweetheart") which could prove problematic as Spencer butts heads immediately with her douchey boyfriend, Asher.

Tonight's episode begins with a little peek at Spencer's past, shedding some light on the situation with his father. Then we fast-forward back to the future where it's a beach day for the Beverly football team. Spencer is being exposed to the ins and outs of his new school with Jordan showing him the ropes, but does Jordan have Spencer's best interests at heart?

Beverly and Crenshaw are about as different as you can possibly get and it doesn't take long for Spencer to realize that. Things that were okay in Crenshaw don't fly in Beverly, and vice versa.

It's going to take some time for him to adapt to the superficial nature of many in his new zipcode, but not everyone is duplicitous. It seems like his bonds with Leila and Olivia may be growing towards real friendship, or maybe something more?

Back in Crenshaw, Coop is struggling to find her way in a Spencer-less world. Without his protection around her she's forced to fend for herself in a way she never really has before.

Other things to expect this episode: An awkward booster club meeting and Spencer biting off more than he can chew when it comes to the team. He's gotta learn that you can't be everything at once. Also some surprising character revelations about Olivia, Asher, and Leila. The drama is just beginning and I'm absolutely hooked.


DIALOGUE TEASES
"Hawthorne won't know what hit them this week."
"Let's get Beverly's new star player to the party to impress."
"What's in those Wheaties they're feeding you over at Crenshaw?"
"Win or lose, you are so much more than what you are on that field."
"There's enough for everybody."
"I guess there's worse places to end up in Beverly Hills."
ALL AMERICAN AIRS WEDNESDAY, OCT. 17 @ 9:00 PM ET/PT ON THE CW.