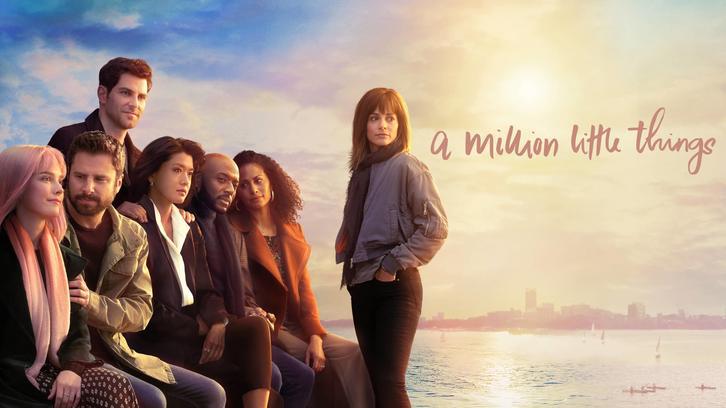 Update: 21:30 Looks like the story we broke earlier was true :)

ABC have confirmed that AMLT will get a total of 17 episodes.


A MILLION LITTLE THINGS' RECEIVES A FULL-SEASON ORDER FROM ABC
"A Million Little Things" has been given a full-season order, Channing Dungey, president, ABC Entertainment, announced today.
Season to date in Nielsen's Live + 7 Day ratings, ABC's "A Million Little Things" is attracting an average audience of 8.0 million viewers and a 2.0/9 in Adults 18-49. Building by +92% from Live + Same Day to Live + 7 Days on average through its first three telecasts, "A Million Little Things" is the season's No. 1 gainer on broadcast TV with Total Viewers, growing from 4.18 million viewers to 8.01 million after 7 days of delayed viewing. In addition, "A Million Little Things" more than doubles its Live + Same Day Adult 18-49 rating, jumping by +122% after 7 days of TV playback.
"A Million Little Things" stars David Giuntoli as Eddie Saville, Ron Livingston as Jon Dixon, Romany Malco as Rome Howard, Allison Miller as Maggie Bloom, Christina Moses as Regina Howard, Christina Ochoa as Ashley Morales, Grace Park as Katherine Kim, James Roday as Gary Mendez, Stephanie Szostak as Delilah Dixon, Lizzy Greene as Sophie Dixon and Tristan Byon as Theo Saville.
DJ Nash is creator and executive producer; Aaron Kaplan, Dana Honor and James Griffiths are executive producers. "A Million Little Things" is produced by ABC Studios and Kapital Entertainment.
"A Million Little Things " airs Wednesdays at 10:00 p.m. ET on The ABC Television Network.
---
Thanks to SS for the heads up.
Looks like someone running the twitter account released this too early or by mistake? Either way it was posted and then deleted from the Official Show Account.
We'll update as soon as we hear more.
Some of you might have seen it, but some minutes ago, the official Twitter for the series announced a full season order... before deleting the tweet! It could be a mistake, or it could have been announced too soon. We'll have to wait! #AMillionLittleThings pic.twitter.com/hSF9RPQ3TE

— A Million Little Things Wiki (@AMLTWiki) October 26, 2018