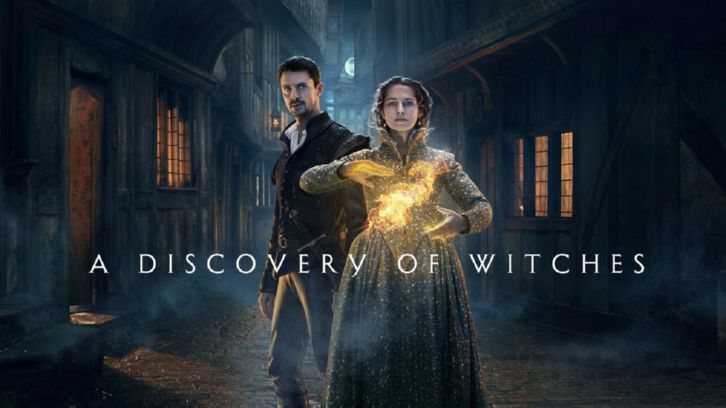 It begins with absence and desire
It begins with blood and fear
It begins with ….

A Discovery of Witches


'Once the world was full of wonders, but it belongs to humans now, we creatures have all but disappeared. Daemons, Vampires and Witches hiding in plain sight, fearful of discovery, ill at ease even with each other. But as my father used to say in every ending there is a new beginning'


Matthew Clairmont

Things have really been heating up in more ways than one over these past few episodes. We are left wondering how they can possibly bring everything to a close when there are so many loose ends but before it does let's take a look at Episodes 6 and 7 as Matthew and Diana move from Sept Tours to Madison.



106

After the cliffhanger of last week, we are not left long to wonder Diana's fate as she is flown away from Sept Tours by Satu. Satu seems to have her own agenda and has made some very dangerous alliances to do so. Matthew wakes up and looks the happiest we have seen him all series for it suddenly to be shattered when he realizes Diana is gone. The unfortunate untimely arrival of his Brother Baldwin infuriates him further and he knows he must pull out all the stops to get him on his side. While in Madison Diana's Aunt Em gets a disturbing vision putting the Aunt's into a panic.


In this episode, we learn that Gerbert D'Aurillac is out for his own gains and Satu may have just aligned herself with the devil.
Flying Diana away from the safety of Sept-Tours you get the feeling she has more than a girly chat in mind. Seems Witches can fly but not for long distances and no broomsticks required.
Matthew is, of course, frantic when he realizes Diana has been taken but a phone call from her Aunt's after a vision reveals a clue to her location. It's fortunate now that Baldwin is there with his Helicopter.
Meanwhile, Diana is being magically ripped apart by Satu after she had finished her game of the toss the witch. It's brutal and harrowing and once done Satu is drained, we later realize she is drained of her powers. She does have enough left to toss Diana down a well. Satu is frustrated as nothing she has done broke Diana and revealed her magic.
Diana, while held in captivity, is visited by her parents in a dream and for her to get out the well she must fly just like Satu flew her there. As her dark prince can't save her on his own. Did her parents know about Matthew and were they destined to be together?
Gerbert is disappointed in Satu and he also has the head of a witch Meridiana, who keeps telling him to beware the witch with the blood of the Lion and the wolf. Despite Satu's cruel deeds to Diana when Gerbert is distracted by Baldwins and Matthews Arrival she does take Meridiana and releases her from her torment with the aid of her magic. History buffs may know Pope Sylvester II, Gerbert D' Aurillac was said to have succeeded as he did due to the aid of a Succubus named Meridiana.
Meanwhile, Diana saves herself from the well and finds her wings. It seems Matthew wouldn't be able to get her out, I love how gentle he is with her and calls her his lion when they get back to Sept Tour's. At Sept Tours it is revealed she has been branded by Matthew's mark by Satu, she talks with Matthew about Satu and how she told him he killed Gillian which he says he didn't though he did bite her. She makes him promise to leave Satu to her. Matthew also tells her he believes she has been spellbound and her powers have been fully awakened but to what we don't know.
Baldwin is determined to take Diana to the congregation, but Matthew enforces him into his command under the Knights of Lazarus, fans of the book will know more about this, but little was explained, and I hope more will come later.
A truly spellbinding episode and the confrontation between the light and the dark, Satu torturing Diana is brutal and you can imagine her parents underwent a similar fate. Teresa Palmer(Diana Bishop) really gave her all and you felt every one of her screams. It would also seem Diana's parents knew more, and this will be revealed next week.
107
Deborah Harkness stated this was again one of her favourite episodes and for me too as we finally get to spend more time with the Aunt's Sarah and Emily, Em for short and Yes, Sarah finally gets out of her Pajamas.
As Diana and Matthew arrive we get to see the haunted Bishop House and while Diana doesn't seem to see as many Ghosts as she does in the books it certainly makes its presence felt. Soon her Aunts return but their joy at seeing Diana isn't returned as she is angry and believes they kept the fact from her that she was spellbound. Sarah has no idea but Em suspected.
Diane sees the past and it reveals her parents spellbinding her before Peter Knox visited.
There as some truly wonderful scenes between the Aunts. Sarah breaking down to Em was the most touching and I am glad these two fine actresses were given the chance to show us what they are capable of.
I personally have been a fan Alex Kingston (Sarah) since ER but I was also impressed by the delicate balance and grace in Valerie Pettiford's portrayal of Emily
Sarah and Matthew of course clash about Diana and how she should be trained but it seems her powers are still pretty much out of control and a little Time Walk, something we learn her father could do, seems to also be one of her powers. Diana also plays a very dangerous hunting game with Matthew which leads to one of the steamiest scenes yet.
Back at the house and when visitors Miriam and Marcus arrive things get a bit uncomfortable and the house isn't happy about two more vampires. Suddenly an envelope is revealed from the wall with a missing page from the Ashmole 782 manuscript. Diana recognizes her fathers writing on the envelope and also saw it at the beginning of the book.
In Venice Baldwin lays the blame for Diana's disappearance on Satu, Knox seems convinced until she pays him a visit later telling him Diana was spellbound and he had been tricked.
Baldwin also does not believe Gerbert is innocent of the events in Sept Tours, Dominic has his own agenda as well as tracking down a weakened Satu and capturing her he also manages to convince Juliet to break free of Gerbert. You can almost hear the Queen track 'I want to break Free' playing in the background as she leaves the church.
Back in Madison and training seems to be another word for foreplay as Diana and Matthew do some more training in the woods but Diana comes across an unexpected visitor in the barn, Juliet has come for what she wants.
It certainly was a hell of a cliffhanger to leave it on and I can't wait for the finale next week that they brilliantly have planned so it airs on All Souls Day. I will also be making my own trip to Oxford for Spoiler TV, next week, more details to follow and be sure to check out what I am up to on Twitter.
I hope you all are enjoying the series as much as I am.
What do you hope to see in the finale?