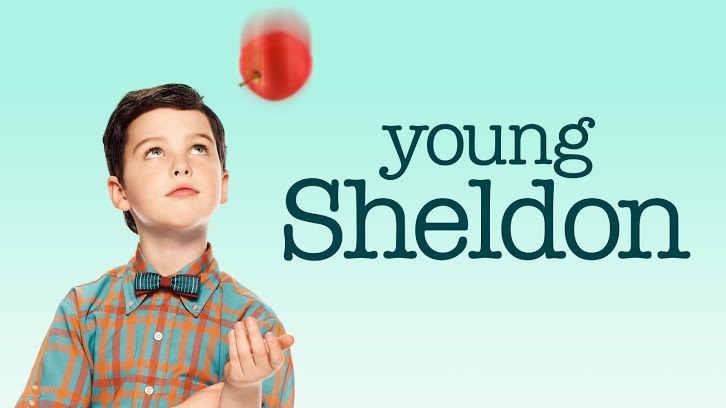 The student surpassed his master. While after 11 years of being on air, The Big Bang Theory is still a very good, highly entertaining show, I cannot deny that it indeed seems to be time for it to hand over the reins to its student: Young Sheldon. This week's episode proved once again that Young Sheldon is more than capable to stand on its own two feet. The opening of the episode was sheer hilarious.

Meemaw drops off Sheldon at the university so he can attend Prof. Sturgis lecture.
Sheldon: Are you sure you don't wanna stay with me?
Meemaw: No thanks. I don't really understand this stuff
Sheldon: That's how I felt when we watched Dirty Dancing and I stayed [anyway].
Meemaw: When Patrick Swayze takes his shirt off in here I'll be back.
In the lecture hall, Sheldon meets Paige, a girl his age who was personally invited by Prof. Sturgis to attend his lecture because he was so very impressed by her research on quantum chromodynamics at high temperatures. Sheldon is rather displeased about the girl's presence and immediately makes it clear that Prof. Sturgis is HIS mentor and HIS Meewma's boyfriend. And because all of this is not already bad enough, Paige also dares to sit in his spot! Sheldon is indignant!

"Not since sharing a uterus with my twin sister have I been so unhappy sitting next to someone."
Sheldon feels an emotion regarding Paige he is not familiar with and therefore asks Meemaw for help. She concludes that it can only be jealousy. He is used to being the only smart kid around, this is not the case anymore now. Of course, the fact that Prof. Sturgis is paying so much attention to Paige makes it all worse. Sheldon feels threatened by the girl. I actually wonder if he would have felt the same if Paige were a boy. Just how much is baby Sheldon and his worldview influenced by his environment's strict compliance with gender roles?
When Mary learns that Paige's parents want to meet her and George she is delighted. Finally, some parents who they can relate to and compare notes with! Sheldon, however, is horrified when his mother tells him that Paige is coming over. He wants to cancel the meeting. What eventually makes him change his mind is Mary's confession that she does not have many friends and that she was hoping that she and Paige's mom will hit it off. Well, that confession and something Mr. Spock said. Ok, actually mainly something Mr. Spock said.
Unsurprisingly, Sheldon created a list of activities to keep him and Paige occupied. He does not want to leave anything to chance. When Paige finds Sheldon's signed picture of Professor Proton, she comments on how boring she finds him and how much she hates it that he keeps dumbing everything down. Sheldon is furious! When she then also tells him that she does not believe in the theory that there is an infinite number of universes, Sheldon is livid. Then, for one moment, Sheldon foolishly leads himself to believe that maybe, just maybe, they are not all that different. A few moments later, though, she beats him at chess. Sheldon cannot fathom how this even happened. He flips the chess board. Enough is Enough!
For Mary and George, it is not as satisfying as expected to talk to Paige's parents. Paige does not seem to have any quirks at all, not even a single obsessive-compulsive disorder. However, once Paige's father has downed a few bottles of beer he slowly starts to talk about how he and his other daughter often feel left out. Seems like they are not the perfectly perfect family after all. Mary and George are devilishly happy about that.
What are your thoughts on the episode? What was the funniest moment?