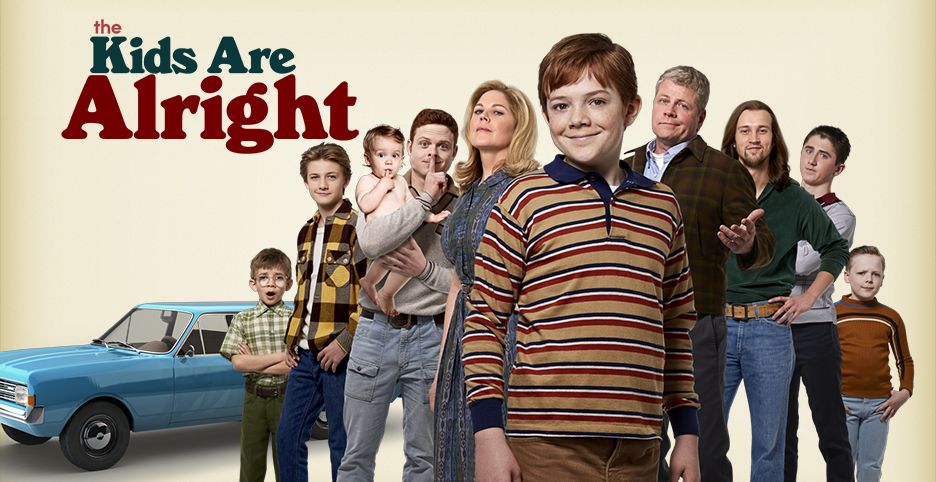 People will compare this show to The Goldbergs, because it is a family-centric comedy set in an earlier era. There are some similarities in format. However, The Kids Are Alright brings enough unique elements to the dinner table to more than set it apart. It is brimming with potential, and there are only a couple weak attempts to joke about the present state of affairs. If you winced when Pop Cleary said "phony news" in the trailer, I am happy to inform you it doesn't really get worse than that. (There's one tiny thing that is a bit more eye-roll worthy).

All successful comedies take time to hit their groove. It is impressive that this premiere has as much going for it as it does. The show is set in the 1970s and focuses on the bustling Cleary family. There are eight children, all boys, and it is especially great that each one leaves a memorable impression in the pilot. The storytelling possibilities with that many kids are endless. One of the middle children Timmy becomes one of the major points of view for the show. Another pilot story line revolves around the oldest child Lawrence who is destined for the priesthood. Coming from a proud Catholic family, Lawrence Cleary has brought honor to his house. While also setting the bar too high for his younger brothers. The majority of the actors playing the boys will be new faces to most viewers; they mesh and knock heads like a real family though. They are all adorable.
The Cleary dad and mom are played by Michael Cudlitz and Mary McCormack. Cudlitz, in particular, shines in this premiere. There's not a trace of his previous roles. Mike Cleary is a hard-working, blue collar American, a World War II veteran whose own experiences growing up in the Depression have shaped his parenting style. Peggy Cleary is almost lost in the bustle of boys. She is always on the move, whisked from one bit of mayhem to the next, but McCormack still gets moments to shine. On the whole, the Cleary family of the pilot is one that viewers will want to spend more time with.
Not only are there some genuinely funny upfront moments, but there are plenty of quick "blink and you miss it" bits of nostalgia and humor. And the pilot has two emotional family moments, one between a parent and child and one between siblings, that will touch your heart. The episode flies by and only improves with a re-watch. And that's not "phony news".
The Kids Are Alright
premieres Tuesday, October 16th on ABC.