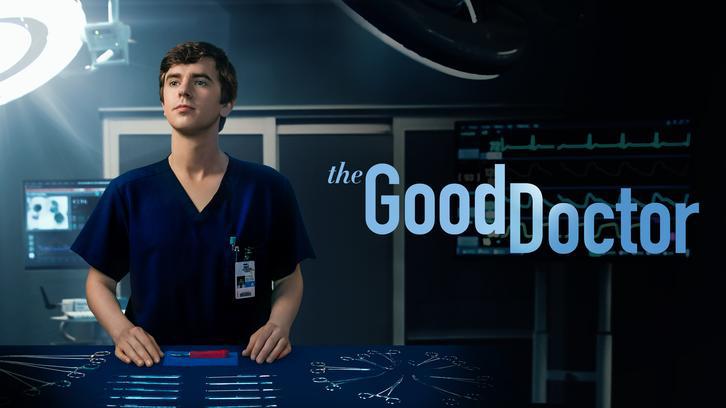 The Good Doctor airs Tuesday night 9PM CT on ABC

Spring is always a stressful time for TV junkies like me who spend an unhealthy amount of time in front of the screen. Not only is spring the pilot season but it's the time shows announce a lot of castings and recasting's which usually means your favorite characters would be departing from one of your beloved shows. As much as it hurts, it's the nature of the business, and The Good Doctor saw a bunch of changes as well. Some expected and some so farfetched that I am still reeling from those announcements. The show returns with a powerful and necessary episode that sees the exit of one of the original cast members. A brief recap on season one before we delve into "Hello." We saw Dr. Shaun Murphy learn to have a voice of his own and make decisions without the input of Dr. Glassman. He struggled with Glassman's brain cancer diagnosis but took charge of the research and was able to steer his mentor to a proper diagnosis. We saw Dr. Kalu face different challenges especially from Dr. Andrews, which opened the doors to Kalu's eventual exit that will discuss in this review. Dr. Claire Browne was entangled in a competition with a new resident Morgan Reznick which, is still a sore spot with me but I digress. Dr. Melendez and the attorney also ended their engagement, but from a professional perspective, his relationship with the residents especial Murphy saw some growth mostly as their mentor.

So, let's talk about "Hello."
The episode focuses on two cases which have Murphy and Kalu paired together and Browne, Reznick, and Park working with Melendez on a Piggyback heart surgery. Kalu's job is to help Murphy with his communication skills and to also nudge him to be available emotionally for Dr. Glassman as he goes through treatment. Murphy's work is to indirectly help Kalu get back his confidence despite the professional beat down he currently feels. The choice to have Kalu and Murphy together was obviously Highmore's, and it was important for the audience to see the two residents despite not having a lot of one on one interactions in season one, work together. Highmore also wanted to show how similar these two characters were in the sense that they pushed people off and were emotionally closed off. The two are sent to the streets after the annual evaluation which Kalu did not participate in, to treat a homeless population in the city. They meet a man who initially was believed to have symptoms of meningitis but ended up having a brain tumor that resulted in memory loss and erratic behavior. In spite of the threats from Dr. Andrews to mess up Kalu's new program in Denver if he continued to assist the homeless man. Murphy and Kalu work together and are able to remove the tumor, and the man's memory is restored.
The show has been criticized for trying to portray Shaun as only an autistic doctor with special abilities without addressing the spectrum and how that affects him. In a very emotional scene, we finally hear Dr. Murphy openly talk about his neurological condition admitting that it was something that could not be fixed, and he had to live with. He does this to assure the homeless man that what he was going through could be fixed. One of the best scenes I have seen in an episode where a character is leaving was the last one between Murphy and Kalu. After a successful surgery, Kalu goes after Murphy and thanks him for everything. Anyone watching this could tell that this was an interaction between Chuku Modu and Freddie Highmore because they both went off-character. For a few seconds, they looked at each other with Highmore almost choking as he acknowledged Chuku's thank you. It was heartbreaking to watch, but it was a well-deserved goodbye.
It was baffling to have the episode revisit Claire and Jared's relationship, but I am more than glad they did. How the two were forced to end their relationship was awful and to correct that wrong Highmore wrote an incredible sequence of dialogue between Claire and Morgan discussing the "relationship." Kalu and Browne didn't need to interact for a work-related reason, but they did get to sit down and be open with each other about their feelings. The scene was painful, and Antonia Thomas could not help the tears that freely fell from her eyes. As much as I would have loved for the build-up to this particular talk between them instead of just randomly having the two meet outside the hospital entrance, it was better than nothing. I am still skeptical of Morgan Reznick but in this episode, they toned her personality down a little, and she came off as more caring than before. I am glad that they chose to address her unhealthy focus on individuality than on teamwork which is necessary if one is going to be a surgeon. Her letting Browne get credit for the solution to their grafting dilemma and nudging her to make things right with Kalu was a step in the right direction for growth. I work with female surgeons, and they are less competitive than the world wants us to believe.
The case that the other residents and Melendez were working on was interesting. Piggyback heart surgeries are not a common occurrence, but they have been done many times since 2004. The story behind the operation was mainly to highlight the battle between hospital leadership and doctors who just want to do their jobs. The business of medicine is so strange and sometimes feels inhumane because patient's lives are always put on the line as egos battle for recognition within million dollar office suites in the hospitals. Melendez and Andrews butt heads as they navigate these new roles where Andrews is the president of the hospital while he is also dangling The Chief of Surgery position in front of Melendez. I am not a fan of Dr. Andrews, and I hate that he is written as a super aggressive black man, but in this episode, he needed to nudge Melendez with a pep talk, that helped him snap out of the fear of failing he was agonizing over. The conversation between Andrews and Aoki helped to push Andrews from working under the shadows of Glassman and making decisions on his own.
It's fascinating to see how much Glassman's presence always enables Murphy to have a different perspective on things. Their brief or barely there interaction in the oncologists' office enabled Shaun to visualize the homeless man's motions and deducts that it was actually a tumor that was impeding the man's memory and behavior. Glassman is good for Murphy, but the show just threw us into a loop with the return of Murphy's love interest Lea. The episode ends with Shaun saying "Hello" to her but sorts of leaves you with a cliffhanger since Murphy does not respond.
"Hello"
is written by Freddie Highmore and it is an amazing hour of TV. I watched the episode several times, and I am grateful that Highmore was trusted to give Chuku Modu this goodbye. Honestly, if you are going to be written off a show, care is needed and "Hello" is a well-crafted adieu where many scenes felt like watching the cast say goodbye and not necessarily the characters. The episode was very well paced, and there was much more breathing room for all the characters to sort of reintroducing themselves to the audience. The episode left me wondering why Chuku was not given this much content to work with before because then there would be no reason to let him go. A lot of people would argue that the show has some diversity which is true but getting rid of a black physician in favor of adding a character to compete with your other black physician is not a good look. There are a plethora of TV shows with a majority of white physicians with a sprinkle of minorities to appease audiences so, we have to do better.
Since the theme of the episode was to say "Hello" to the audience and ask for another chance with this new team, I am opened to giving them a second shot, and this first episode was a reason for me to stay.
What did you think of the episode?