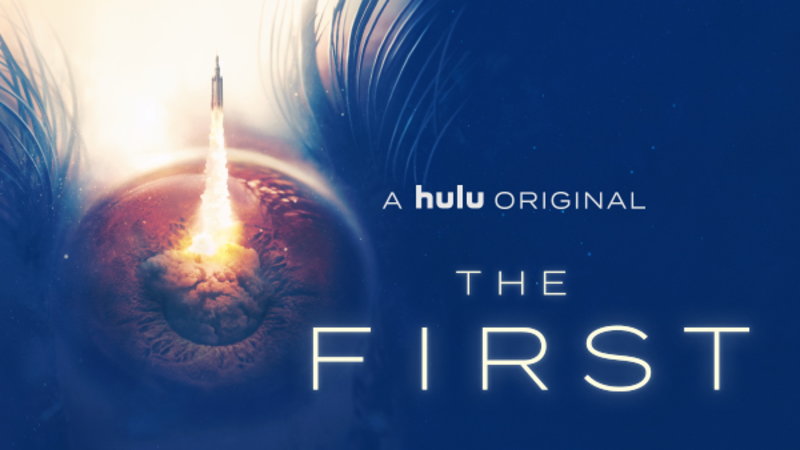 Minor Spoilers will be found below.


Do you remember the first time you tried to count the stars or saw a picture of the Earth taken from space? What you felt in that moment is part of what The First wants its audience to feel. The emotional, overpowering score from Colin Stetson may remind some viewers of the suffocating booming sound of the film Arrival. However, this isn't a science fiction drama. It is set in our near future with some sleek technological upgrades, which are incorporated so seamlessly they don't distract from the story. There is an interesting recurring element on the meaning of art that pops up in multiple episodes. This isn't a mystery or a thriller. It's a study of what drives people to become explorers and what it costs them.

The show begins with the launch of the first team that will travel to Mars. An event full of celebration. The goal is for this team to make the initial Mars trip to make sure all the equipment works, and a second crew will swap out with them later on for a longer stay focused on scientific research.
Natascha McElhone stars as Laz Ingram, the CEO of Vista, the company making it happen. Sean Penn is Tom Hagerty, the man who was supposed to lead the mission. He was quietly fired from the project. That makes matters a smidgen awkward when Ingram asks him to help complete the project after a major setback. Bringing Tom back on board means displacing Kayla Price (LisaGay Hamilton), who took over leading the second crew after he left. His return also means there is one person too many in the second crew, so someone will be cut. Five people will remain and will spend nearly three years together in space and on Mars. That is a long time to leave behind, in the words of Carl Sagan, "everyone you love, everyone you know" and every familiar thing. What they are trying to do and what they have to do will be equally hard.
The First deftly transitions between Ingram's team working out the technical bugs and Hagerty's crew preparing for the mission. The series would already have rich material to mine just with the "workplace" stresses and conflicts (Congress and Madame President are very critical of funding the space program in this show, which isn't terribly interesting, although that angle is a realistic one and adds extra pressure), however the time spent in the astronauts' personal lives is a smart choice. Everyone can relate to how agonizing it can be to balance responsibilities to family and to work. Tom Hagerty's daughter Denise (Anna Jacoby-Heron) walks back in to his life, looking for help, just as Vista calls him back. She's an addict. They're both haunted by the breakup of their family, gradually revealed for us in flashbacks. Can Tom truly leave Denise behind when she's teetering so close to finding a better life? The other astronauts have spent years, decades even, researching and equipping themselves for this mission. And yet when they gather for a meal with their families there are tinges of fear and regret. Ever person on the crew has a reason to stay and another to go.
It is Tom and Denise that most viewers will remember longest after watching this series for the first time. Sean Penn is perfectly cast as a man torn between his callings, and Jacoby-Heron's moving portrait of a broken, courageous individual is a standout. Natascha McElhone hypnotizes as Laz, introduced to viewers as a spick and span genius, who is a fascinating puzzle that we get additional pieces for in each episode. Bit by bit, we get to know everyone else. Sometimes the show leaves one character's thread hanging for an episode or two in order to address something else, which can get a bit frustrating. The good news is that with only eight episodes it can't do that for too long.
As I mentioned, this is more a study than a serial. It even embellishes itself with little clips of nature doing its thing coupled with odd narration that might be found artistic or just distracting. At times, the show seems overcome with gravity, losing sight of its own objective to justify why these people are driven to conquer the mysteries of space. As the first promo for the the show said, "Any time people venture into the unknown, there is a cost." This season, presumably literally the first of more to come, focuses heavily on the cost. Not that there isn't beauty to be found along the way. The scene cuts can be abrupt, the silences can be too long, but the show ultimately captures that powerful thrill of discovery.
Dialogue Teases:
"Go make some history"
"Forward. Top speed."
"You're five hours late."
"Maybe she feels that it isn't hers anymore?"
"We can't lose our courage."
All episodes of The First Season 1 premiere September 14th on Hulu.
A deep dive review to follow.