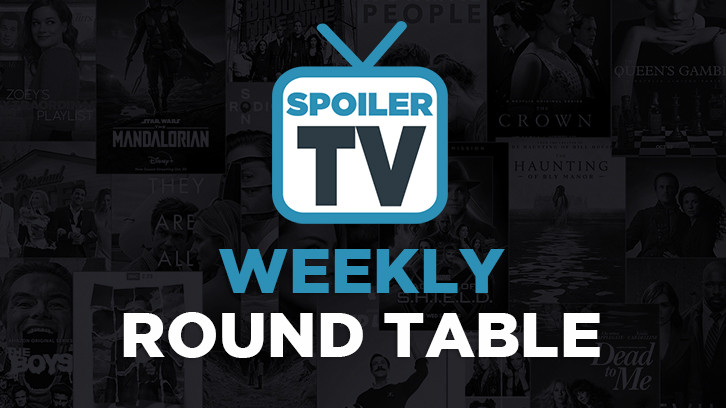 Hello and Welcome to a new slightly belate edition of your favorite Round Table at SpoilerTV! SpoilerTV members featured in this issue are Milo (MI), Lisa (LM), Laura (DL), Shal (KG), Sam (SD), Jamie (JC), Ellys (EC), Mads (MD), Jennise (JH) & Yon (SJ). You just have to sit back enjoy the read and join the discussion in the comment section down below.


1. God Friended Me and Rel Pilots were released online ahead of their release date from their respective Networks. Can an early release help a show become a hit or is this just a desperate attempt from the networks to soften the blow?
Milo:
It could be a good way for the studios to gain positive buzz but the pilots have to be pretty good in order for word of mouth to spread. Regardless, if it works a good way of building up hype and will encourage for more people to watch outside of a busy fall season when there is plenty of timeslot competition.
Lisa:
It's a way of creating word of mouth buzz before they air - but it's risky if no one watches when they air. It's also a way for networks to tap into the cable-cutters. IF advertisers are finally looking at online numbers, it could be a way to prove a show is worth advertising dollars even if it doesn't get the Nielsen ratings.
Shal:
I think it's a little bit of both. It gets people interested and is also a desperate attempt to get viewers to sample the show.
Sam:
It helps the show when they're good shows and they get good reviews. Good buzz about a show always helps it. But the intention of the networks is usually that of coming from a place of trying to get people interested, whether the show is actually good or not.
Jamie:
I think I've seen cases where an early release (or leak) of the pilot created a lot of buzz for a show and actually helped it. I believe this was the case with The Flash & Supergirl. Honestly, I think it's smart. When the fall season kicks off things are insane. There are so many shows that it's easy to lose track of the new ones. I used to drop a lot of newbie shows just to be able to keep up with the ones I was already invested in, so releasing it beforehand gives people time appreciate it more.
Ellys:
I really need to watch those pilots that were released early. This practice is similar to how some cable channels allow the premiere of a season to be viewed with out a TV provider login. I think it definitely is a smart way to build buzz for a series that will be launching at a very busy time. Most people won't take advantage of the option, but it will certainly attract others who wouldn't have watched it when it appears on TV due to having a ton of other options. And if they like it, they will show up for the second episode. So it's a risk worth taking.
Mads:
I do think releasing pilots is a good idea for shows that are more experimental, don't have any big names attached, or aren't from an established franchise already because it gives people a chance to check them out at their own leisure and create buzz for the show. Of course, the downside is if the pilots receive negative attention from this and then it affects ratings when they premiere but that said, if networks can get buzz back earlier they may be able to modify aspects of the season or their marketing plan to the show's benefit.
Jennise:
The way the question is worded leaves me with the impression that it presupposes the show being released early is bad. We've seen this in past seasons when pilots were screened at Comic-Con. I think it's a gamble. If that pilot is high quality, the word of mouth can guarantee a hit. And yes, if the show is bad, that word of mouth can guarantee the show will tank. The problem is that it doesn't seem as though the networks are saving this tactic for the shows they think will break rating records. I also wonder if these releases have anything to do with leaks.
Yon:
I think it's a mixture of both. Early releases with how congested the calendar is can help to drum up early interest in the show, and do more for it than a promo campaign. But if the show is truly awful, releasing it early can just get ahead of the critique that will come its way. I don't think an early release or just airing on TV as planned has any real effect on viewership thought; people are going to watch or not watch regardless. God Friended Me I think will be DOA regardless as it's too similar to Kevin Probably Saves The World & I don't think these types of shows work on Network TV. As for Rel, it's a Fox comedy. Fox comedies don't really tend to survive.
2. CW is making another take at the wildly popular Nandy Drew story. Does it matter to have a reconizable brand to launch a new series?
Milo:
I'm still kind of bummed we never got that Sarah Shahi Nancy Drew, to be honest. But it seems like an easy go-to for a studio to adapt that doesn't require much work in the way of crafting original ideas, and if you're a studio that wants to play it safe then this seems like a good bet.
Lisa:
Nancy Drew is perfect for the CW brand - and it's always going to be a pretty sure bet. I expect them to put a dark spin on it a la Riverdale - seems like perfect cross-over material to me.
Laura:
Well it's not uncommon for stuff to get recycled and get kicked around from network to network. I think the Sarah Shahi's Nancy Drew would have been more to my taste since no doubt the CW will teenify and soap it up. I don't think the CW or other networks need a recognizable brand, but I also think it doesn't hurt in this case. It seems right in line with what CW does.
Shal:
Like Milo, still a little bitter we never got the Sarah Shahi version but I'm excited to see the CW's take on it. Hopefully, this version will be good, interesting, and fun. Seems like the perfect fit for the CW!
Sam:
I think it always matters to have a recognizable brand name. That's why so many shows get rebooted, have a spinoff or a continuation, or movies get turned into tv shows. Because they're trying to draw in the already-existing fanbase. It's less marketing they have to do and it's safer because they already know that no matter what people are at least going to sample it.
Jamie:
I think a recognizable brand name definitely helps but I don't think a Nancy Drew show really benefits from that because it's no longer as popular as it used to be. The CW has a relatively younger audience and a lot of them (myself included) are not all that familiar with Nancy Drew.
Ellys:
A recognizable brand automatically equals more awareness and more media coverage for a show. It's no surprise they are doing this. And Nancy Drew is a perfect fit for the CW's lineup. That doesn't mean it will be good, but it has better chances of succeeding. As for a darker tone, have you checked out the books? To say nothing of the near constant physical assaults that Nancy, her dad, her friends, and their boyfriends endure at the hands of criminals. there's crooks, cults, royalty in hiding, mental hospitals, dead animals, abusive parents, ghostly capers, etc. Talk about a series that could have it all. I only ask she still gets to drive a convertible.
Mads:
A Nancy Drew show will fit in with the CW just fine. In this case, there hasn't really been a Nancy Drew television show to my knowledge and I think that it could be successful on the channel although hopefully it doesn't end up being a Veronica Mars knock-off. Personally I think they should make it a period piece instead of modernizing it. Even if they want to make it sleek and soapy, a period teen procedural would be something different and unlike anything else already on the network.
Jennise:
Of course it matters that a show has a recognizable brand. Brands have been proven time and again that they will bring in a certain minimal audience. If it didn't we wouldn't be seeing all of these reboots. That said I'm kind of bummed to see them going at Nancy Drew again. I loved the books when I was a kid and the last couple of modernization attempts seem to miss the core spirit of the brand.
Yon:
Not anymore. Casting, a good writing team, good creative team and Network tend to these days be the decider on whether or not a show is gonna be successful, not another attempt at bringing to screen a classic. I also can't forget that CBS were the most recent Network to pass on Nancy Drew because the thought it was too female, and Josh + Stephanie are not the best creative team to have behind any show. I'd much prefer Networks to concentrate on original ideas.
3. Emmy Rossum exits Shamless after the upcoming 9th season. Should a show continue without its leading star? Or go for closure? How long should profit be more important than quality?
Lisa:
I think it really depends on the show. Having a major shakeup could help to revitalize a show - or it could kill what makes the show special. Look at the revolving door at Grey's - works for them, right? But X-Files without Gillian Anderson is a no go - and should be.
Laura:
If I was honest, I was hoping for Colony over any of those shows, but I am not sure what Netflix thinks they are gaining by picking up Designated Survivor over Timeless or The Exorcist either? I also think that if Fox is going to be insistent on trying to revive 24 yet again, they need Sutherland to emerge within the first season and continue to be apart of the brand. This could have been that opportunity, but now fans will probably have to suffer another iteration of 24 without Jack Bauer.
Shal:
While I don't watch Shameless, seems like they should just end the show without the lead. It's been on a long time and this seems like the perfect time to wrap the series up.
Sam:
Profit for networks is always going to be number one because they are a business first and foremost. If it's profitable, they will absolutely kick that dead or dying horse until it's well six feet under. That doesn't mean, however, that's how it should be. As a TV lover, I think quality should be more important than money, but unfortunately, that's not how it is.
Jamie:
I'm still catching up on the show so I have no idea what storylines are unfolding right now but I think it might be time to end it. 9 seasons is a lot for any show. Fiona is a very vital part of the show. If they do continue on, I hope the storylines won't suffer for it.
Ellys:
While I have not seen Shameless, I have seen other shows where a major character exits. The Walking Dead comes to mind because it's a show that has largely been told through the perspective of two characters: Carl and Rick. No one else has really truly received the same level of development as these two did. With them leaving the show, there are two dangers. First, the audience will feel an emotional vacuum because there is no one else they are as invested in. Second, audiences will feel very very cheated. When you watch a show for seasons and seasons, the fate of the main characters becomes very important to you. And if the show outlives their fate, what exactly are you sticking around for? How satisfying is everything else on the show, especially knowing that what you most cared about for years is gone from the show? Ultimately, it will depend on the show itself. How much story is left to tell without the main character? How much does the audience care about the other characters? But I think it unlikely that as long as a show gets adequate ratings its studio will ever consider cancelling it unless they have something equally popular to replace it.
Jennise:
For me, quality is always primary. I've seen shows where the quality plummets without any change of cast. I've seen shows flourish after cast changes. IMHO, quality doesn't depend solely on one actor or one character. In America, unless you're watching a daytime soap, people seem to think a show can't survive if there are any changes to cast or show paradigm. It can. It has. If the quality of writing and performances of those who continue to work on the show remains high the show will have an audience.
Yon:
Emmy Rossum IS Shameless. It beggars belief she hasn't won any awards for her portrayal, and the show should really just pack up and go home but they want because it is an extremely profitable brand for Showtime and we all know that's what matters. More generally speaking, I think whether a show can go on without its star very much depends on the show. Ensembles do tend to survive with the casting changes, and so do some dramas when the producers decide to shake things up. It just depends on how well loved the characters are, and if the audiences are willing to accept change. Chad Michael Murray and Hilarie Burton leaving One Tree Hill was extremely shocking way back when, yet the show still managed to do quite well for itself, and Once Upon A Time soldiered on for a season without its core trio.
4. Netflix pulled once again the Phoenix card and resurrected a dead show out of its ashes. A major uproar followed as Netflix chose Designated Survivor over millennial darling Shadowhunters and Spanish reboot Timeless. What do you think about Netflix choice? Were there creatively better shows to safe?
Milo:
Going with Designated Survivor is a lazy and safe choice that Netflix has made in an attempt to try and tap into that demographic that still watches it. I personally gave up long ago but it's easy to see why Netflix would be interested in it. It's just a shame that nobody has looked at The Exorcist, one of the best network shows of the last few years for a revival given how many other shows have gotten that treatment lately.
Lisa:
I review both Designated Survivor and Timeless, and I would definitely have picked Timeless over DS. Neither show is perfect nor do they have terrific acting from every cast member, but I think that Timeless had much better storylines. One reason that DS might have gotten the nod over Timeless is that DS is still filmed in Canada. Netflix has a deal in place to film so much content in Canada, so that would help fulfill that agreement. Timeless moved filming to Hollywood for season 2 - but of course, that doesn't account for Shadowhunters. In that case, they may have given the nod to working with Kiefer Sutherland and Kal Penn as they may want to establish a relationship with them....
Shal:
I don't understand Netflix's decision with this one as Designated Survivor is about to be on its fifth showrunner in less than three years. I don't think this one is going to work for them.
Sam:
I honestly have no idea what Netflix was thinking when they did that, only that it must have been profitable for them to pick it up. But why it's profitable why the show is profitable after those ratings? I don't know. My best guess is the power of Keifer Sutherland and that it must be popular overseas. Again, like networks, Netflix is a business that's about making profits. Of course, there are usually always more quality shows that deserve to have the spotlight, but if they're not profitable, they're not going to pick it up.
Jamie:
As much as I wanted Shadowhunters to continue, at this point, it's a lost cause. They've filmed their finale. And from what I read, getting the rights to potentially continue is a nightmare. Rumors of Netflix picking up Designated Survivor started pretty much right after the cancellation, so I definitely expected this. The show must have been doing well internationally, I myself watched it on Netflix.
Ellys:
Netflix is no longer on honeymoon. They have bills to pay. They need to earn their bread and butter. They can't survive on critical jelly and niche jams forever. Netflix doesn't have ads, so audience quantity matters over demo. Designated Survivor had a small demo, but its last Live+7 numbers had it getting about 8-9 million viewers in the US alone. It has some big names attached.
As for Timeless, setting aside viewer numbers, Netflix is home to El Ministerio del Tiempo/The Ministry of Time. There was a lawsuit in the works for a while alleging that Timeless was a ripoff of that show concocted after Sony abruptly cut off talks to make a US adaptation of The Ministry of Time. There's no being sure what truth there is to those details. But Netflix might not want to bring that baggage along. Fun Fact though: Ministry of Time only lasted 3 seasons and 34 episodes. Timeless will have about 27 episodes when it ends, so time travel apparently is not that hot of a commodity.
As for Shadowhunters, its buzz and viewing numbers were in sharp decline for a while. Though there are certainly passionate fans out there that have made some remarkable efforts to save it, it wouldn't make sense for Netflix to pick up a show that already has a wrap up of several episodes planned.
Yon:
I think Netflix are being extremely charitable for an organization that is in a crap load of debt and has had the odd flop come its way. I don't really understand why exactly Designated Survivor was saved, but it obviously does well for Netflix internationally and we are seeing more often International deals saving a show from cancellation. Shadowhunters may have a passionate fanbase but a passionate fanbase, but a passionate fanbase does not pay the bills. For a show of its stature it was expensive and despite the amount of times Netflix will promote it on the app as a show to watch, clearly enough people aren't or they would've taken the option to save it. The same goes for Timeless. It's an OK enough show but I find the Spanish original to be far more compelling, the creative team behind the show made bad choices and as much as cancellations suck, you just have to get on with it. There are many shows that I've watched which I've believed to be of great quality and not deserve to be axed, but my viewership isn't the thing paying the bills. Showrunners need to wake up and realize that ending a season on a cliffhanger is not a way to guarantee another season anymore, and fans need to realize buying billboards & spamming social media demanding a show be saved isn't going to get you anywhere, but watching will.
That is a wrap guys! Ur turn now, come and join the discussion down below. Till next week. . .