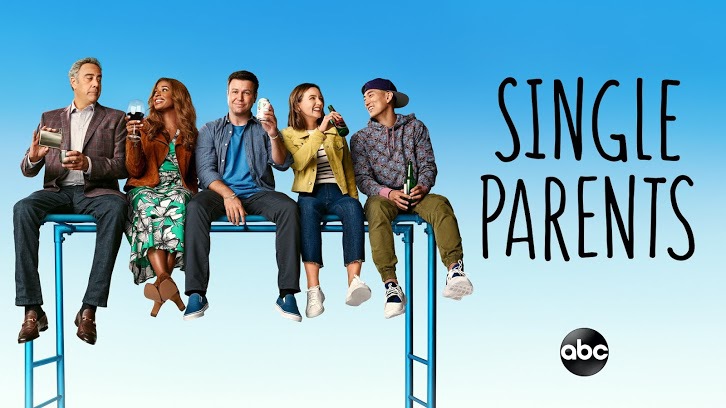 WARNING: THE FOLLOWING REVIEW CONTAINS SPOILERS, READ AT YOUR OWN RISK.

Single Parents has been on my horizon ever since I discovered Elizabeth Meriwether would be at the helm. I was a big fan of New Girl and I've missed it since it wrapped its seven season run this past May, but based on this pilot, I'd say Single Parents is the perfect remedy. Not to mention the fact the show was co-created by J.J. Philbin who worked on another favorite of mine, The OC.


The pilot was written by J.J. Philbin and Elizabeth Meriwether, with Jason Winer directing. I don't think it's premature to say
Single Parents
is one of the strongest comedy pilots I've seen from the fall crop. So, what is it about exactly?
MEET THE PARENTS
A bustling new morning at school establishes the opening scene of the show and gives us small snippets into the lives of our core cast of character. First we're introduced to Sophie Cooper (Marlow Barkley), the whip-smart and fairly mature for her age, daughter of Will (Taran Killam). Will is the central focus of the series. He's a single dad doing his best after his wife walked out of the picture and instead of trying to date again or get back out into the world, he's been using the PTA as his crutch. He's the "room parent" which is announced in a cringeworthy speech that instantly has all the other parents feeling bad for him.
Amongst the other titular single parents we are introduced to the snarky Angie (Leighton Meester) and her clingy son Graham (Tyler Wladis), sensible Poppy (Kimrie Lewis) and her stylish son Rory (Devin Trey Campbell), the conservative widower, Douglas (Brad Garrett), and his precocious set of twins Amy (Ella Allan) and Emma (Mia Allan), and the spaced out Miggy (Jake Choi) with his brand new baby. All the parents outside of Will are obviously close. They cast plays well off of one another and the pilot doesn't have to waste time establishing the ensemble. It doesn't take long for them adopt Will into their group after a few bumps.
THE STORYLINE
Most of this episode involves Poppy, Douglas, and Miggy trying to help Will get a date. It turns out their reasons for wanting to assist Will in getting out of the house are not a sign of their unwavering altruism. They actually want to get out of doing volunteer work for the class. Angie, played by the fantastic Leighton Meester who is finally getting the comedic vehicle she deserves to flex her impeccable timing, takes the helm and has a few tender moments with Will where he talks about clinging to the last vestiges of his wife (ex-wife?) after she left him.
Of course, once Douglas none-too-gently reveals the gangs motives for helping Will make a Tinder profile, Will kicks everyone out of his house. He does still go on the date though and it ends horribly when he blurts out "I love you" in the middle of a make-out session. Needless to say, his date doesn't react well and kicks him out of her apartment, then she calls the cops for good measure. Angie ends up hearing the sirens whilst on an apology phone call with Will and the other parents get to the apartment in time to bail Will out of trouble with the police in the
best
way possible. Sophie calls from her grandmother's house needing her goodnight song, because it turns out she's not ready to give it up yet after all. So, Will and Douglas sing a rousing rendition of
How Far I'll Go
from
Moana
over the phone to her.
The next day, Will declares himself out of his depressing PTA vortex and announces his re-entry to the real world. He's going to drink coffee after 4 pm and get rid of the dreaded mermaid bag (which I desperately hope becomes a running gag honestly). It seems he's been officially indoctrinated into the group of single parents.
STRAY THOUGHTS
- This show gets
so
much credit for including
Moana
sing-alongs. I mean who
doesn't
want to watch Brad Garrett belting
How Far I'll Go
?
FAVORITE LINES

Poppy
: He's single, we're single.
Angie
: No, I've never been
that
single.
Poppy
: Well at least he doesn't eat steak with the same pasty, old, white guys night after night.
Douglas
:
We're
not pasty, old, white guys; we're dermatologists saving the lives of pasty, old, white guys.
Miggy
: Your pants are making my baby cry.
Poppy
: Douglas,
you
are why we march.
Poppy
: Rory I'll wear your vest!
Rory
: You don't have the right torso for a vest, Mom. Stop trying to make it happen!
Cop
: His Keds are not the issue ma'am.
Rory
: But they
are
an issue.
AN ALL NEW EPISODE OF SINGLE PARENTS AIRS
WEDNESDAY
,
OCTOBER 3RD
at
9:30 PM EDT
on
ABC
.
Check back here for my review after it airs!