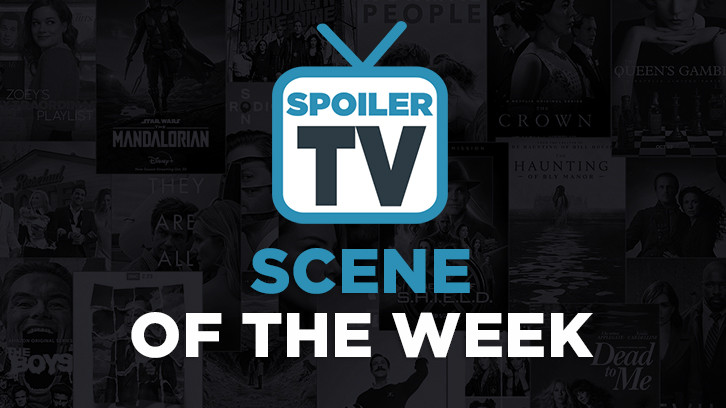 A weekly feature in which we're trying to find the most compelling, best acted, written, directed and just generally great, memorable scenes that we've seen in past seven days on TV.

CASTLE ROCK, "Henry Deaver", September 5, 2018, Actors: André Holland, Melanie Lynskey, Bill Skarsgård and more, The Scenes: Molly gets shot & Molly and The Kid with Young Henry at the sheriff's station & The Kid realizes what happened to Henry & The opening scene
Laura B: Molly gets shot when trying to help Henry in the woods. What a fun treat to step into a Dark Tower-like multiverse episode, that seems to explain so much about the Henry Deavers' stories, but sadly not without dire consequences as Alt Molly, Alt Henry, and Henry make a run to the woods from the police to only have Molly get shot and begging Alt Henry to help Henry get home. Wonderfully eerie and dizzying sequence!
DarkUFO: Molly and The Kid with Young Henry at the sheriff's station.
Saloni: The Kid realizing our version of Henry (as a child) is trapped in a cage in Matthew Deaver's home. Maybe because I didn't see it coming, but this was a good turn of events.
Claire: The opening scene where we meet Henry Deaver #2. Bill Skarsgård is superb in his seamless portrayal of the kid/Henry. For most of this season he has almost been a 'non person' and then to see him in the alternate universe as a doctor working to cure Alzheimer's, with a wife, wanting a child. It blew me away seeing the kid in the universe where he belongs.

FEAR THE WALKING DEAD, "Weak", September 2, 2018, Actor: Jenna Elfman
The Scene: June gets the truck back (picked by DarkUFO)

INSECURE, "Fresh-Like", September 2, 2018, Actors: Issa Rae, Kendrick Sampson
The Scene: Issa and Nathan stroll through Los Angeles
Naomi: Issa and Nathan turn a chance encounter into a romantic day strolling through Los Angeles; it also marks a turning point for Issa at work.

IRON FIST, "The Fury of Iron Fist", September 7, 2018, Actors: Finn Jones, Jessica Henwick and more, The Scene: Colleen and Danny fight off two gangs in a restaurant
Justyna: Only just started watching season two but I really enjoyed the premiere and there were several moments worth highlighting. The one I chose to include in the article is the fight in the restaurant. Not only visually well done and choreographed, I like what it meant for Colleen and Danny. One of the best things about the show for me is their relationship. Unlike in many other stories, these two truly support each other and fight together against the evil coming their way. Alone, they're good fighters but together, they are great. Even their conversation earlier in the episode about Colleen's mother is a good example of why these two work. Plus, the scene shows us a glimpse of their impressive skills while also giving the viewers a bit of a humour with Danny trying to distract one of the gangs. Hoping there's more of this great duo in the rest of the season. Kudos for the engaging start! Excited to continue watching.

MAYANS M.C., "Perro/Oc", September 4, 2018, Actors: J. D. Pardo, Katey Sagal
The Scene: Gemma's cameo in the flashback sequence
Mads: Gemma's cameo in the flashback sequence when EZ discovers Emily was pregnant. It was a great scene clincher that helped to weave the Sons mythology into this new show and maybe tease further story to come!

SALVATION, "Celebration Day", September 3, 2018, Actors: Santiago Cabrera, Melia Kreiling, The Scene: Darius and Alycia's discussion of family
DJRiter: A quiet little scene, in the midst of the roller-coaster ride toward the finale, between Darius and the now shunned by Resyst, Alycia was impactful and featured some fine work between Santiago Cabrera and Melia Kreiling. They have a nice chemistry and it was a beautiful discussion of how they were both searching for the one thing they didn't realize they both needed, a family.

TAKE TWO, "It Takes A Thief", September 6, 2018, Actors: Rachel Bilson, Eddie Cibrian, The Scene: Sam and Eddie kiss
Klutzy girl: I know they're making them canon so early because the show's likely not coming back but at least the writers are smart and decided to go ahead with it. Other shows should definitely take note of this. I figured something was coming but it was still exciting and I'm looking forward to seeing where their relationship goes in the finale.
Luana: I find it horrible that they decided to have their first kiss in front of their dates, that was rude as hell. Still, they have a lot of chemistry and this was obviously going to happen soon, I just wish it wouldn't have been so distasteful and kind of out of character for both of them.

THE PURGE, "What Is America?", September 4, 2018, Actors: Jessica Garza and more, The Scene: The ending scene
Claire: The end scene when it's revealed what these cult-like young people are actually giving; their very lives. This TV show version of The Purge far exceeds the movies IMHO.
Milo: It was a brutal end to the episode that left things on an exciting note. I've always been drawn to The Purge movies more for their concept rather than their execution, and I'm curious to see where the show takes it from here especially with the extended episode count.
Mads: The ending scene when we see what the cult really means by "the giving." It's a pretty brutal start to the annual purge and definitely makes me nervous for Penelope's fate! The look of horror on her face made me think she might be regretting her decision to join up.

THE SINNER, "Part VI", September 5, 2018, Actors: Bill Pullman, Elisha Henig and more, The Scenes: Harry and Julian's talk at the end & Julian encounters the "monster"
Laura B: Harry tells Julian about his guilt. Most might already know that Detective Harry Ambrose is not a perfect man, but it was definitely a bit shocking to learn that his house burned down, which led to his mother's institutionalization. It was shocking because he started the fire himself! Obviously desperate to make his hard life change. It was a really nice writing by allowing Harry to have such tight parallels to Julian, Vera, and perhaps Maureen.
Mads: Harry and Julian's talk at the end of the episode. Yet again, Harry has formed a connection with the person he's investigating like Cora in the season before. Their heart to heart was nice and also quite chilling given how the episode ends.
DarkUFO: Julian encounters the "monster" at the end.
Luana: Julian is taken. This scene was so creepy, Julian trying to cast away his demons not realizing just how real they were was kinda heartbreaking, this kid's whole foundation has been shaken to the core over the last weeks and he doesn't seem to know what's real and what's not anymore, great work by Elisha Henig.
Claire: Harry talking to Julian near the end of the episode and revealing his past to the boy. Julian says that Harry is always honest with him and this gives them such a powerful connection. Bill Pullman is fabulous.

WYNONNA EARP, "Waiting Forever For You", September 7, 2018, Actors: Melanie Scrofano, Tim Rozon and more, The Scenes: Wynonna kills Clootie & Doc and Wynonna talk in the barn
Samantha: More of a mercy killing on a shell of a demon but still a really powerful scene. The Earps and Clootie have never really gotten along and this episode wasn't much different, except for the fact Clootie is nowhere near as powerful as she once was. She was more an unwilling messenger of a demon than an actual demon, which both Kate and Wynonna recognized when they found Clootie. She was without a face, but you could still feel how sad and pathetic Clootie was and I teared up a little bit as she pointed the gun at her head. She didn't have many choices in life and her first death was extremely unpleasant, but when a demon has nothing left to give, she's gonna make sure being killed this time was on her own terms and Wynonna respected that.
Luana: Doc and Wynonna talk in the barn.