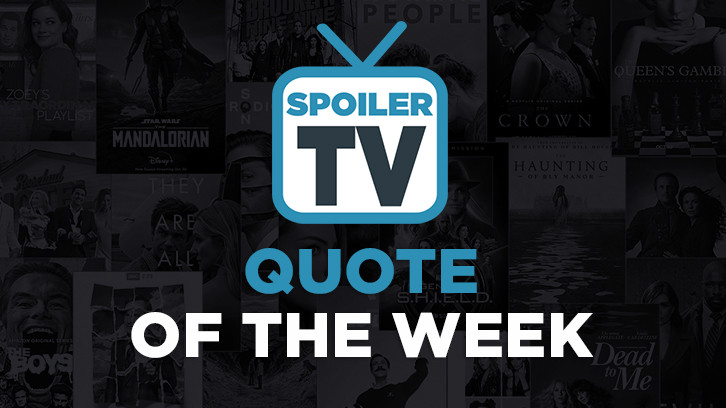 A weekly feature highlighting the best quotes on TV as picked by the Spoiler TV team. We'd love to hear your picks too so please sound off in the comments below.

Better Call Saul -
1. Mike: "He wanted me to talk. I talked."
2. Jimmy: "It's strictly gainful employment, and then 10 months from now, poof, I'm a lawyer again." (Sam Dinsmoor)



Castle Rock -
1. Dennis: "Bad shit happens here, because people know they are safe here."
2. Ruth: "This my home. I'll leave it in a box."
3. Molly: "Do you think that's why you came back. Because it reminded you?" (Laura B)
1. Jim: "Here's what I got: the future. We're gonna infest this planet again. It's what we do. An ice age couldn't knock us out. 'Cause you see, one day, everything we lost, we're going to rebuild. We're going to start again. It's inevitable. So I make beer."
2. Morgan: "What is it? The code?" Sarah: "You gotta help people when they need help." (Ellys Cartin)
3. Morgan: "I am a coward. I'd helped those people back there, at least I thought I had but... it wasn't enough." (Ellys Cartin and DarkUFO)
4.

Morgan: "I'm going someplace where people are trying to do just that. Rebuild, not make beer."
5.

Strand: "I drink to forget." John: "Forget what?" Strand: "That I don't have anyone to drink with anymore."
6. Clayton: "Just because you weren't able to help me, Luciana, doesn't mean you're not going to be able to help someone else."
7. Clayton: "You look like you've been through the ringer. Why would you want to help a total stranger?" Luciana: "I have some things to make up for." Clayton: "Don't we all."

(DarkUFO)
KillJoys -
1. Marris Jaqobis: "I did the best I could [as his father]."
D'avin Jaqobis: "No you didn't. But I will." (Prpleight)
1. Vera: "There are no children here. The Beacon is very clear about this. None of us are advanced enough in the work to have children. I think he's right."
2. Woman: "Should that, should that, what happened in there, should that be a part of the work?" Vera: "Every experience is a part of the work. You know that. Why? Are you upset?" (DarkUFO)