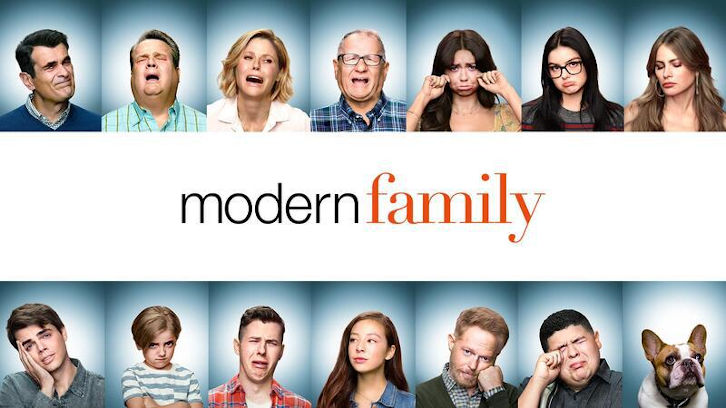 Tonight will mark the premiere of Modern Family's tenth and perhaps final season (as of this writing, I don't believe ABC has ever confirmed it though the creators seemed to indicate they are ready to end things this season). Getting to 10 seasons is a huge accomplishment in itself, as few shows have had such longevity.

Sure, the show peaked creatively (and in ratings) seasons ago - but reflecting back on the 9 seasons that we have seen so far, there have been far more good than bad. As I prepare to review the 10th season, I thought it apt to look back on the best of the best. At it's best, Modern Family is a show that managed comical situations with true emotional moments.

Season 9 especially left a lot to be desired. But I hold high hopes that Season 10 can come back and hopefully end the show on a very high note and perhaps squeeze out another "Top 10" caliber show in doing so. But in the meantime, I've compiled a list of what I consider to be the top 10 episodes from the first 9 seasons of Modern Family. This task was actually much more difficult than I thought it would be and I certainly feel like there's a number of episodes that it definitely hurt to leave off the list.


10. American Skyper (Season 6, Episode 24)

I am not going to lie, I am a sucker for the Haley/Andy relationship and was so disappointed it was dropped. In my opinion, the show took a dramatic step down once Andy left the supporting cast and Haley especially just hasn't been as interesting since. American Skyper is the episode I picked to best showcase their burgeoning relationship as Andy found himself stuck between proposing to Beth or expressing his feelings for Haley. And as you'll find as this list goes on, I'm a sucker for miscommunication comedy which Modern Family has done well in it's past - so adding in Phil's unknowingly poor advice (at least from Haley's perspective) via Skype was both a joy and somewhat saddening to watch as he could do nothing to assist them once he did realize who the "other girl" Andy was referring to was. Modern Family isn't really known for ending their seasons with dramatic cliff hangers, so this is another reason why I felt it was more effective than others.


9. My Funky Valentine (Season 1, Episode 15)


While Modern Family will usually (but not always) tackle the major holidays of Christmas and Thanksgiving - the holiday episodes they really focus on and highlight are Valentines Day and Halloween. In this Valentine's day themed episode, we got our first glimpse of Phil and Claire's roleplay alter-egos: Clive Bixby and Julianna which become recurring joke each Valentine's season for Modern Family. Each couple's valentine's events provided plenty of laughs but also a nice moment for Claire and Gloria when Gloria helps Claire out of her "compromising" position on the escalator because "its happened to her before."



8. Halloween (Season 2, Episode 6)

Only makes sense to go right into the other holiday staple for the Dunphy-Pritchett's - Halloween. Again, the first of many themed episodes that occur based around Halloween and the first we learn of Claire's obsession over Halloween. The chaos around Claire's Haunted House have made this one that I enjoy re-watching whenever I get the chance. That and the sequence where Mitchell realizes he was the only one in his office to dress up for Halloween and him trying to escape the bathroom in his Spider-Man costume is one of my favorite moments in the entire show. The climactic Haunted House scene with everyone's drama causing things to unravel is also classic Modern Family hi-jinks.



7. Schooled (Season 4, Episode 2)

Here the main plot-line is that the family is sending Haley off to college. There's a couple different reasons I rank this episode so highly (not counting a great guest appearance from Pre-Goldbergs Wendi McLendon-Covey as one half of a lesbian couple arguing with Mitch and Cam). For one, as a parent with daughter who is nowhere near going to college - the closing scene after they drop Haley off is one of the more emotional moments in the series for me. Also the "Phil-osophy" book contains some of my favorite laughs from the show.


6. Pilot (Season 1, Episode 1)
It's hard to make a top 10 list of Modern Family episodes and not include where it all begin. To be fair, for most shows that end up being good or successful - the pilot episodes are nowhere near as good as many of the ensuing episodes as the series continues. But in Modern Family's case - the Pilot is actually really, really good. One of the better instances of a show successfully introducing its core characters while also bringing some laughs and emotional moments right out of the gate. I also loved the flow of the story to only reveal all these characters are related at the very end. Favorite moments from this one are tied between the airplane scene with Cam/Mitch and Cam's "Loin King" moment with Lily.
5. Message Received (Season 5, Episode 22)
I decided to only include one episode that involved Cam/Mitch's wedding - but overall that entire storyline and story arc from Season 5 was well done (from the dueling proposals all the way up the trademark Dunphy-Pritchett chaos at the wedding). But instead of listing the Wedding two-parter, I went with Message Received because it deviated from what you typically expect from Modern Family. The primary story from the episode revolves around Cam and Mitch preparing for the quickly approaching nuptials and their budget issues. The Spider-Man comic book debacle in itself was a good story, but it was the confrontation between the duo and Jay and Gloria that comes off as one of the more "real world" scene of the show. Jay finally expresses his discomfort with the wedding, leading to Mitch suggesting he not even come to the wedding. While most Modern Family episodes wrap things up and involve reconciliation, this one ended on more bitter than sweet and that lack of happy ending ultimately makes it much more feel more "real" and even more effective when Jay finally steps up during "The Wedding."
4. Connection Lost (Season 6, Episode 16)
Undoubtedly the most innovative of Modern Family episodes as Connection Lost takes place completely from the point of view of Claire's laptop of all things. With Claire stuck at the airport, she is trying to get in touch with Haley after a big fight - but only can reach other members of the family via social media through the use of FaceTime, iMessage and other avenues. Ultimately it leads to more of that miscommunication comedy when everyone things Andy and Haley have gone off to Vegas to get hitched and also a pregnancy scare...of course it turns out to all be for naught as Haley was asleep in her room the whole time and she had left her phone in Andy's car on his trip to Vegas. Granted it seemed like a big advertisement for Apple, I still enjoy the originality and also some of those bittersweet moments (the slideshow of Haley's childhood pictures again got me).
3. Baby on Board (Season 3, Episode 24)
Another rare Modern Family season finale cliff hanger here as Mitch and Cam's trip to adopt a second child ends in disappointment. But we do find out the Dunphy-Pritchey family would indeed be growing after all with the revelation at the end that Gloria. Bittersweet moments have been part of Modern Family's highest points - and here was no different. Cam and Mitch's attempt to grow their family had been a big part of the season, but it ends in such disappointment - though the Spanish soap opera sequence that leads to the adoption is another high point here. However, we balance that with the exciting reveal that after multiple rejections - Haley had in fact gotten into college. Another episode that shows how at it's best, Modern Family was able to take you from crying to laughing and back again in a matter of seconds.
2. Fizbo (Season 1, Episode 9)
Another Season 1 classic. Since the pilot, the show continued to put out quality episode after quality episode - but for the most part, each episode had the family members apart. It was Fizbo that was our first chance to really see them play off one another and showed what Modern Family could really be. Like most of their best episodes, it has it's "real" moments dealing with things us parents can relate to when it comes to family anxieties as Phil and Claire stress over throwing a birthday party for Luke. It also introduces us to the recurring character of Fizbo - Cam's clown alter-ego. Everything just works so well in this episode from the physical comedy to the emotional gathering at the hospital where Luke admits to it being the best birthday ever - despite all the chaos.
1. Las Vegas (Season 5, Episode 18)
Throughout the course of the show, the Dunphy-Pritchett's typically head "on the road" for at least one episode a season and Season 5 took us to Las Vegas for one of the more chaotic episodes the show has ever seen. What I love about this episode is the pace is so fast and furious, the laughs never stop the entire episode, and the miscommunication is at an all time high here. The kids are left out completely here, which in itself was refreshing at this point of the series. What starts as an attempt to have a fun adults vacation ends in a farce straight out of some Shakespearean comedies with lots of people ending up in the wrong place at the wrong time. Not to mention some great guest appearances by Patton Oswald as one of Phil's rival magicians and Stephen Merchant stealing scenes as their butler. While many classic episodes exist, especially in the first 3-4 seasons - this stand alone Season 5 episode is hands down the most fun I've had watching this show and could re-watch it for years to come and still spend the entire 22 minutes laughing. Much like with Fizbo, the comedy, chemistry, and pace clicked like never before.
Can Season 10 find an episode that tops any of these? Only time will tell but I do hope that it can at least find that mix of realism, comedy, and emotional connections with their characters it has had in the past that has been lacking over the last couple years.
Disagree with my list? What would be your favorite episodes from these first 9 seasons? Would love to see other's opinions!