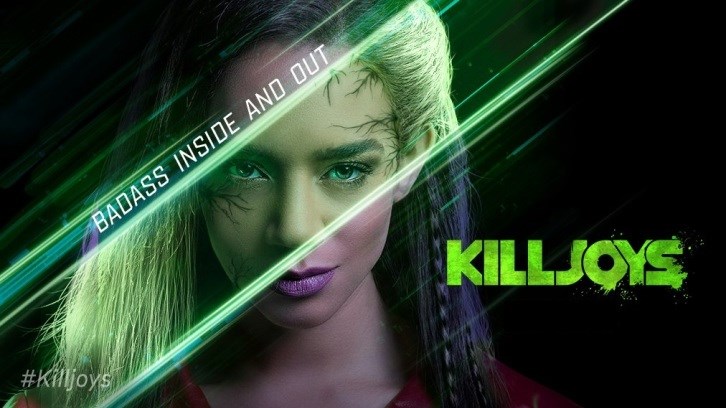 Killjoys
brings its fourth season to a close with "Sporemageddon" written by Adam Barken and directed by Stefan Pleszczynski. Look for a good shoot out and a good fight (though one you've seen before). Look for a crazy, bizarro ending to the season. I've really liked this season up to this point, but I'm not crazy about where they leave it.
John (Aaron Ashmore) isn't happy to have a "guest" and neither is Turin (Patrick Garrow). Khylen (Rob Stewart) leaves a present for Dutch (Hannah John-Kamen).
Aneela explains what the green is to D'Av (Luke Macfarlane) and John. (Kelly McCormack) is not impressed by Aneela. D'Av puts his trust in someone.
The women have a conversation while the men play. We revisit some moments – and people – from the past.
Even Aneela has a surprising weakness. Zeph and Pree (Thom Allison) disagree on what's cowardly. Pree gives Zeph some good advice – that is applicable to the entire storyline.
Zeph helps with a problem on Westerly that threatens one of our team.
Don't forget to tune in to the season finale at 10/9c on Syfy tonight!
And some dialogue teases….
We're all just made of memories.
You seem better now.
Less talking. More shooting.
Everybody stay cool.
You feel hot.
Ok. Fair point.
If you can't do the impossible. Do the honorable.
This feels bad.
You're about to see what I want.
Letting go is never easy.
D'Av's weird explody-thing?
What if everyone could get what they wanted?
Considered? I'm counting on it.
All you can see is a memory of what you lost.
Why do you let your underlings speak to you this way?
How does it turn regular guys into undying dickheads?
Not you, Johnny Favorite.