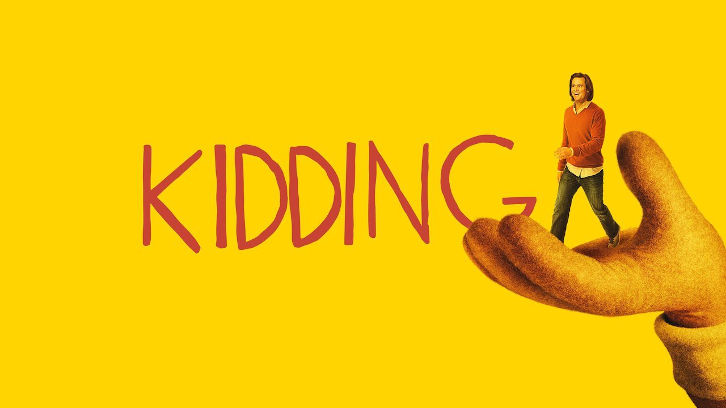 If you're even casually aware of Jim Carrey's career aside from his famous comedy hits, you'd probably have the inkling that the actor's tastes don't exactly lean towards the broad slapstick that made him so iconic in the 90s. Ever since Dumb and Dumber, The Mask, and Ace Ventura (all coming out in '94), he has at every opportunity sought to spread his wings and explore more dramatic material. This yielded mixed results, but ultimately left us with some terrific films, perhaps most notably The Truman Show and Eternal Sunshine of the Spotless Mind, the latter of which might be one of this century's greatest cinematic achievements.

So it hardly comes as much of a surprise that Carrey has made his "return" in a role that qualifies as one of his darkest and most troubled yet. He stars in Showtime's Kidding as Jeff Pickles, a beloved children's TV show presenter very much in the vein of Mr Rogers. Jeff is a man with a big, generous heart, a man who is always there for others, and who's optimistic view on life is both refreshing and seemingly naive. Kidding opens one year after Jeff has suffered a terrible personal tragedy - the death of one of his sons in a freak car accident (one he later calls "an act of God") - and his life and psyche are starting to fall apart, as he wrestles with his grief and how his view of the world might not be fully accurate.

The series is created by Dave Holstein, who wrote on Weeds and I'm Dying Up Here, but much of the press leading up to the show's premiere on Sunday night has been about Carrey reuniting with Michel Gondry, the distinctive and very talented director of Eternal Sunshine. In that movie, Gondry got out of Carrey perhaps the actor's finest work, and so the fact that they would reunite for this series was exciting. As it turns out, Gondry is not as important to the show as one would expect: the show stays relatively grounded in some version of reality (though one skewed by Jeff's perspective), and so Gondry doesn't get to fully let loose, the material boxing him in. Aside from a few stunning moments that devastatingly convey Jeff's emotional confusion and isolation, the director's unique style is more of a quirk that something essential to the show. However, since Gondry has (thus far) only directed the first two episodes (of the four I've seen), the show's visuals are slightly more tempered once he steps away.

Kidding gives Carrey a great supporting cast - that includes Frank Langella as Seb, Jeff's father and the executive producer of "Mr Pickles' Puppet Time", Catherine Keener as Deirdre, Jeff's sister and the show's head puppet maker, Judy Greer as Jeff's estranged wife Jill, and Cole Allen as Phil and Will, Jeff's twin sons - but Carrey and his performance are this show's big draw, and he is terrific in a role that feels close to home for the actor, who has clearly had some personal and emotional issues in the last few years. Carrey is so riveting - and Jeff is such as well-realized creation - that the show around him suffers when he's not around. In particular, the show attempts an ambitious subplot revolving around Deirdre and her struggling marriage, but it has thus far not quite hit the mark, feeling too broad and non-specific when compared with the show's main emotional through line.

The show's attempts at comedy are a mixed bag. Despite being in keeping with the show's thematic ambitions of conflicting outlooks on the world among the characters, Holstein and his writers have yet to make the comedy feel like a natural companion to the show's dramatic ambitions. Kidding soars and becomes emotionally rewarding television when it turns its focus (as it does often) on Jeff and his inner grief, a grief he wants to share with the world if only the public would accept this new, damaged version of him. It's a terrific examination of grief and loss, but also of the power of kindness and generosity, as we see the positive impact Jeff has had on so many people for so many years. It's this emotional richness and the show's hopeful, humanistic approach and outlook that make it at times breathtakingly beautiful. It's those moments that make trudging through some of Kidding's less successful aspects ultimately worthwhile.