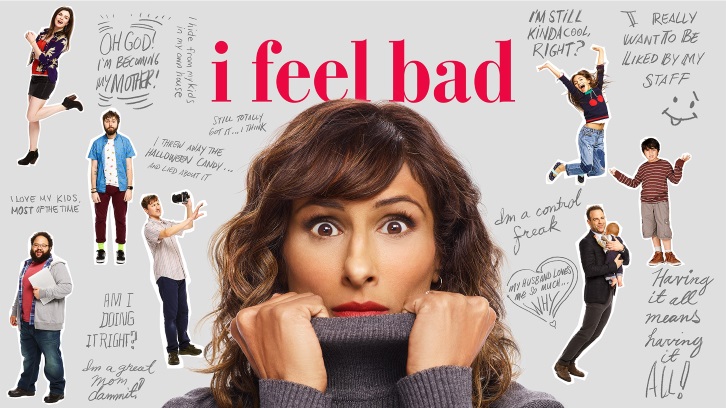 "We all need a way to reset our souls, don't we?"

That's how Sarayu Blue's Emet opens the second episode of NBC's I Feel Bad, which airs alongside the pilot on Wednesday 19th September at 10pm. It's a line that perfectly prefaces events to come but which also aptly sums up the series in which it features.

On the first two episodes of evidence, I Feel Bad is hardly going to sweep next year's Emmys. But there is potential there, and it certainly makes for enjoyable viewing, at least as a way of passing half an hour. It should be remembered, too, that network comedies rarely start as strongly as they eventually become, and a show like Parks and Recreation — starring Amy Poehler, who's an executive producer here — improved vastly in its second season. I Feel Bad could go through a similar transformation.

The series follows Emet, head artist at a video game company and a mother of three, as she deals with the stresses of everyday life. Throw into that a loving, if slightly insecure, husband (Paul Adelstein) whom she refers to as "Humpty David" during the second episode, and her overbearing mother (Madhur Jaffrey) and you can see pretty quickly why she spends episode two relaxing in her neighbour's house to get away from things.


This show's humour is about as crude as the trailer suggests — although it's by no means vulgar. Much of that is done in The Office style of cringe comedy: the first episode has Emet's father slap her behind thinking she's his wife, and sees her daughter involved in a dance group whose main move is twerking. But, for the most part, it works. Adelstein's Chandler Bing-esque sarcasm and Jaffrey's dry delivery help soften the moments that worthy of grimacing at.

Blue is an excellent lead, capturing the essence of a woman who is doing her best in circumstances that test her resolve. There's a quirky, jittery quality to her as she attempts to balance everything going on in her life, and she's both helped and hindered by her family commitments and her nerd co-workers. They're a fun bunch, and impressively develop from when we first meet them to the end of the second half-hour. They prove supportive and more useful in providing life advice than might be expected — as Johnny Pemberton's Griff says, "Nerds are cool now. We date models." — and they quickly realise the error of their ways in initially rejecting empowered women characters in their game. I Feel Bad will score no points for political correctness, granted, but it avoids being lewd enough to provoke petitions against it.

Emet begins the pilot in a dream in which she's cheating on David, and notes that every woman feels bad about something every day. The series appears to follow its title, at least for the leading pair, and that may or may not be relatable. Even if it isn't, there's a lot to like about this show. It's regularly bordering on consistently funny, and absolutely worth sticking with.

After all, when Emet asks if she's "still doable", the nerds compare it to pizza. "Some pizza's better than no pizza," they suggest.

In this case, the comedy may not be pinpoint nor highbrow, but it's still funny. Some comedy's better than no comedy.

The first two episodes of I Feel Bad air on NBC on Wednesday 19th September at 10pm, before premiering in its regular timeslot at 9.30pm on Thursday 4th October.