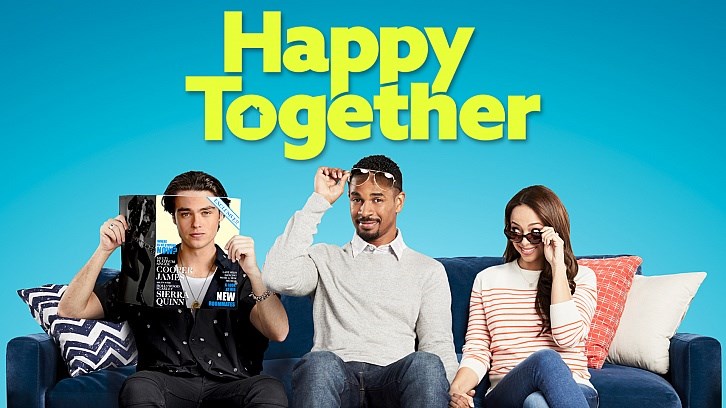 It's that time of year again folks! Fall TV. All the networks are flexing their latest new series, and we're in that great, sometimes awkward, period of trying on pilots to see which ones fit.

CBS has a bundle of new sitcoms launching this fall. I've sampled all of them and Happy Together is one of the stronger contenders in the bunch. It's not a wholly original premise, we've seen this type of found family, set-up before (and I'll admit that is one of my favorite television tropes so maybe I'm biased), but I find that it induces a nostalgic factor that makes this show something akin to comfort food. I felt warm and fuzzy watching and I genuinely enjoyed myself. It doesn't hurt that I've nursed a soft spot for Amber Stevens West since her Greek days either.


Happy Together
is a multi-camera comedy from co-creators Austen Earl and Tim McAuliffe about Jake (Damon Wayans Jr.) and Claire (Amber Stevens West), a happily married couple more or less stuck in a rut, a comfortable rut, but a rut nonetheless. (They plan their sex life out every week and "Pony" by Ginuwine is still one of the top songs on Jake's
Sex Playlist
, to paint you a clearer picture). Their comfortable routines are jeopardized when one of Jake's clients (he's an accountant), a music superstar by the name of Cooper James (Felix Mallard) arrives on their doorstep seeking a haven away from the paparazzi. They've been in a frenzy since his highly publicized split (there's a fun cameo here from a certain talk show host) from his equally famous girlfriend, Sierra (Peyton List).
Claire and Jake quickly learn that keeping up with Cooper and his fast-paced, glamorous lifestyle will be much harder than it looks. However, it turns out that Cooper could use a little bit of their monotony and quiet comforts. The trio can learn from one another and maybe grow into a new, albeit unorthodox, family of their own.
SHOULD YOU WATCH IT?
Maybe! I can see why it might be stale to some people but personally I found
Happy Together
to be an entertaining, charming addition to the CBS comedy line-up. Amber and Damon are believable as a couple and are neither are strangers to comedy.
Their timing is great and Felix plays off of them as the straight man pretty well. It's a show that has a lot of mileage so as long as the writers keep things fresh I don't see it getting repetitive, it can only go up from here and it starts pretty high up to begin with.
Also, I just want to point out how nice it is to have a married couple that genuinely
enjoy
being around each other as Jake and Claire do. It's a nice departure from the tired "bitter old couple" trope CBS tends to be so fond of.
DIALOGUE TEASES
:
"We're young and fun and full of memes."
"I was making smoothies this morning and realized I didn't have enough vodka."
"We have scented candles and this kid is becoming a candle."
"Aren't you going fly fishing with Jaden Smith?"
"Whatever you guys have, I want to be apart of it."
HAPPY TOGETHER
premieres on
MONDAY
,
OCTOBER 1ST
(8:30-9:00 PM, ET/PT) on
CBS
. Be on the look out for my more in-depth review to come afterwards! Thank you for reading!