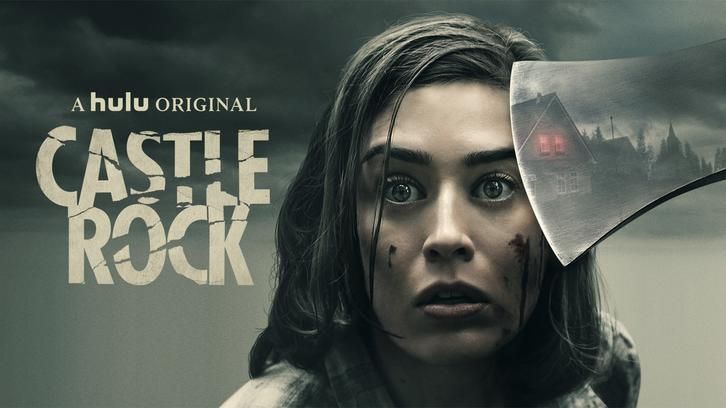 Castle Rock 1.08 "Past Perfect"
Directed by Ana Lily Amirpour & Written by Mark Lafferty

Three episodes to go of Castle Rock, and I think things have gotten pretty out of hand. After last episode's trauma of saying goodbye to Alan, if you thought we had any breather before things got suitably intense again you would be wrong, as Past Present plunges us back into the mystery, offering more hints as to who The Kid is and further exploring his connection with the world. The show doesn't immediately return to the more familiar inhabitants of Castle Rock, instead opting to a newcomer. Could this be a mini, short story, one of many being told about the residents of the town? It's not clear at first. It focuses on Professor Gordon and his wife, who were interested in buying the home of Warden Lacy and we last saw them in a meeting with Molly Strand.

Of course, it's Castle Rock, and by the very fact that we've seen them again, we know that it's not going to well for them so it's no surprise when Gordon decides to slaughter his first paying customers at a bed and breakfast for the macabre in the middle of the night. It's further evidence that yes, Castle Rock does bring out the worst in people, but a counterbalance to that could be Gordon not exactly being the most 'there' person before the incident, with his obsession with the true-crime stories that emerged out of Castle Rock being one of the main reasons why he moved there in the first place. Nobody in their right mind would want to move to Castle Rock, so that raises multiple questions there. His wife is surprisingly willing to help cover up his crime after overcoming the shock of seeing her husband covered in blood, but their schemes as would-be criminals is interrupted by Jackie Torrance.

It turns out Jackie has come to check on her new neighbours and notices from the start that something's wrong. They're not exactly master criminals after all. She's jealous of the fact that Gordon and his wife had the idea to open a murder themed bed and breakfast style home as she herself claims that she had the idea first long ago, wanting to turn in into the main selling point for the whole town as its main attraction to draw in tourists. She's suspicious that something's up with all the black bags that they're hauling into trucks, and is weirded out, but before the newcomers get worried enough to act, she leaves.

The strategy of opening with a different group of characters after having something terrible happen to the main cast is something that is not uncommon to a Stephen King novel, and it's often a common narrative device that he pulls so whilst it was perhaps frustrating that the show follows the same technique, it only serves as a way to make it a more authentic Stephen King show. Right down to the very vibes and atmosphere that the show is giving off, everything about it has felt perfectly at home in the King multiverse so far.

It's interesting to note that Wendell as well, is a character who has more connections to the plot than first appeared. I like that the show is spending more time with characters who could be poorly developed in other shows, and the slow-burn nature of Castle Rock plays into this quite nicely. Just because Wendell may be on the bus back home doesn't mean that he's out of trouble just yet, and for him, things may be about to turn pretty bad because he's got the same gift as his father. The same gift that has led to Henry being trapped in a cage in the middle of the woods by Odin.

Molly Strand uses her supernatural abilities to work out where Henry is and ends up going to rescue him, unaware that Odin isn't present because he's dead. It's a shame that the character was killed off so quickly, especially as CJ Jones is a great actor. It's interesting to note too, whilst we're on the subject of the crew and cast, is that Castle Rock has carried over a couple of directors from FX's equally mind-bending series Legion, the director of the first two episodes Michael Uppendahl has experience with the show, as does the director of Past Present, Ana Lily Amirpour, who directed an episode of the second season. I always keep an eye out for anything Amirpour does ever since I saw her unique horror film A Girl Walks Alone at Night, and she seems like a perfect choice for this show, able to create a suitably atmospheric look and lend more into the gothic of the show.

It's interesting to see that Henry is drawn to the Lacy house again, sneaking in now that it has a new change in owners. Whilst we the audience are aware that The Kid is immortal, Henry isn't yet, and the only person who could tell him apart from The Kid, Alan - is dead, so he has to find out from somewhere and that comes in the form of the paintings left behind by Warden Lacy that were put up around the bed and breakfast. It's a chilling moment that doesn't shy away from being one of the more chilling encounters of the episode, benefiting from the brilliant acting that Andre Holland is able to bring to the table. I love pretty much all of the cast that the show has assembled for us here, I'm kind of dreading the fact that we'll have to say goodbye to them all soon given the nature of this show being an anthology.

Henry is ambushed in the end by Gordon and his wife, and rescued thanks to Jackie who arrives with an axe, in what has to go down as the best reference to The Shining so far, given her surname. The fight scene that preceded Jackie's arrival however was wonderfully tense and brilliantly directed, with Gordon attacking his wife by accident after missing Henry before he is stopped. It's a bloody and exciting scene that shows when things kick off in Castle Rock, you're going to know about it.

But perhaps the most chilling scene of the episode is saved for Molly Strand, when she returns home to find The Kid waiting for her. It further cements the theory that The Kid is possibly from another dimension when he goes on about knowing Molly and her past. Bill Skarsgård is able to deliver the final line of the episode with a sense of foreboding that almost makes you wonder if he's somehow having a vision of a future yet to come rather than an alternate past, as the two look out at the woods nearby Molly's house.

"That's where you died," he says, ending the episode on a cliffhanger in the way that only Castle Rock knows how.

What did you think of Past Perfect? Let me know in the comments section below and be sure to check out the next episode of Castle Rock tomorrow on Hulu.