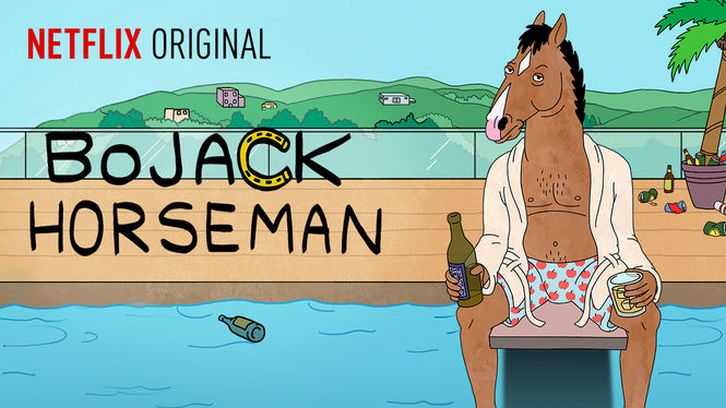 Season 5 of Bojack Horseman Returns to Netflix September 14th.

Bojack Horseman is back, and this time he is reformed and doing totally fine. This is where I add that the first sentence is total nonsense because if you are a fan of this show, you need to prepare for three to four hours of a roller coaster of emotions. You will cry, hug your pillow, feel hollow, laugh and get outraged at not only Bojack but all the other people in his life. This season does not feel as depressive as the past four even with the darkness that looms through the episodes. There are demons and baggage that each character must deal with but what's important is the shoulders available that each can lean on. Netflix has been able to keep everything under wraps about the guest cast but, do not fear because this preview will not be like others. I will be dropping "spoilers" and names so buckle up…


The episode themes this season touch on the current events going on in Hollywood, and for a show that pushes boundaries they handle things with humor but pack a punch. The episodes' plot tackles different issues going on with each main character as well as some of the recurring ones. The season begins with the filming of the show "Philbert" which Bojack agreed to be on to get back on Princess Caroline's good graces. Princess Caroline is producing, and Rami Malek comes back as the director Flip McVicker. Mr. Peanutbutter is filming a short movie on a stage next to where "Philbert" is being shot. Bojack struggles with being out of control and his dependence behavior are evident throughout the first episode. The best thing out of last season was Bojack connecting with Hollyhock, the relationship they had established continues in this season but in an unusual way.
Mr. Peanutbutter and Diane who is spotting a new haircut ended last season having realized that their relationship was not feeling as good as it looked. In an emotional episode, Diane has a major breakdown after attending a party at Mr. Peanutbutters house. A series of flashbacks expose the turmoil that Diane went through after Peanutbutter and her decided to end their marriage. Through encouragement from her therapist Indira who is wonderfully depicted by Issa Rae, Diane decides to take some time off and regroup. She has a sort of an identity crisis on her self-discovery trip to Hanoi that she takes to eat, pray and love, hopefully. The focus on Diane highlights the complex process that third or fourth generation; American immigrant children undergo when they visit their ancestor's homeland.
Diane and Bojack have managed to maintain a semi-professional relationship for a while. We finally see them have a heart to heart that solidifies what they mean to each other. This new middle ground is shaken when the lovely Angela Bassett shows up again as Ana Spanikopita and drops a bomb that pushes Diane to reevaluate Bojack. There is an internal conflict as Diane tries her best to navigate the situation especially with pressure from her Girl Croosh editor.
Todd Chavez is a lucky guy and this season lady luck comes bearing goodies as he accidentally scores an executive job and surprisingly enough he is terrible at it, but we knew this right! Natalie Morales and Abbi Jacobson reprise their roles as Yolanda and Emily, and they have an interesting double date that sheds light on the cracks in Todd and Yolanda's relationship. Todd and Yolanda have been one of the great couples on the show primarily because they represent an asexual couple that not many TV shows have. This season they deal with real issues, and in an honest, heartfelt conversation after an awkward and disturbing gathering with Yolanda's family, they address their problems. Whoopi Goldberg makes an appearance as a director of an agency that Princess Caroline is working with throughout the season. In a depressive episode five, we travel down memory lane to Princess Caroline's home and learn about how her journey to Los Angeles began. Amy Sedaris delivers a gut-wrenching performance as Princess Caroline deals with one heartbreak after another.
Bojack can be insensitive and mean, this season, he does things that reinforce his position at the top of the list of men with bad behaviors. His co-dependency drives him to Diane's therapist and in cleverly put together episode we are taken through Indira's process as she talks to a friend who is also the mediator at Warbler Brothers, the studio that's producing "Philbert." Diane is finally nudged to address the elephant in the room with Bojack. The final episodes show Bojack fighting to get through a rough patch that could lead to him falling back to his bad habits. The end is entirely not what I expected but it warmed my heart because the struggle to get there has been ongoing for five seasons and not dealing with it would have been a cowardly move.
Will Arnett should win an award for this show, and you will see why after you watch episode six. Remember Fish Out of Water? Did you think it was extraordinary and genius? Did you think it was clever? Be ready for twenty-two minutes that will leave you with wrinkles. This is a Bojack only episode that will take you to an intense place, at least I went there and cried my heart out. It is hard and painful, and for Bojack, this was the ultimate performance that he wasn't really acting in. We frequently see his soft side but this episode he was authentic and raw. Get ready for something heartbreakingly beautiful that will leave you depressed and miserable but will end up being the best belly laugh you will experience in the entire season.
It is tempting to go through each episode to give viewers a sneak peek but here at SpoilerTV we are considerate, and we do not do spoil for our fans. So, I will leave you with these few words I managed to put together. It is a fantastic season of growth, and there are closures and heartbreak, but at the end of it all, everyone is okay or maybe not. I have been known to claim each season to be the best, but I am happy to report that season five is one of my favorites.
Tell me what you hope to see in this new season and ask me questions below.
Don't forget to watch Bojack Horseman on Netflix