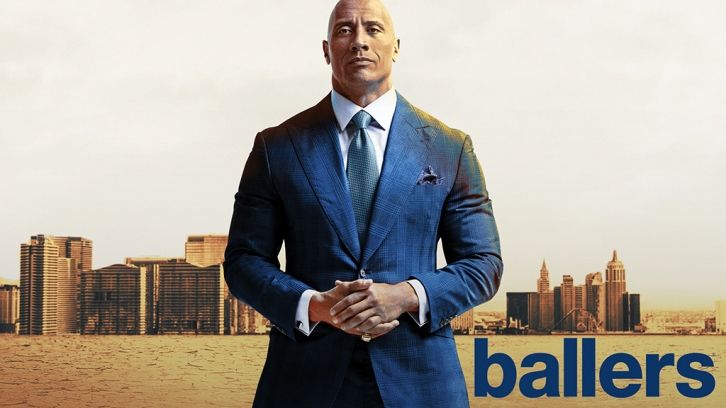 Ballers - Episode 36 - No Small Talk


Spencer and high school QB Quincy Crawford are walking across the campus of a very nice looking University. They discuss the college football hustle and how they're going to play it. They anchor their arrangement and look forward to working together.

Joe is back at Sports X HQ dazing off into the distance when Jesse walks up and grabs his attention. She's wondering what to do when Joe shows her some footage of a skateboard group that is part of Sports X. They are young and wild and crazy and Joe thinks they have that certain something that stars have. He's excited about them and wants to meet them right away. Just then Reggie comes bounding up the stairs. He's all business and has come to see what Terrell Scruggs and Vernon's money is doing in a place like Sports X. Joe lays it out and shows Reggie the group. He's impressed as well.


Spencer and Q walk down a long narrow hallway discussing their upcoming meeting. In a great camera tracking shot they walk out of the tunnel and into a fully packed USC stadium, all chanting Quincy's name! Very impressive. Interesting to see how big schools will pull out all the stops for recruits. The two walk down and meet the USC coach down on the field. The crowd spells out Q's name on cards and some of the worst looking CGI jets skywrite a giant red Q in the sky. Spencer and the coach peel off and discuss the visit. Spencer lays it on the coach that he's looking for the TV rights to USC and wants to build a whole channel just around them. Coach informs him others have courted, but Spencer counters that he's got Q in his pocket and will deliver him if he can make a deal.
Ricky Jerret walks into his kitchen and finds his father, TTD, some vitamins, and a smoothie waiting for him. His Dad busts his balls a little on why he would want to get back into the NFL. Ricky says he's committed and feeling better than he's ever felt. He needs to get back onto that playing field. He asks if TTD did that detective work for him? T affirms he did. Something about Charles....hmmmm
Spencer and Quincy continue the tour. Their football playing tour guide is young, dumb, and way too informative for a first date. He reveals that tutors basically take care of everything for the athletes. Q is not feeling this guy.
Jason and his girl are in LA and shopping for juices on 3rd St. in Hollywood when Charles calls. They chit chat and he invites Jason to a party he's having for free agents later that evening. Charles wants him to bring Kasan with him and Jason says he will. Jason's girlfriend is hilarious and deserves her own spin off show. Queen of attitude.
Spencer and Quincy sit at a table on the quad and discuss the game they are hustling. Q wants to know when he's getting to see the money? Spencer lays out the plan and Q isn't liking the timeline the greedy little punk wants to be paid now. Like right now, in a brown paper bag. Spencer preaches patience, all will come to those that wait. But Q isn't liking that line. He says, honestly, he'd like an education for three years. But he wants the cash most of all. Spencer gets a call from the coach who lets him know its a no go. And boy is he pissed especially when he learns it's his old nemesis, football great Rodney Peete.
During Spencers discussion on the phone Q slipped away and found the cute girl from before at the football field. She's putting up a poster for a Strong Women's Film Festival that is running and the two talk about the awesomeness of Alabama Worley. Her name is Emma and she knows him because she put together his highlight reel. She invites him to see something cool, Q says yes, and away they go.
It's raining in LA! Ricky is at a park running routes in the rain. He and some other athletes are catching balls and making plays. Ricky looks good and is definitely doing better than before at his Rams tryout. TTD wonders how long they need to stay out in the rain and just as Ricky is telling him it'll take as long as it takes, Charles pulls into the lot after spying them from the road. They greet each other and Ricky tries to convince Charles that he's on the right bath and is back in game shape. He asks sincerely for Charles to consider a second chance.
Joe and Reggie walk in downtown LA looking for the skaters. Reggie offers advice to Joe to not be too corporate as these guys can smell that from a mile away. The skaters do indeed call them both out on their bullshit, but Joe lays the smack down telling them how badass they are with their other clients and now they're going to be badass for them. It also helps they didn't like Lance and Joe claims to be the one who fired Lance. The skate group agrees to listen but only on a full stomach. They send Reggie and Joe off to Roscoe's for some chicken as a sort of coolness test.
Spencer busts into the very nice USC offices of Rodney Peete. He rails against the former player about the unfair system and how he and the school and the NCAA screwed over his brother. Peete rejects those claims and says he looked into it and that the school supported Spencers brother, it was the NCAA who said he couldn't play, which led to his suicide. Spencer seems to believe this and calms down a bit, he says he wants the rights to USC TV football or Q will go play for Oregon. Peete tells him that will cost him 200 million to which The Rock tells him to go fuck himself. Great scene here between a non actor professional Rodney Peete and super star Dwayne Johnson. Dwayne was loud and forceful and pissed and Rod held his ground like a champ against the Eyebrow.
Charles is wearing a nice new suit and is hosting his free agent party at a nice LA club. He's nervous but Vernon tells him it'll all be OK as long as he picks up the tab. Jason and Ricky show up and Charles isn't happy. He wanted Kasan and doesn't appreciate the two jamming him up at his own party. Ricky heads for the bar and Jason calms Charles down and tells him he'll get used to how he does business. He points and shows Kasan walking into the club. The agent delivers both of his guys for Charles to schmooze.
Joe and Reggie walk back to the skate area but its dark and theres no one around. It slowly dawns on them that they got played. They sit down and have a nice little scene where Joe explains to Reggie that what happened was no big deal, and no they aren't putting a hit out on the skaters. Shit like this happens and Joe is used to it. They eat chicken and talk business.
Back at the party Ricky is sitting with actual Rams QB Jared Goff! They chit chat and drink and realize they both love Harry Potter. They decide to get together to watch the movies sometime. Meanwhile Charles and Jason and Kasan talk football. Charles tries to lay out what the future plans of the Rams are for Kasan but all the player wants to discuss is playing the game. He's not feeling playing slot receiver and wants to be a running back. Charles says he'll take it under consideration. But really he's pissed and tells Jason to get him in line, and yes, he'll take Ricky as a slot receiver.
Q and Emma are watching True Romance in a dark movie theatre when Spencer comes barging in. He hilariously tells the complaining patrons to shut up and I mean really what are you going to do? It's the Rock, he'd crush you. He finds Q and pulls him out of the movie. They discuss how much Q likes the school and Spencer tells him to not get too attached because they said no. Uh oh. Q is mad now and says Spencer better figure it out because he wants to play at USC and they have a deal together. Uh oh Spency. You in trouble now....