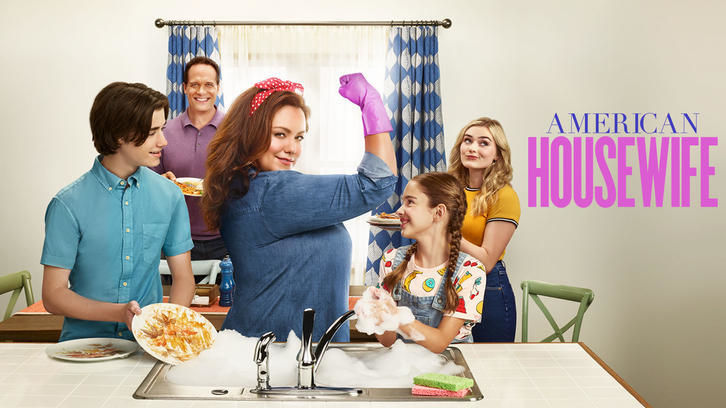 The Otto's are back for round three. And this year, Katie's back to work!

"Mom Guilt" begins with Katie dreaming about a wonderful first day at work as a professional party planner...and then being awoken by the dog licking her face! Downstairs, Taylor is moody after having lost her place in the Blondtourage. Oliver is trying to butter Katie up. He needs $500 to go to a seminar put on by his motivational speaker idol Johnny Diamond. Katie's response? "I'm not giving you $500 dollars to join a cult!" Yeah, I wouldn't either.

Katie announces that she's going to start "delegating" some of her parenting tasks since she's going back to work. If Oliver convinces Taylor to join a club to replace her Blondtourage friends, he gets the money for his new cult. At school, Oliver quickly realizes his options for clubs are slim ("All the academic clubs are out, obviously.") and Taylor won't join yearbook club because it has the word "book" in it. That leaves drama club.

At work, Katie is introduced to her boss, who's out for a boob job, via phone. Her first assignment, plan a party for Westport socialite Nancy Granville, one of the many Westport ritzy-ditzy moms who doesn't like Katie. Katie meets up with Nancy and her "super straight" husband (just back from a summer retreat that apparently taught him to love women!) and begins to discuss the party. They want a South Pacific-themed party. (It's Nancy's husband's favorite musical!) Oh yeah, this is a birthday party for their 10-year old daughter. Sounds appropriate, right?


Because Nancy takes four hours to decide on a signature cocktail (Just what a 10-year old wants, right?), Katie doesn't make it home in time to put Anna-Kat to bed. Anna-Kat's OCD has been getting worse, and Katie's worried it has to do with her going back to work.
The next day, Katie meets Becky, the Granville's daughter, a sullen and discouraged kid who flat out tells Katie that she knows this party is for her mom (Except the shirtless waiters, "they're for my dad!") Katie suggests changing the theme to Moana, but Nancy's not having it.
Meanwhile, Taylor tries out for the play. She gets on stage and...nothing. Then she promptly gets removed. ("We got another smiler!") Oliver convinces Taylor that's she actually a good singer and gets the director to let her audition again. Taylor sings a beautiful cover of Daniel Powter's "Bad Day." She just gets all the lyrics wrong and changes the title to "Ham and Pate!" Nevertheless, the director agrees to give her a small part!
Katie, having missed Anna-Kat's bedtime again, gets home to see that Greg let her make slime before bed (a banned substance in the Otto household). Greg insists that it helps calm her down, and suggests that maybe Katie getting mad about the slime is really just her taking out her anger on not getting home in time to tuck Anna-Kat in. Katie agrees and admits the slime is actually really relaxing. And then she has an idea - a slime party!
At the Granville's, Katie reworks everything to a slime theme, which Becky loves. Nancy, on the other hand, isn't too happy. And Katie prepares to get fired. That night, Katie's boss calls. She's not fired! Yes, Nancy hated the party, but all the other parents loved it and they've gotten a bunch of new clients. Katie's going to be working even more now!
Katie admits that she feels guilty for all she's missing with Anna-Kat since she's working so much. Anna-Kat tells her to keep her job because Greg's doing great and "It's always gonna be something with me."
"She's gonna live with you forever!" Oliver chimes in.
"Yeah, me too, probably!" adds Taylor. (Poor Greg and Katie!)
Speaking of Oliver, Katie and Greg do end up buying him tickets to his new role model/cult leader's seminar, just in the $50 seat section!
Random Thoughts:
-Luthor is adorable!
-Doris is an un-diagnosed sociopath who can beat the tests. Yep, that sounds about right!
-Anna-Kat's impression of the Blondtourage was hilarious.
-Greg and Anna-Kat's toy pony graveyard was a mix between hilarious and super creepy!
-Best quote goes to Katie about Anna-Kat's extra-cautious lunch making. "She looks like she's starting a meth lab!"
Did you enjoy the season premiere? How is Katie going back to work going to change the family? Let me know what you think below!