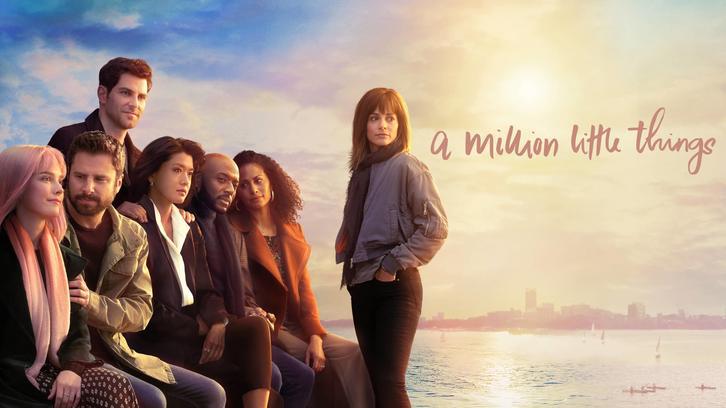 Friendship isn't a big thing... It's a million little things.

I'm so glad that fall TV is back! When ABC picked this show up in the spring I was very excited and intrigued. A Million Little Things sounded different than shows we've had on television recently, and after watching the premiere I'm interested to see where this goes.

A Million Little Things centers around three friends: Eddie, Gary, and Rome, coming to terms with losing their friend, Jon. At the beginning of the episode we see Jon on the phone trying to close a business deal. He tells his assistant, Ashley, to take a long lunch. It seems like the deal is going well as he smiles. Then the episode moves on to each of the other friends. Eddie is talking to someone on his phone and says he's going to tell his wife he's leaving her. Gary is sitting in his doctor's office waiting for results of his tests. He's anxious to know whether his cancer is back, but his doctor is more preoccupied with the dressing on his salad. Rome is writing a note and is getting ready to swallow pills and commit suicide himself when he gets a call from Gary.

"You're not going to believe this," Gary says as we see Jon on the balcony of his office. His assistant runs in just after Jon jumps, and Gary tells Rome, "Jon killed himself." Then Rome spits out all of the pills he was about to take.


The episode then takes us to all four of the friends at opening night of hockey season laughing and clearly having fun. It turns out the game was just last week, and we're watching the video of it on Rome's laptop. Everyone discusses Jon's death, and we learn it was Gary who told Jon's wife, Delilah.
"If any of you have delivering horrific news on your bucket lists take it off. It's not as much fun as you think."
Rome's wife, Regina, tells them that she went to see Delilah, but she didn't know what to say to someone who had just lost the love of her life. This is ironic since she would have been the one who lost her husband if Rome hadn't gotten the call about Jon.
Before the funeral we get to know the characters a little better. Gary is in a support group for cancer where he meets Maggie. She's also a breast cancer survivor, and it seems like the two like each other. Rome watches another video on his laptop where the four friends toast to friendship, and Jon describes what he thinks friendship is. It's believing that your friend will someday make his movie. It's holding a friend's hand when she loses her restaurant because you know she's going to open up a better one. It's the person you trust with your wallet, your keys, and wife. Friendship is a million little things.
Eddie speaks at Jon's funeral and says he keeps waiting for Jon to barrel through those doors. As soon as he says that, the door opens and Gary and Maggie walk in. It was perfect timing. Eddie's speech was wonderful. He tells everyone how Jon, Gary, Rome, and him met: they were stuck in an elevator together at a Bruins' hockey game. They bonded, and when they finally got out of the elevator Jon had convinced them to get season tickets. It's clear that Jon meant so much to each of these guys, but for Eddie Jon was the one who convinced him to get sober. He completely breaks down because he just can't find a reason for Jon's death.
Eddie and Rome give Gary a hard time about bringing a date to their friend's funeral and meeting her at his support group. Rome tells her that Eddie and Regina went on a date once, and it was bad. Maggie jokes that it may have been bad, but did it end with him taking her to a funeral? I can already tell that I'm going to like Maggie. And it turns out she is a clinical psychologist who specializes in depression. Surprise! I did like the story she told comparing JFK Jr.'s plane going down to what Jon went through. He lost sight of the horizon which describes depression. I love that Gary had no idea she was a psychologist before this conversation.
Gary, Eddie, and Rome all get alerts on their phones: there's a Bruins game tonight. Delilah tells them to go, but they have to go to Jon's office to get the tickets. At the office they discover the last call Jon made was to Eddie- not the business call like everyone thought. This really intrigued me. I want to know why Jon was calling Eddie.
I think Rome's speech about feeling hopeless was important. You can be married to a wonderful woman and have a seemingly perfect life and still be depressed. I hope the show dives into Rome's backstory a little and we can see why he felt like he had to commit suicide. Then Rome says one of my favorite lines of the entire episode:
"And for the record, Gary, your eyes are hazel. And they are magnificent."
While the guys are at the hockey game Delilah bonds with Regina and Maggie. She just doesn't understand why she didn't know that Jon was depressed. I think this will be something the show will explore in future episodes. Why didn't Jon tell Delilah he was hurting? Did he just want to spare her feelings? Did he think life would be better without him? Or was there another reason?
The episode goes back to the game where the guys are enjoying themselves and taking pictures. Eddie sends a text to the woman he's in love with and says he wants to see her. Then we see the person receiving the text: Delilah. Delilah is the woman Eddie is in love with! I have so many questions about this. How long have they been seeing each other? How did this start? Did Jon know? Eddie's convinced that Jon didn't know about their affair. He tells Delilah this when he shows up at her house. But she doesn't want to see Eddie anymore and tells him if he loves her he will leave.
The end of the episode revisits everyone: Eddie almost takes a drink, but ends up playing guitar with his son instead. Rome tells his wife he loves him. Delilah is crying. And, another shocking discovery, Maggie's cancer is back. At the very end Gary sends Rome a text telling him to come to the door. At the door he discovers a framed picture of them together at the hockey game.
"I truly believe everything happens for a reason. The challenge in life is to find that reason."
This episode was one of the most emotional series premieres that I've ever watched, and I have so many feelings. I can't wait to see where this series goes and to learn more about all the characters. Where will the show go from here? I want to know how Maggie having cancer will affect Gary. I want to know if Eddie will tell everyone about Delilah or if he'll try to make it work with his wife. I want to know what secrets Jon had. And so many other things. I hope the show continues the flashbacks and we get to learn about all of the characters and their backstories. I can't wait for the next episode.
What did you think about the first episode of A Million Little Things? Which characters are you loving? What questions do you have about the show? What stories do you want explored? Discuss below in the comments section?