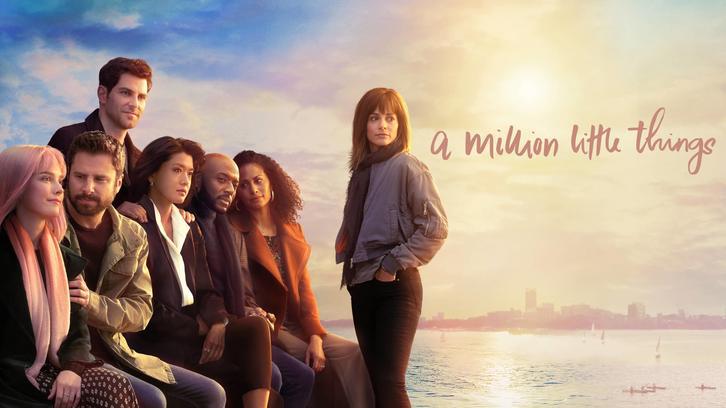 If you are into TV, Fall Season is a really exciting time of the year. And if you are not A Million Little Things will certainly make it exciting for you. And while the show itself has some soapy twists it tells the story of ordinary people and how they deal with life. An exceptionally well-written script is led by a powerful machinery of actors whose chemistry is the foundation the show builds up and eventually wins you over. The first episode was written by series creator DJ Nash and directed James Griffiths.

A Million Little Things revolves around a group of friends who have to cope with life after the suicide one of their own. And that is the beauty of this show, the remaining 6 friends whose lives are at different crossroads and face a pain unknown to them so far. Jon´s life was seemingly perfect and his decision to kill himself shakes up the group and their believes of what a happy life should be/look like. Losing a real friend is like losing a family member and in a way more difficult as the family is just there you inherit them, really good friends in life you earn.


My favorite out of the group is Eddie Saville, played by David Giuntoli. Eddie is charming and natural, and very honest in his grieve and struggle. As a former alcoholic, he tries to find light in the situation and try to get out of the whole this new situation set up for him. As a stay at home dad, it is obvious that he is struggling with life and that his marriage with Grace Park`s Katherine Kim is barely holding on. And while she is oblivious to their struggles as she doesn`t see further than her next work appointment, Eddie is trying to find a way out of the marriage but is lacking the courage to do it and a friend committing suicide isn`t the best time to do it.
Moving on to Rome and Regina Howard, played by Romany Marco and Christina Mosses, a married couple struggling to coup with the death of their friend. While Regina is getting a new view on life and accepts that life is too short to wait for something to happen, Rome tried to commit suicide but backed off after hearing the news of John killing himself. Rome`s motives and struggle get a little more explored during the Pilot episode but his character seems way more complex than those tidbits we got during this episode and I am personally eager to find out where he comes from. Meanwhile, Regina`s life will take a very drastic change all thanks to Jon.
The third remaining couple out of the 7 friends is the deceased John (Ron Livingston) and his wife Delilah (Stephanie Szotak). And while we only get tidbits of Jon and how amazing and encouraging friend he was, Delilah is the heartbroken widow. And Stephanie Szotak balanced the fragility and strength of her character so perfectly. Yet her character isn`t perfect but you have to sympathize with her every step of the way. In the wake of John`s death, we meet his assistant Ashley (Christina Ochoa) who keeps some secrets that will probably define the course of the series further down the line.
Last but not least I wanna introduce the MVP of the pilot episode to you. Yes, I am talking about Psych`s James Roday who plays the breast cancer survivor Gary Mendez. James carries the interactions with his co-stars perfectly and gives the pilot a dose of honestly I didn`t expect at this. His words and point of view on life and their friendship are brutal at times but despite that all he is the rock of this group and most of the time you just wanna give him a hug. Gary and the audience also meet Maggie (Allison Miller) a woman Gary sort of starts dating as their first date actually is at Jon`s funeral. Her quirky one-liners and positive energy contrast Gary very well and she perfectly fits the damaged group of friends.
And here we are at the selling point of this pilot, the cast that feels so authentic and relatable. The actors give the words written in the script life and a flow that keeps your eyes glued to every breath they take and make you fall in love with them step by step. While the show carries a slightly dark vibe and sorrow with itself, it also drives out light in the darkest hours of their lives.
I hope you enjoyed this little preview and decide to tune into #AMillionLittleThings on September 26th when it premieres on ABC at 10pm Central. Till than sound off in the comment section and tell me what you think about my thoughts and your expectation of one of the most anticipated new Fall Shows of the season. . .