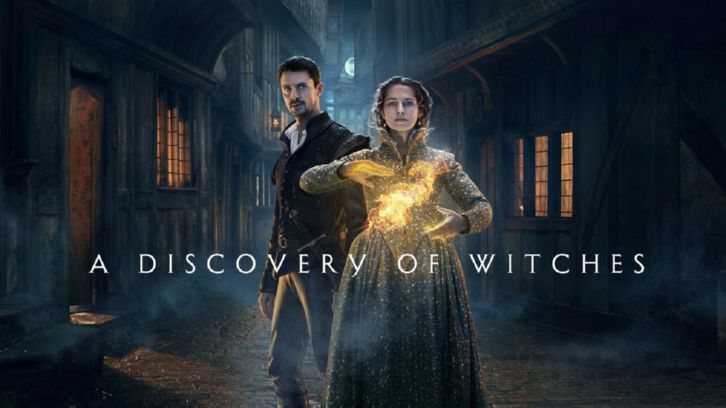 Possible Spoilers, for those who haven't seen the episode

It begins with absence and desire
It begins with blood and fear
It begins with ….

A Discovery of Witches


From the historical buildings of Oxford, the waterways of Venice and to the Scottish Highlands this episode once again is visually stunning. The shooting of the scenes and pacing gives it an almost eerie feel which one would expect from this world combining beauty and darkness.
While some sets were recreated back at the studio's in Wales we can tell certain scenes were in fact shot on location.

The other thing you notice is the score, Rob Lane (known for Merlin) gives us a score that is haunting and sets the tone perfectly for the series.

Only two episodes in and it's weaved its spell over fans and new audience alike. Prompting people to seek out the books after its Uk airing bring new fans to the sereis and I am sure the same will happen in the US
As stated in my previous review the series is based on the All Souls trilogy by Deborah Harkness.

The television adaption while a little slow in the introduction to some characters is setting out the scene for what is to come.

This week we have Matthew Clairmont trying to outrun his craving for Diana Bishop which could be problematical as she has a connection to the book he seeks. We also meet new characters some more mysterious than others, we formally meet Peter Knox (Owen Teale) of the congregation and his sinister witch companion Satu Järvinen. Also, some interesting Italian Vampire's who don't seem all that trustworthy.
In Oxford Diana finds the Library very crowded and learns the truth about what Ashmore 782 may contain leaving her wondering can she hide her witch side forever.


'Once the world was full of wonders, but it belongs to humans now, we creatures have all but disappeared Daemons, Vampires and Witches hiding in plain sight, ill at ease even with each other. But as my father used to say in every ending there is a new beginning'

Matthew Clairmont

Episode 2 takes us to Venice at the start and possibly an old flame of Matthew's who has a nasty bite takes a liking to a tourist by the name of Matthieu who meets a grisly end.
yes, it's a bit brutal but let me remind you this isn't a show about rainbow's and puppies, it's about Vampires Daemons and Witches. However, attacking a Human is a big no and Juliet the Vampire in question finds herself in trouble.

Speaking of Vampires Matthew Clairmont runs to the highlands to avoid his craving for Diana, no one could not notice the lingering looks we saw last week between Matthew and Diana.
It would seem things never end well when Matthew craves a warm blood which his friend Hamish, a Daemon reminds him.
We learn its unusual for Daemons and Vampires to mix but these two seem to know and get along with each other very well. Vampires appear to be affected by something as do Daemons and Matthew is convinced Ashmore 782 may have the answers, but he must control his cravings so hunting a stag will help of course.

In Oxford, Peter Knox introduces himself to Diana and tells her he knew her mother well. His interest in the book is he believes Witches created Vampires and the book can destroy them. Of course, Diana wants no part of this and even intimidation by his dark companion does not dissuade her. She wants to be left alone but when Knox uses his magic to get into her head her power becomes known and he doesn't look too happy about it. Diana tries to confide in her friend Gillian but soon learns Gillian has been the one telling Knox about her finding the book and speaking with a Vampire. Her Aunt Em warns her that Peter Knox is into dark magic and can't be trusted, Em seems more level-headed than Sarah and I can't wait to see more of these characters on screen.

Matthew Clairmont returns from his Scottish trip just as Diana is looking for him and you can't hide the looks between them, Matthew explains how he was a friend of Charles Darwin, yes the Charles Darwin and in searching for evolution of all species he came across many a rare book but never Ashmore 782 which he believes holds the key to all creatures existence.
He takes Diana to his lab where he introduces Marcus Whitmore and Miriam Sheppard, Miriam is his colleague and Marcus whom we saw last week is a fellow Vampire and doctor and has been helping her while Matthew was away. They have been trying to find out why Daemons are going madder, more suicides etc, Vampires can't sire anymore (we witnessed this last week with Marcus and his friend ), and Witches powers aren't as strong as they once were, due to evidence collected from blood and DNA of their ancestors. Matthew believes Ashmore 782 has all the answers.
Diana reveals to Matthew what happened when she touched the Ashmore Manuscript.
We can see the attraction growing between Matthew and Diana when a simple kiss to Diana's wrist holds more passion than if they had a full-on make-out session.

As for the Vampires in Venice, I am sure more about them will be revealed but it certainly seems Matthew has a few enemies of his own.

The teaser for next week shows things heating up and I for one can't wait. Can Ashmore 782 be called again by Diana and will she?





Please comment below with your thoughts on this series so far.
Can you not wait for the rest of the series ?
Is it living up to your expectations of the books?