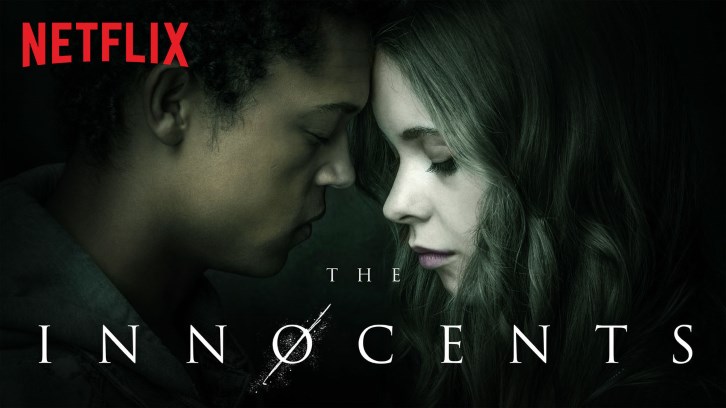 Created by Simon Duric, and Hania Elkington. The Innocents Premieres on Netflix August 24

Netflix is in its own league when it comes to original productions in the streaming world. Every month there is always something new to look forward to, and viewers have been spoiled this month with not only Disenchantment but also the fantastic movie All The boys I Ever Kissed. Well, dear readers, it is that time again that I introduce to you "The Innocents," a supernatural show that frankly felt less of a supernatural than any other shows in the genre that I watch. I don't know if it was the magnificent views of Skipton, North Yorkshire, the gray skies and overcast weather that set the melancholy yet appealing mood. It could have been the gorgeous views of the Norwegian Fjords that the director used as his background but whatever it was, it set the tone right, for a fascinating story of mental health, teenage love and the "supernatural" life they knew nothing about.


This is an eight-episode installment that takes its time to weave through the story, by way of June (Sorcha Groundsell) and Harry (Percelle Ascott) her boyfriend. They live in the same town and go to the same school but are both going through some stressful situations at home. June has a brother Ryan (Arthur Hughes) that she is very close to and who also suffers from agoraphobia. They live with their dad John (Sam Hazeldine), who is their mothers' husband or former husband since she's been "missing" or went away. Harry's father Lewis (Phillip Wright) suffers trauma from an event that is critical to the story, but this is only revealed almost at the end. Harry's mother Christine (Nadine Marshall) is a police investigator who ends up with the most pivotal scene in episode four. Yes, you read that right, it takes up to episode four for the back stories to start making sense. I will tell you this, the wait is worth it so fear not.
The other characters we meet throughout the show include Dr. Halvorson (Guy Pearce) who operates a "Sanctum" in a remote area of Norway with three women and a man. The three women are all shapeshifters whose lives intertwined because of Dr. Halvorson. Runa (Ingunn Beate Øyen) is a shapeshifter that has been with the doctor the longest and is somewhat obsessed with him. She sets things off, but this will be seen as the events unfold. Sigrid (Lise Risom Olsen) is about to complete her "treatment" with the doctor. Elena (Laura Birn) is June's mother who has been living at the Sanctum to be away from her daughter who is also a shapeshifter. June has no knowledge of her ability to usurp other people's bodies. In episode one we meet Steiner (Jóhannes Haukur Jóhannesson) and his accomplice Alf (Trond Fausa) who have been sent out to hunt for June and bring her to Norway. Other minor characters pop in throughout the episodes to help move the story along.
It is hard to tell who the villain is and if there is any in this show. The show is about teenagers who love each other and decide to run away from home and everything burdening their lives. The journey to a new life does not come easy for June, and Harry, especially after John, discovers their secret. He goes after them but he is not the only one, unfortunately, and this sets up a roller coaster of crazy events and the discovery of June's shapeshifting ability. This new quagmire causes plenty of angst throughout the episodes, but I promise, you will be invested. Also, Groundsell is terrific in this role which I am sure was emotionally consuming to film. There is an emotional scene in episode one where Harry is talking to June who is sitting in a bathtub, in another person's mind but in her body. I know this sounds confusing but once you watch you will understand or not (sorry) what is going on. Percelle has several emotional scenes in the show which he digs deep for and will leave you hurting for young love. Harry is a smart and supportive boyfriend, and all I see in him is a boy in love, and honestly, it was beautiful. June and Harry come into an encounter with Cam (Abigail Hardingham) whose storyline helps break open the secrets of the Sanctum. In my opinion, Cam should have been in the earlier episodes via Runa's flashbacks.
When we meet Dr. Halvorson, he is assisting the shapeshifters to get to the bottom of the emotional reasons that drive them to use those powers. Emotions are the reason he has given the women to explain what "ails" them. The remote Sanctum has the feeling of a cult, and you will be reminded of "Waco." Episode four is where everything about Dr. Halvorson and his connection to the shapeshifters begins to unfold. A meeting between Halvorson and Steiner gives the viewer an understanding of how the doctor's research started. Runa, Elena, and Sigrid are all enthralled by the doctor and try to manipulate each other insecurities to keep the other from getting too close to Halvorson. Elena is a little reserved and struggling the most but from episode seven her story is told through June, and it is heartbreaking. Pierce is able to give a performance that is uncanny in an endearing way, which makes you want to donate some money for his research. One can say that no other actor gets typecast as much as Guy Pearce, but he always makes it work in these kinds of roles. Having said that, I think this casting was the biggest spoiler for this show. Despite the excellent writing that might leave you guessing all through the episodes, Pearce's character and the unfolding of his story are typical of everything else he has done before.
Have you watched a movie or TV show once and thought "I shouldn't have wasted my time or money" then re-watch later and experience feelings that you didn't see coming? Because if you have then that's how you will feel when you watch The Innocents. It was definitely a struggle when I watched the first episode, so I put it aside and watched other things I had pending. I came back to it a second time and soldiered through the first three episodes and by the fourth I was more than captivated. The plot started to make sense, I began to connect the dots, and by the middle of episode eight I was sure I knew everything but, I am frustrated, and you will be as well when you get to the end. I highly recommend this show; however, I don't think it needed a second season, but they leave you with a cliffhanger so...
One more thing.
I never do this, but I have to mention some of the music that they used in the episodes. I enjoyed looking up most of them, and I thought I should share for those that want to listen before they watch.
Ma Esi Me Kes by Notis Sfakianakis
Focus and Dynamite by Sigrid
Unrequited Love by Lykke Li
To Build a home by The Cinematic Orchestra Ft. Patrick Watson
Oats In Water by Ben Howard
Subtle Weight by Foreign Fields
Boris by Boy
Guilty by Tommy Ashby
Solo Dancing by Indiana
Answer by Phantogram
Poison Lips by Vitalic
Chameleon by Pnau
The Bad In Each Other by Feist
Don't forget to watch The Innocents on Netflix