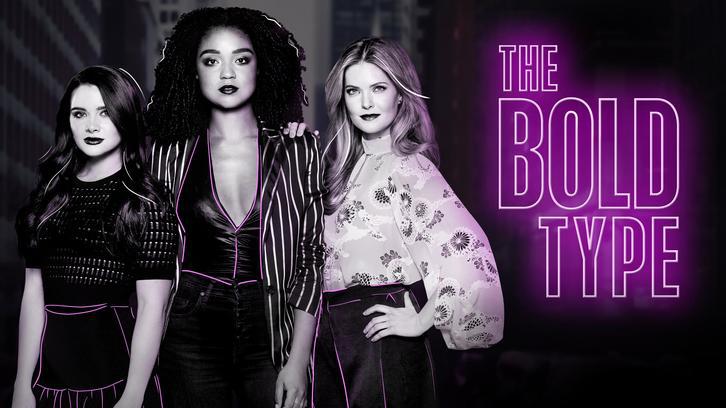 This week on The Bold Type, Jane has to choose between Ben and Ryan and makes a decision that she doesn't share with us. Kat and Adena continue to have problems and Adena needs some space. Sutton realizes that she still loves Richard and they get back together. The board is going to fire Jacqueline.

Romcom moment: I loved absolutely everything about Sutton's storyline this week. First the professional parts. Yes, she screwed up by taking handwritten notes near a bathtub but she's truly good at her job which she was able to prove. I actually like that she didn't try and hide her mistake to Oliver, often shows do that to create extra drama. But she was honest and promised she'd fix it, which she did. I've really grown to love her relationship with Oliver, I think it's similar to the one between Jacqueline and Jane. I did not expect him to tell her to go to New York and tell Richard how she feels. Oliver is really just a big romantic. I still think Sutton made the right call early in the season when she chose her career because she and Richard hadn't been that serious before. But I think it took losing him for her to really realize how important he is to her. And of course he shows up in Paris right when she's about to leave, it's a bit unrealistic but who cares. It was such a sweet scene.

Communication is key: I think I'm not the only one who was incredibly frustrated by the Kat and Adena storyline this week. I understand that Adena may not be over the cheating thing yet, but I also get where Kat was coming from this week. Adena just isn't talking to her, and this didn't just start after the cheating. I'm far from a relationship expert but if you don't talk to each other, tell the other what's wrong, what's on your mind, then I'm not sure if that relationship still works. I think it's a good thing that Adena is taking some space to figure out what she's feeling. I'm just not sure if their relationship is strong enough at this point to survive it.
Decisions, decisions: Oh Jane, what will you do? I seriously have no idea, though. I didn't really see her lean towards either one of the men this week. Ben is the safe option, in every way. Their relationship is stable, he has a stable job, is a good guy, … Ryan, on the other hand, is a risk. They have great chemistry and he brings out a different side in Jane. But his track record with relationships isn't great. I'm curious to see who she'll choose. I think Kat's advice was really good. Asking yourself who the first person is you'd want to talk to seems like the best way to figure this out. My personal preference is Ryan because I love their chemistry together, but I also like Ben so I wouldn't mind if she chose him either. Also to be fair, though. Both of their potential solutions to Jane's fertility issues were stupid. Not only could Ben's plan have backfired on him, isn't it technically fraud? And Ryan's plan that he pays for it was a bit odd and out of the blue considering, they weren't even dating. I'm glad Jane decided to be her own knight in shining armor.
Try it, I dare you: Jacqueline has been a bit on edge lately with the board breathing down her neck. It's made her choose for safe options when she'd otherwise go for a risk. She was anxious about the party being a success, but is that really any way to live? To worry that any mistake could cost you your job. I'm glad she threw caution to the wind in the end and published Jane's article anyway, I could tell it tore her up inside to refuse. I really hope we get to see Jacqueline fight back next season. And I hope we also get to see her employees stand up for her because I have a feeling she's pretty loved around the office.
Best quotes: Sutton: "Aye aye, captain. I regretted that as soon as it came out of my mouth."
Ben: "It's almost like the healthcare system in this country is totally broken."
Jane: "Well, she won't admit it but I think she still has feelings for him and if he's getting engaged I should probably tell her." Alex: "Yeah, tell her." Jane: "She's living her professional dreams in Paris. I don't wanna ruin that for her." Alex: "Yeah, don't tell her." Jane: "And deny her the chance to tell him how she really feels before it's too late?" Alex: "I don't know. To be honest, I thought this whole closet gossip thing would be a lot more fun but it's a lot of pressure." Jane: "This is why you don't get invited."
Sutton: "Yeah, and I slept with a pilot once." Kat: "How does that help us?" Sutton: "It doesn't. I just remembered and wanted to share. He let me wear his hat. I still have it."
Sutton: "You're the best boss a girl could ask for."
Kat: "I want to be inspiring." Jane: "Hey, you are." Kat: "No." Jane: "You inspire me to be a better writer, a better person. And I would take absolutely no risk if I didn't know you."
That's it for this season. No review next week but let me know in the comments what you thought of this week's episode.
Please be respectful in the comments, any unnecessary rudeness isn't welcome.