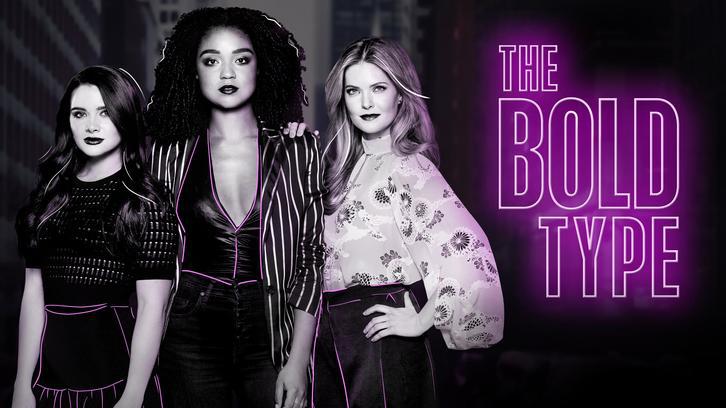 This week on The Bold Type, Sutton took her friends with her on a road trip to her hometown to fetch her birth certificate (wouldn't even know where to look for mine btw) from her mother who she is estranged from. Jane spent most of the trip drunk and high trying to avoid the choice she'll have to make regarding her fertility. She eventually decided to freeze her eggs, meanwhile, Ryan told her that he's serious about her. Kat realizes that she wants to be exclusive with Adena again, but still feels a bit of distance from her. At work, she argued with Jacqueline over the relaunch of the site, which may cause problems for Jacqueline. Sutton confronted her mother, who is now sober (and working in a bar, which doesn't seem like the best idea). They start to make amends.

MVP: In the past, we've only seen hints of what Sutton's life was like when she still lived at home. But this week Sutton took center stage. We finally got to see where and how she grew up. The show gave us a really interesting view on alcoholism. Normally we get to see the bad stuff as well but Sutton's mom is at a point in her life when she's finally getting it together. So, like Kat and Jane, we only see this side of her, while Sutton is still carrying around a lot of resentment towards her mother for what happened in the past. I like that the writers highlighted all of Sutton's concerns. I can imagine how hard it must be to trust someone who has let you down that many times. The trust is gone and she's worried that if she gets her hopes up again, that she'll get hurt. And then there's the anger. She knows she should be happy that her mother finally got it together, which is better than never. But it must hurt that she only got it together after she no longer needs her. Why couldn't she do it while she was still living at home? I'm glad that she's starting to forgive, but this will not be resolved all at once. It's going to take a while.

Finally: I'm so glad this open relationship stuff with Kat and Adena is over. I wasn't a huge fan of this storyline because I felt like it would cause a rift between them. But I understand why it was necessary. Kat needed to be the one that came to Adena and said that she was enough for her, that she doesn't want to be with anyone else. I just hope this hasn't done too much damage to their relationship.
The fact that they're exclusive again does not mean that everything is back to normal.
I smell trouble: Much like the thunderstorm that is currently raging right above me, a storm has been brewing for Jacqueline. I have a feeling that the entire season has been building up towards something for Jacqueline that will be revealed in the finale, and I fear it's nothing good. The board seems to be unhappy with her, there was an article that slammed her, Cleo has been undermining her all season. Jacqueline is always very calm and collected but this week I think everything was starting to take its toll. She was feeling the pressure and when Kat questioned one of her decisions, she overcorrected. Any other day, I don't think Jacqueline would've been that harsh towards Kat, but she was in a bad mood and she lashed out. But it takes a lot of strength to not only own up to your mistake to a co-worker but also to all of the readers. I think she handled it wonderfully but I fear that the board will use it against her in an effort to push her out.
I spy with my little eye … a love triangle
: I despise love triangles so I'm not crazy about the idea that the show seems to be headed towards one with Jane, Ben, and Ryan. I totally understood what Jane was going through this week. I'm a huge fan of ignoring my problems until they either go away or blow up in my face. So I get why Jane was spiraling a bit this week. She's forced to make these decisions that require a lot of responsibility, more than she was ready for. I'm glad she got to blow off some steam, but despite the alcohol and weed, she still had her act together. She was there for her friend, she got her article in on time and she eventually faced her dilemma. But now it seems that she'll have to make a decision between Ben and Ryan. I like Ben, I really do. But I love Ryan as well. I have no idea what Jane will decide. But I'm sure we'll find out in the finale.
Best quotes: Jane: "Wow, you have cracked the sexual matrix." Sutton: "You should start a cult." Jane: "I'd join!"
Jane: "I thought having a boyfriend was supposed to be easy." Sutton: "No, you're thinking of emotional support dogs."
Jane: "How about 'Fun things to do when you just can't anymore.'." Jacqueline: "Consider it yours." Jane: "Why was that so easy?"
Jane: "
Sutton, babe, it's cool. We're just going to break in." Sutton: "Break in?" Jane: "Yeah, it's
the perfect
crime. Really, like, it's your birth certificate and last time I checked, you can't get arrested for stealing something from yourself. So we're just going to find something to break the window with like maybe a rock." Sutton: "No, honey." Kat: "I was almost convinced by that."
Jane: "So does this mean I'm the last person to rest my head on your boobs before Adena?" Kat: "#Blessed."
That's it for this week. Check in again next week for an all-new review and let me know in the comments what you thought of this week's episode.
Please be respectful in the comments, any unnecessary rudeness isn't welcome.