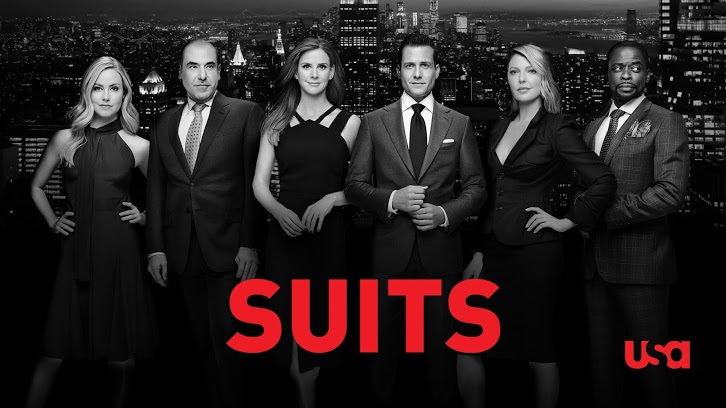 Everyone has a full plate in this episode, the first edition of the show from writer Garrett Schabb, which is alternately delightful and bittersweet. This is a judgment free zone, just a reminder as Suits made me cry for the second time this month. A zesty screenplay with just the right amount of bite makes this one of season eight's best outings.



Events and backstory previously addressed this season factor into the story multiple ways. When Alex asks Samantha to take on Donna's pro bono request, Donna doesn't think Samantha can be trusted. Samantha shared her story about struggling as a teenager with Alex's daughter two episodes back, so we know the charity for high-risk girls has real meaning to her. Donna still has a chilly perception of the newcomer. And at first her opinion seems to be confirmed when Samantha points out the charity's books look cooked. That bucket of negativity douses the positive vibes the ladies had after bonding over a seafood buffet the night before. Donna feels Samantha went looking to stir the pot. Plus, a friend of Donna's, Peggy, works for the charity. Donna asks Samantha to do nothing until after she talks to Peggy. Well, Peggy is fired after Samantha has a client who was going to donate $5 million to the charity stop payment on their check. (People still write checks!)
A charged confrontation follows. Samantha insists she only ran a stress test on the charity's CEO and didn't deliberately violate their agreement. She's clearly very upset over what the charity is doing.
"They are stealing money from little girls." Her voice nearly breaks, but Donna is so angry she's speechless. This situation gives us perhaps the best Alex moment of the season. He refuses to intervene and get the donation resent. He tells Donna that Samantha is an expert in shady shit, so she's probably right. But Alex also encourages Samantha to share why the case upset her with Donna. People talk about things in this episode. They have discussions with each other, and they become better teammates as a result. It's quite lovely. They go together to put the thieving CEO out on the streets, with Donna's friend Peggy reinstated and promoted to his old position.
Without a doubt, Donna and Samantha should be friends. They're cunning, astute pros at what they do. Seeing them climb down from their high horses to collaborate on a case was exciting. And Sarah Rafferty's electricity paired with Katherine Heigl's power is magnificent to watch. This hopefully is just the start of a new dynamic duo on the show.
"For what it's worth, I think you have some things to work on."
A potential new friendship to celebrate in one corner, while the episode showed an old one dangerously close to the rocks. Litt asks Harvey to take over a meeting for him, and Harvey does not respond well. He says some rather rude things about Litt taking time off to try to make a baby. The meeting doesn't go well, but Harvey continues to lash out. He says he won't give the client back now that Litt can't be relied on to handle it.
Having a meltdown of his own by this point, Louis flees to the safety behind the pillow on Dr. Lipschitz's sofa. As he explains it:
"Then I got really mad, really sad, then I called you. Now fix it."
It's safe to rank Dr. Lipschitz as one of TV's best therapists, in both competency and actual desire to help his clients. He says Harvey and Litt are basically in a relationship, so why not some couples' counseling to get them past this rough patch. Once Louis clears the hearts from his eyes, he asks his friend to join him for a therapy session. Harvey is adamantly not going.
"Break up with me and go out with someone else, because I'm busy."
Donna overhears him writing off the idea and informs him that he absolutely will not be shirking this important responsibility. She tells him it's wrong to treat Louis like he's the man he once was, because he's grown up and deserves to be treated better by Harvey.
Harvey does not seek shelter behind a pillow at the session. He barely needs any prompting to start spewing things out. (Gabriel Macht has really been allowed to shine this season; we're really seeing more layers of Harvey than the show has given us for a long time.) Harvey talks about Litt always being jealous of him and only wanting a child to have something Harvey doesn't and simply can't put a cork in it. Litt storms out, leaving Lipschitz to contemplate this person he's heard so much about. Because he's the best therapist, Lipschitz asks permission from Litt before taking Harvey on as a client. Litt says it's fine but not to expect his blessing or anything.
His slightly hurt/miffed response is one of many humorous tidbits stashes throughout the episode. Harvey's solo session with Lipschitz is quite different. He reveals his brother and sister-in-law are moving ahead with their divorce. He's devastated. Harvey confesses that thinking about Litt having a baby and moving on to a new chapter in life hurts him.
"Because they leave. Jessica. Mike....Everyone leaves." HARVEY CRIES.
Lipschitz gently asks if he really believes that Litt would let anything, even a family of his own, take away from their friendship. That's enough of a start for Harvey to set up a bromantic apology dinner. He admits to Louis that he was feeling envious of him.
"Harvey, you became me." Litt observes, as Harvey catches him trying to record the whole conversation. He'll says lots of nice things at dinner but nothing on the record. Litt can live with that. Yes, the people who have left will always be missed, but the bond between these two is precious.
"That's What Friends Do, Right?"
Friendship is the soup of the night. Katrina receives word from Louis that the senior partnership is hers, for the price of handling one tricky case. She tackles it with relish, enlisting help from Brian. These two have quickly grown close and would have definitely friended each other on Facebook by now, if this show was set a decade or so earlier. The client is trying to take his company public, but he's being blocked by an old coworker who despises him. The trouble is proving the old coworker's motives. On paper, there's no record of animosity. They have to be resourceful and research every angle. Donna stumbles upon them working late, with Brian accidentally smearing Indian food on Kristina's face, and worries they might start unprofessionally smearing food on each other. Donna is perhaps slightly projecting the curdled whipped cream of her own romantic past onto Katrina. Amanda Schull plays Katrina's reaction perfectly: She's aghast, horrified, confused, pensive, wistful, and amused.
Katrina recognizes though that Donna's not wrong that people who like each other staying up late together all alone in a dark sexy office building surrounded by papers with big words on them is a potentially dangerous recipe. She reacts by sending Brian home the next night, instead of having him stay and help. It pays off. She's able to finish the work on the case. And earns a thank you from Brian. He had a great evening at home with his wife; their baby actually slept through, so they got to watch The Breakfast Club. Katrina doesn't know what that is, prompting Brian to offer a loan of the DVD. He refers to them being friends now, to which Katrina nervously but happily chuckles, reassuring him he's totally not the first friends she's had in a while. We believe her, don't we Brian?
For many people, their workplace becomes the center of their life. It's only so long that someone can keep up the pretense of it just being a job. The people who work alongside us will either become our most important supporters or our most exhausting burdens. For everyone on Suits this week, there was an opportunity to choose whether to bolster someone else or drag them down. They all ended up choosing right, learning more about each other, and becoming a stronger team in the process. A little bit perfect.