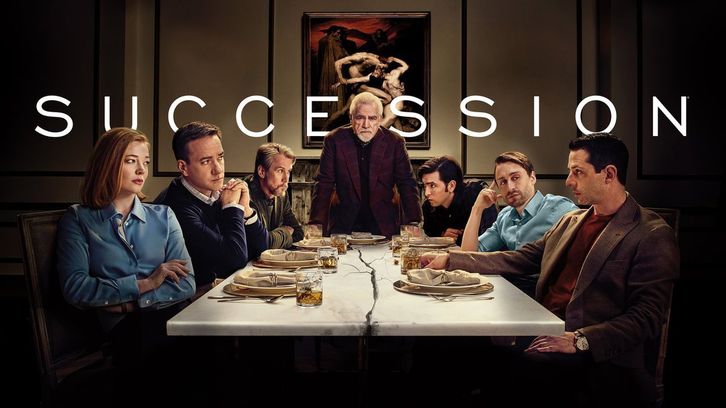 Shiv and Tom's wedding is finally here and the party (held at the majestic Eastnor Castle in England) before the big day was a success. If by success you mean when family members gather together and act at their absolute worst. Families are complicated, the Roys are an equation that is impossible to solve.


The Roy children reunite with their mother Caroline, who is just a delight. Of course I mean that sarcastically but I have to say that I enjoyed tremendously watching her interact with her kids. I have always loved Harriet Walter, she's one of the most acclaimed British actresses around and I am so happy that she's been part of great projects, both in movies and TV. Her portrayal of Caroline is bitter and gentle at the same time, never forgetting how much she is despising the whole situation and how classy she's handling herself through it all.
It was a very enjoyable episode, mainly because the characters interact with each other while politely ignoring one another. It was an episode of confrontation, of decision and an episode where Roman showed his true colors and proposed to a girl he barely knows. I did not think I would get to see Roman as he is right now: vulnerable and almost predictable. He's always the same, especially when he casually mentions to his mother that he met his girlfriend at a sex club (that was legit funny!), while also trying to avoid being alone for the rest of his life, because he fears that might happen. Proposing to his girlfriend just because he doesn't want to be a failure to his family's eyes is not a good reason, but it was nice to see his vulnerability, to see him ponder a decision because it might actually make him feel better.
Kendall spent the majority of the episode in the dark, he was a kind of a viewer who was there just to witness his sister's wedding and be happy for her. Of course, this is Succession and the characters in this show are perpetually in a state of unhappiness that masks itself as happiness. They are all basically miserable and they do not do anything to hide it.
By the end of the episode, it is clear that something major is going to happen and it involves the hostile takeover that Kendall has set up against his father. It's not going to be a quiet event, for sure. It was very nice, though, to see Roman, Shiv and Kendall being siblings for once, with no pressure of their everyday lives, with no expectations of what's to come, just being normal and fun around each other, while talking smack about Connor.
The bride herself, Shiv, managed to be "bridal" and a consultant at the same time. The candidate she works for is at the party and Logan decides to show up last minute to become the most important person at his daughter's wedding. That's the thing with people like him: they ooze greatness wherever they go. Shiv used his father's presence to blackmail him (via Gerri) into stopping ATN from attacking her candidate when it comes to his wife's death. In return, Shiv won't leak the cruise story that Tom handled.
This is why I love Shiv and why I love Sarah Snook so much. She can bring so much depth to the character that I have no problem saying that she's my favorite. That exchange she had with Marcia on the stairs was incredible to watch. She portrays Shiv as a strong woman but as someone who knows who to fear and who to control.
I can't write this review without mentioning Greg seeing Shiv and Nate being flirty and telling Tom about it. Tom, of course, refused to believe him but I wonder if he's going to do anything about it.
I really enjoyed this episode. It was a mixture of family and business matters and it was nice to see a character like Shiv stand out and have the chance to show who she really is. The script written by Jesse Armstrong (the creator of the show) is fast, engaging and funny, a tone that never lacks on the show.
Mark Mylod directs a very solid episode with intensity and pace that keeps the viewer captivated by the story and the dialogue. I am actually pretty excited to see the season finale.
Favorite line:
Shiv: "
Hey! No marriage advice from my dear old godmother?
".
Gerri: "
I don't know. I was never very good at all that. My husband died. Don't let him die?
".