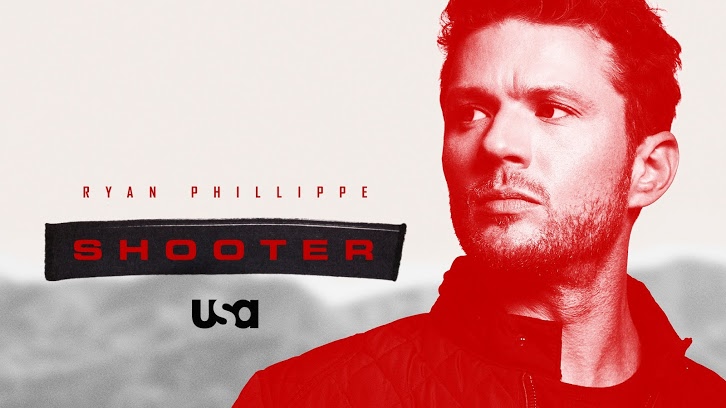 To those of you who read this in three hours leading up to tonight's episode, thanks for being committed to reading these! To those who might see it after the episode airs, just go ahead and marinate your brain in the contents of this review while you patiently wait for the next one to be posted. Maybe you'll pick up on a few threads that were relevant in the more current episode! Or, maybe you won't. Who's to say? Only way to find out is to read on!

Character Catch-Up

Bob Lee and Isaac: They met up with Gutierrez where it was reaffirmed that Earl was in the process of exposing Atlas before he was killed. They then attempted to rescue Nadine from a sticky situation.

Julie: She started doing some work for Bob Lee's cause. If he won't let her in to help, she's determined to find a way to help anyway. In the process, she visited the Bamas and managed to firmly place herself on their radar

Nadine, Carlita, and Harris: Nadine came up with a plan to infiltrate an Atlas building to get information off the God Box. Carlita and Harris weren't huge proponents, but they didn't really get a choice here. Nadine ended up trapped inside the building and, despite Bob Lee and Isaac's best efforts, Nadine was apprehended by the police. She later was violently removed from her cell to be transferred elsewhere.


Debriefing



As the gang attempts to figure out how they're going to save Nadine, they're interrupted by a visit from...Nadine. Guess she doesn't need rescue! She reveals that she was taken by a woman, Margo, from the Department of Justice who, despite the kidnapping and violence, actually wants to take down Atlas as well. Is there anybody who doesn't hate this organization? After they had a chat about everything Margo has on Nadine, Bob Lee, and Isaac, Nadine was allowed to leave with the God Box in hand, so long as Nadine agreed to help. If not, they're all going to supermax. With this information, Bob Lee decides their next step is to visit Katherine Mayfield at a psychiatric hospital. He and Isaac get ready for that mission while Nadine gets the others prepped for a mission of her own to recover a burn drive that was previously in Gregson's possession. Nadine's mission is a success, and Bob Lee and Isaac are able to discover from Katherine that Atlas wants to control the Supreme Court, so they can control everything shortly before she is assassinated. They reconvene at the bunker, but aren't given much time to breathe as Red Bama Sr. shows up to pay them a visit. Harris double checks if their bunker is impenetrable, but Carlita reminds him that nothing is impenetrable. Especially this place, apparently, because they cut through the front door like butter. There wasn't even a semblance of impenetrability. Luckily, everyone manages to escape with their lives. Later, Nadine and Bob Lee meet up with Margo, who decrypts Gregson's burn drive to reveal the names of the heads of Atlas, one of whom just so happens to be the President's Chief of Staff.
Julie and Sam have had a pretty wild day herself. After looking through some old pictures with Sam, Julie reveals that the Bamas visited and threatened her to kill the wrongful death suit against them. This just leads both of them to the conclusion that there are more things to be uncovered. This is further confirmed when Red Bama Jr. calls Sam to meet him. Said meeting mostly consists of another threat about dropping the suit. Bama Jr. also pulls out a pile of cash for Sam to give Bob Lee in exchange for Earl's things. Sam of course did not give in, which didn't make Bama Sr. very happy. Julie is then called to the court where Sam is insisting on speaking to a judge that is no longer alive. When Julie calms him down, he reveals that he has taped the bribe/threat from Bama Jr. He also reveals that he has a tumor and is dying. Later, she gets a call from Bob Lee telling her to pull back on their pursuit of Red Bama Sr., but she reveals that it's too late since the wrongful death suit has already been filed. Over in Sam's office, Bama Jr. shows up in the middle of Sam recording some notes, which luckily stays on for the duration of what happens next. Jr. attacks Sam and starts beating him, only stopping when Julie shows up in the nick of time and hops in on the fight. She manages to hold her own and send Jr. running before tending to Sam and dialing the police.
Outcome
As always, we have another fun, action-packed episode here. While it would have been nice to see Nadine have a little more trouble getting that drive, I'll forgive it because of all the trouble they got into at the bunker later. I can't wait to see how Bama Sr. reacts to the actions of Bama Jr. Attacking Sam in his office was absolutely foolish and it'll be great to see the repercussions of Sam's recording of the incident. Speaking of the incident, Julie was great! I cheered for her the entire scene, which was easily my favorite in the episode. Hopefully we'll get to see more of Julie in action in the coming weeks, because it certainly is an awesome thing to behold.
How awesome was Julie? Do you trust Margo at all? How bad do you feel that Katherine will never get to finish that beautiful paining? Sound off in the comments below!