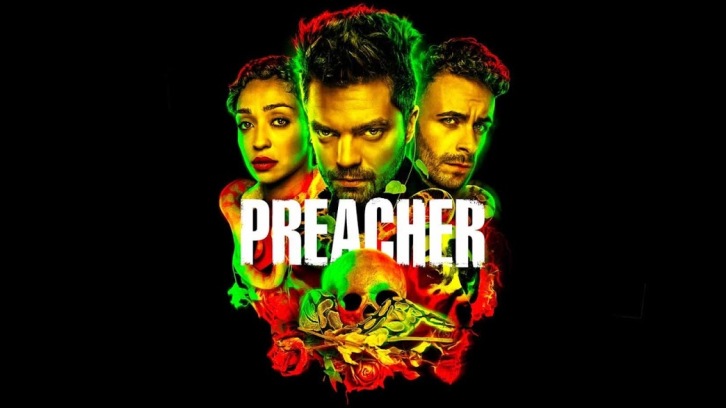 Preacher 3.09 "Schwanzkopf"
Directed by Kevin Hooks & Written by Gary Tieche


Preacher
has been one of the most consistently enjoyable shows on television and
Schwanzkopf
continues its fine form, serving audiences with of the best episodes of the season yet. Unexpectedly, and in part due to the great array of villains that
Preacher
has at its disposal, Jesse took care of The Allfather before the opening credits even started, feeding him with Genesis so that he would explode after failing to injure him multiple times. It seemed like a fitting way to give The Allfather what he wanted in a way that would harm him but it also left behind a problem. What is there to be done about the Messiah?
There has always been a Messiah for The Grail, it's the foundation of everything that organization has stood for. Herr Starr wants to replace Humperdoo with Jesse, as he's not convinced that the tap-dancing abilities of Humperdoo will be enough to save mankind. With the Nuclear Bombs standing by Starr turns to Jesse for answers, begging him to fill the role. Jesse meanwhile, wants to take care of Humperdoo so that Starr has no Plan B to turn to, but Starr is right after all, he may be a murderer, but he's not that kind of murderer - the one who will execute innocents in cold blood. Especially when this Humperdoo is the only surviving descendant of Jesus Christ, and by virtue, God himself.
And it's about time. He's been stripped of his power since the start of the season and he's been without what is arguably his biggest strength. Whilst he's capable of handling his own in a brawl Genesis enables him to take on almost any comers, and now that he has it back, he stands more of a chance against Gran'ma, who doesn't seem in the least bit worried if her scene at the end of the episode is anything to by. She's so sure that Jesse will return to kill her, and she's right. It's exactly why he's coming home.
But it turns out his allies actually have come to rescue him after all, bringing a Nazi Tank with them. The Tank blows up the bus sending everyone on it flying, which opens up more possibilities, and I'm suspecting that it can't be as simple as that. Who's to say that the bus somehow hasn't time-travelled back to World War 2 on its way to hell? Or are the Nazis the guardians of hell? It opens up multiple possibilities that should be fun to see the show explore, and given that's
Preacher
, virtually anything's possible. It's arguably the most outlandish thing that's going on in this episode, and that's saying something, given what else the show is capable of bringing to bear. But that's what makes
Preacher
the show that it is, it delights in its absurdity and as a result there's arguably nothing else quite like it on television at the moment.
But that said, one of the biggest strengths about this show has come from just how good the three lead characters are and putting them all in their own storylines has shown that regardless of who they are, they're always capable of leading the show in their own right. The show could be a Tulip-centric series and I wouldn't mind, just as much as it could be a Cassidy one. Joe Gilgun has really benefited from getting his character's own storyline this season which has been a step-up from his dilemma about whether or not he should kill his recently turned own son in the last season, and the fallout between Cassidy and Eccarius really effective to watch even if it isn't quite as insane as what's going on elsewhere. And it says something about your show when two fighting vampires isn't the most insane thing that's going on in this episode. Hell, compared to what else goes on in
Schwanzkopf
, it almost feels normal.
Schwanzkopf
being a pure delight, and I can't wait to see how the show wraps everything up in the third season. The upcoming brawl between Jesse and Gran'ma feels like it'll be one for the ages.
Unfortunately,
Preacher
hasn't been renewed yet, but based on the intensity of this season, it deserves to be. AMC have been pretty lenient with their shows, and you'd think that based on their track record of letting critically acclaimed shows with a low audience number like
Halt and Catch Fire
play out to their conclusion, we could get at least get a final season out of this show if not more. It deserves that much at least, but that said, who will be left standing by the time the finale reaches its end? I don't know what this means for Cassidy's character, but Joe Gilgun has recently been cast in a new comedy with Michelle Keegan called
Brassic
, but given that Dominic Cooper has been keeping busy with other projects for the time being and still being able to star in this show, we shouldn't have to worry about Cassidy's fate just yet.
What did you think of Schwanzkopf? Let me know in the comments below and be sure to check out the finale of Preacher, airing this Sunday on AMC.