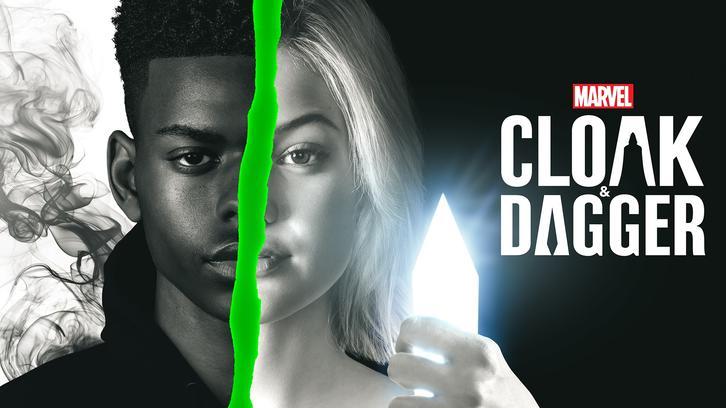 Well, here we are. The season one finale of Cloak & Dagger and we've all been waiting on pins and needles to see how it all plays out. Who lives? Who dies? What is the power behind the terror and how will Tandy and Ty fix their problems they have managed to get themselves in? Does the season one finale stick the landing of a rather slow burning season? And finally, will everything end in total MAYHEM?

Title: Colony Collapse
Airdate: 08/02/2018


Remember that I'm attempting to keep these previews as insightful as possible, but as spoiler free as possible as well, which leaves me with not a lot to work with. Let me start by saying this, like most of the Marvel Netflix shows that slow burn their way through the season, Cloak and Dagger's season one finale feels rushed. There's cheesy lines (One character asks one of our heroes, "Why You?"), talks about Destiny and a lot of characters shouting exposition at each other in dire situations. Things fall into place at the last and most predictable moments, and there's some score that feels a little out of whack. Does it make it less enjoyable? Not really, but it just felt like more of the same.
The city is hit by the terror big time and there's a lot of history of New Orleans being told intercut with the main story. It's all meant to tie into the "Divine Pairing" and I guess finally incorporate the voodoo stuff from early this season. (Shout out for the LGBT Divine pairing rep though!) Honestly, this episode is a bit of a mess. Parents are just telling their kids to leave and never look back, while cops are flipping sides on a dime. Ty's cloak gets a little bit of makeover and how it comes about is pretty sweet, and he shows some power growth!
Things do wrap up and it's kind of surprising because it's not exactly how you would expect. There is some definite changes that we will see when the show returns for season two. Expect the Connors, Roxxon and Terror storylines to be pretty much taken care of. As for the death, you'll just have to wait and see how that plays out. While the finale is pretty rushed, it's action-packed and offers a nice conclusion to a pretty solid season. There are no grand romantic gestures, and there isn't a huge cliffhanger, but it's still interesting to see where the characters end up.(Much more like their comic counterparts) I'm not dying to see season 2, but I am pretty invested in the characters so I'll come back for more.
Here are some Quick Takes:
Wait, did she say Kree?
There's an after credit scene that pretty much confirms what we expect for season two.
OMG Care package! That's how true relationships start.
I'm sorry, are they really playing this song during this rather intense moment?
Awww. Momma, it's gonna be okay. You'll see him again someday.
That's it for this week! I'd say more, but gotta avoid those spoilers! Be sure to check back here after the episode airs for a full spoilerific review and poll!
What are your theories on the finale? Are you planning on coming back next season? Any thoughts on the quick takes? Sound off below!